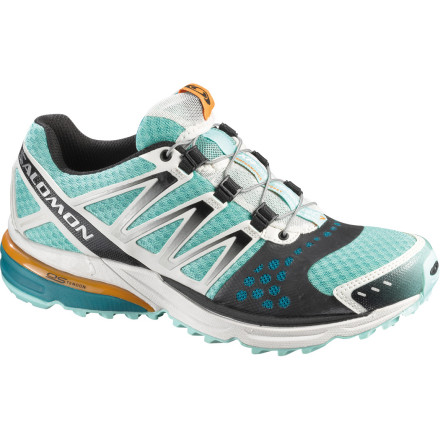 Lace up the Salomon XR Crossmax Neutral Trail Running Shoe when you are training for a long distance run. The Crossmax will support your foot from the front porch to the mountains and back.
Contagrip for lightweight traction and durability on rocky and uneven surfaces
OS tendon provides increased heel-to-toe transition for improved take-off
Die-cut Ortholite EVA sock liner provides extra cushion and maximum comfort
Molded EVA midsole provides extra stability and more comfort for your endeavors
Quick-lace system with SensiFit disperses pressure across your foot evenly to prevent rubbing or hot-spots
Women-specific last supports your foot
I really wanted to like these shoes... and I'll probably keep them because I've already worn them a few times but they make my ankles hurt - even walking - and I've never had ankle problems before. The color is definitely bright, which honestly looks pretty cool, and they are light weight... but the top of the shoe falls right under my ankle bone and it seriously messes me up.

Has anyone else had this problem?
These are the most comfy trail runners I've ever owned! Light weight and it's nice to feel the breeze on hot days. I was a little concerned about of load the colors would be but once they got dirty, the bright yellow/green dulled a bit making them quite good looking. My favorite part of these shoes is the toe box. It's very flexible and big enough to spread my toes:)
Comfort, comfort, and a little more comfort----support no so bad either. Found my new favorite footwear!!! A revolutionary running shoe!
This is the best trail shoe I have ever run in! I am a neutral runner, 5'8 and 150 pounds, and this shoe really owns up to its specs. I run on all from gravel road to very technical single track and the shoes are great on both.