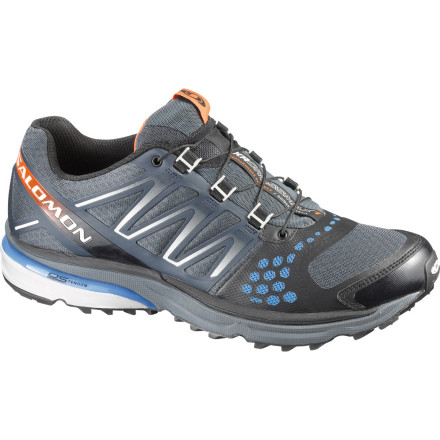 High-mileage runners who need dirt-loving kicks with pronation control and stable cushioning should reach for the Salomon Men's XR Crossmax Guidance Trail Running Shoe. An asymmetric-designed stretch-mesh upper flexes to accommodate your foot when you slide it in, and then hugs it with support once you're pounding out the miles. Cushioning in the heel and midfoot absorbs the impact from gravelly roads, while OS Tendon bars in the sole encourage efficient and powerful heel-to-toe transitioning. Other touches like a gusseted tongue, one-pull Quiklaces, and breathable mesh paneling means that blazing down the trail will feel like a jog around the park.
Sensiflex construction creates a secure lateral hold on your foot inside the shoe while also stretching to adapt to the width of your forefoot
Contagrip LT uses lightweight sole materials to offer superior forefoot grip and traction
Contagrip HA uses more abrasion-resistant sole material to offer increased support and durability
Two semi-rigid bars run from the mid-foot to forefoot to create the OS Tendon structure, which improves heel-to-toe roll through your foot strike
Ortholite sockliner combines moisture-wicking fabric with an EVA heel cup to provide support, control, and keep your feet cool
Quiklace lacing provides even, one-pull tightening down the length of your shoe and won't loosen or come undone mid-stride
Share your thoughts
What do you think of the
Salomon
XR Crossmax Guidance Trail Running Shoe - Men's
? Share a...
For starters the shoe looks great, the sizing was true and the lacing system is awsome. I really wanted to love this shoe. I have some pronation and thought some full support shoes for trail running would be great. The Crossmax XR Guidance were just not for me. The arch support was way to much and caused a feeling of firm pressure on my arches which made my feet uncomfortable when running. They were fine to walk and work in but trail running, the intended reason for purchase, they supported my feet way to much. First out of the box run for 4.5 miles I had blisters on my arches. I believe this was caused by the insole so I tried a diffent set. So the next day afer poping my blisters I headed out for another trial run and after 4 miles got blood blisters the size of quarters on the out side of my feet. This, I believe, was caused by the high arches causing my foot to slide to the outside of my foot. So I sent them back and will possibly try the nuetrals and see what happens. Like I said I really like the shoe except for the fit of the Guidance.
Ran true to size (11 in most shoes) and offered great traction. Didn't experience any issue with water getting through when going through dew unless it was for extended distance and even offers great traction on snow covered concrete. I also get compliments on their styling. Overall a great and reliable show that I think will give me a few more miles than most. Been wearing them for three months now alternating with a pair of Salomon S-Lab Fellcross Trail Running Shoes when in even muddier conditions. Thumbs up.
I have medium arches and bad pronation so I figured these shoes would definitely do the trick.
From what I can tell so far, they are super solid shoes. My gait in them was strong (maybe because of the OS Tendon), and they were very supportive. My left arch started to bother me, but hopefully that will iron itself out as I break them in.
I gave them 4 stars because they seem a bit clunky, and I think I liked my XT Wings a bit better.
Cool shoes though. Salomon 4 life.

EDIT: After 4 months with these shoes now, I honestly don't like them at all. I still love my XT Wings and will buy another pair. The arch in these, like for the reviewer above, is just too much. It really hurts, and the shoe feels very clunky.
I wear a 10 in my Mizuno running shoes....
I wear a 10 in my Mizuno running shoes. Does Salomon Crossmax run big or true to size.
Best Answer
Salamon's run pretty true. The only time I'd consider downsizing is in the GTX models, but even then a 10 is a 10. They really hug your feet well!!