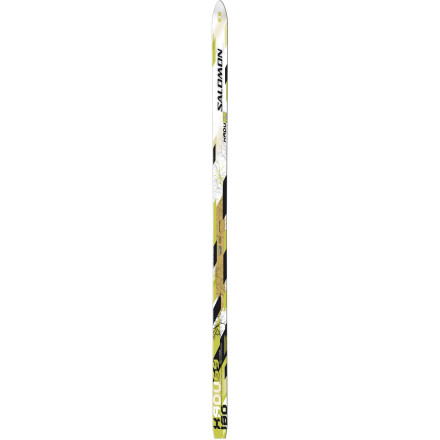 Powder-loving yet easy-turning, the Salomon XADV 69 Grip Ski merrily goes along in all kinds of backcountry conditions. A patterned waxless base and ample 56-millimeter waist give you up-and-over brawn, and the full steel edge and carving sidecut grant you precision and speed control on snowy or icy downhill trails. Whatever may come in the variable, untamed wild, you can handle it.

Grip and turn construction features lightweight materials for maneuverability and fiberglass-reinforcement for torsional stiffness and control
Densowood core combines wood and foam core with tri-directional fiberglass laminate for light, responsive, low-profile ride
Posigrip scale pattern on the G2 waxless base provides consistent grip and smooth glide
BC carve cut sidecut features a wider radius for stability in soft snow
56mm waist doesn't discriminate: it loves both the packed-down and untracked
Full-length steel edge provides optimal control and turning ability
What do you think about this product?
Have questions about this product?
I'm looking for a good combination ski. I...
I'm looking for a good combination ski. I may ski 10-15 miles one day in machine groomed tracks and the next weekend do 8 miles on ungroomed BC trails in Yosemite. I have new Solomon XADV 5 boots which serve me well, but my old Trak Alta metal edge skis finally broke. Thinking about XADV69, or the 89, but not sure. I know one ski won't do it all, but I can't afford 2 pairs. I'm 6-0 230. Looking for advice & recommendations.
Best Answer
Hey Matt Williams,



Good conundrum you have going on right now. What'll be best in this case will be finding a BC Touring ski that will be skinny enough to roll in the groomed tracks. If you are partial to metal edges as those were on your last pair of skis, your best bet would be the following:



http://www.backcountry.com/alpina-cross-terrain-touring-ski - in a 170cm which we have in stock



http://www.backcountry.com/alpina-lite-terrain-ski - this would be a better option, but the 180cm size that would be the best for you is not in stock.



If metal edges are not required the Salomon XADV 69 in a longer length would be a pretty good option.