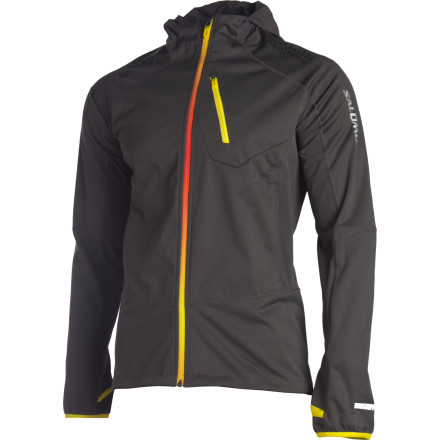 Detail Images
It sometimes only takes a stiff breeze to turn a great hike into a long, miserable one. Shrug off Mother Nature's gale-force attempts to ruin your afternoon with the Salomon XA WS Softshell Jacket. Built with Gore-Tex Windstopper fabric and fitted to the active hiker's frame, the XA WS Softshell doesn't let its weather-resisting abilities compromise mobility or breathability.
Bluesign-approved design reflects sustainable textile practices
Breathable mesh panels help regulate body temperature to keep you comfortable during even the most aerobic hikes
Flatlock seams fight chafe when the jacket is worn under a pack
Multiple pockets keep your essentials organized and at the ready
What do you think about this product?
Have questions about this product?
Wind blows in all directions. I know this jacket was designed to vent from the back and works well with a pack on your back, but I don't always have a pack depending on what I am after. I really wish the WS material covered the entirety of the back as well. What I do like about this jacket is the athletic slim fit, the material is strong and the jacket breathes very nice. I can wear this jacket when moving into the brisk 20's sometimes teens depending on the wind. Anything below that and it does not provide enough protection for long periods of time (more than 1-2 hours). I think I am most comfortable in it in the upper 20's to low 40's depending on the activity. The flexible material moves well with the body and the back has a lot of coverage much like a cycling jacket or jersey. Salomon lists this as a hiking jacket, last season it was listed as a trail running jacket. I use it for trail running,fast packing, climbing and xc/backcountry skiing which it works well for. Other than that I had the older version which did not have a hood adjustment which i wished it had because when in the wind would blow it up and sometimes force air down my back so I wish it had some hood adjustments, I am not sure if the new version has that or not. Other than that this was a decent jacket, just wish it had what I talked about above. This review below (not on the rug man) says he has not used it yet and has quite the review. I have actually used it for about a 1.5 years of steady use; backcountry.com lists this as a hiking and xc skiing jacket which is exactly what I am using it for.
Perfect active softshell?
Has every feature I have been wanting and some I didnt know I wanted till it arrived.



-2 zippered hand pockets above waist straps/harness level

-napoleon pocket (has a small inner pocket in the mesh, i guess to keep mp3 player secure?)

-interior map/skins pockets behind hand pocket mesh

-stowable hood (no adjustments needed, has a gasket like system around the face, elastic band that acts as the adjusters, wired brim...wont fit over a helmet, but will fit under)

-2 way stretch Windstopper front, hood, ass, exterior arms

-4 way stretch highly breathable fabric on sides, interior/under arms, back

-gripper material on shoulders

-snap across the chest & behind the zipper above napoleon pocket for venting (attaches the two sides so you can unzip partially without the chest flopping around)

-single pull hem drawstring

-thumbholes

-very water resistant



Only thing I can think of it missing is a port hole for headphones, but that is an easy DIY snip.



Ignore Johnathon, he bought the wrong jacket for his intended use.



My intended use is for cold weather mtn biking, urban/roadish cycling, and jogging as well as cool weather hiking. I havent used it yet cuz its summer, but having used softshells of various types in the past and figuring out the pros and cons, this is the one ive been searching for. As long as it lasts a reasonable amount of time, I cant think of a reason give it less than 5 stars. The bright blue color is sick too (two materials are just slightly off shade from each other if that matters to you). 5'11" 185, generally get a L jacket and am in between M/L shirts dependent on brand. L in this fits perfect with a little room, but not baggy, spot on. I havennt been this pleased with a piece of outerwear without even using it in ever.
Highly recommend to friends
I absolutely love this jacket! Primary use is for ski touring and really cold mtb days. The material is highly breathable and wicks moisture amazingly. The shoulders have a "rubbery" patch on them which keeps the pack straps from shifting around. On really cold days I wear this over a merino-t and under a shell for the beginning of a tour and in minutes the shell comes off and as long as I'm moving this jacket sheds snow, wind and wicks moisture amazingly. This jacket is great for high intensity sports in the mountains where layering is crucial. I wish they made a pull over version, I would own both.