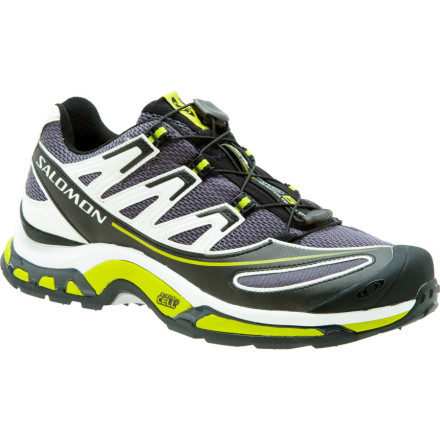 Detail Images
You tighten your Sensifit laces on the lightweight, shock-absorbing Salomon Men's XA Pro 5 Trail Running Shoe. Out of the corner of your eye, you see a sports-bra-clad chick with teeny running shorts sprint past you and up the trailhead. Moments later, you follow like a happy little puppy dog.
3D stretch air mesh helps air out your feet and avoids sweat puddled shoes when you run
Sensifit lacing system and quicklace eyelets provide a foot-hugging, dependable fit throughout your race
3D advanced-chassis system stabilizes your feet over uneven and rocky terrain
Non-marking running contragrip outsole helps prevent slippage on the trail
Eco-friendly ortholite liner provides improved support and added cushioning for your foot
more cushioned and comfortable
Well, I have a hard time keeping Salomon trail runner's models straight. I've run a number of 50ks in the XA Pro 3D's, and loved their ability to carry my 185lbs over that distance. These XA Pro 5's improve the cushion markedly. I ran a 12mi training run in them, out of the box, then wore them for the first 30mi of a 50 miler. A marked improvement, where I didn't think it was needed. The lacing is great and enables the shoe to be cinched-up enough to fit my long (13), narrow (B) foot. From now on, I'll be training in the XA Pro 3D's and racing in these.
Best all around trail shoe I've ever worn
I run and race on varied terrain in Northern California. So, I needed a shoe that offered protection but was light enough to race in. After several missteps with other companies, I tried these shoes and have been a loyal customer ever since. The tension on the lacing has been consistent and I have never had any breakage problems. The tread works well in all conditions and has never separated from the mid sole. I'm a medium sized runner (160 pounds) so I can't vouch for the Clysdales out there, but for people my size or smaller, I don't think you can find a better all around shoe.
i bought this shoe for adventure racing duty. This past season ive used it in 6 races, and it does a great job for that purpose. I dont use it for a normal trail run shoe because i find it too big and clunky. but for spending long hours on your feet, and bushwacking through tons of mess, this offers tons of comfort. if you like cushion and support its a great trail running shoe, if you like a lighter more bare bones feel, I would look elsewhere.

pros: great quick lacing system, good comfort for long endurance events. can double easily as a lightweight hiking shoe. the sole is great on all types of terrain including mud and paved surfaces (no super large lugs that wear down quickly)

cons: too large and heavy to be a pure trail run shoe for my taste
It seems that the XA Comp and the XA Pro...
It seems that the XA Comp and the XA Pro are between the XA 3D (hike, backpacking,...) and the XT (trailrunning shoes).

But I don't understand the difference between XA Pro 5 and the XA Comp 5. Anyone can help?
, ☃bcs_badge_alumni_label☃
Best Answer
The XA Pro offers much more rigidity through the mid-sole. Definitely more of a stability shoe. Well suited for rugged terrain.

The XA Comp is a neutral shoe. Softer and lighter than the Pro's. These are a good pick for all-round trail running or fast hiking. Just not for those that over-pronate.
Anyone out there who has a "neutral" gait...
Anyone out there who has a "neutral" gait and owns this shoe, please let me know how it performs. Any pain, discomfort? Good traction? Lightweight? Any thoughts, comments, suggestions are greatly appreciated! Thanks.
Hey Jackhammer,

I own this show and although I do not have a "neutral" gait can hopefully provide some info that could be helpful.

The XA Pro 5 does have 25mm of posting but as a trail running shoe, you will be running on variable terrain in which your running stance may open slightly more than a consistent road surface.

I consider myself a "Clysdale" runner because I'm a bit heavier, 225lbs and this shoes offers a lot of protection from rock impact underfoot and a beefy toe cap. Definitely, not the best race shoe (a US size 9 weighs 12.9 oz) but gives me exactly what I need as a weekend trail runner.



I am particularly
Best Salomon Trail Shoe, Yet
Great shoes out of the box. Ran a 12 mile trail run straight out of the box--no hot spots, rubbing, or soreness. Finally, Salomon has added a bit more forefoot padding (more than my last pair of XT Wings). I've been on a number of 2 to 3 hour LSD trail runs with these XA Pro 5's, and I have no complaints whatsoever: good padding, traction, and comfort. They were spendy, but IMHO, well worth the price. For reference, I have a narrow foot and a high arch, and shoes fit like a glove. Highly recommended!
I've worn 3 pairs of XA 3Ds prior to the Pro 5s and always wanted a little more cushioning, these deliver. At little pricey but I noticed that the only part that wore out on the 3Ds, the soles, are thicker on these. Worth the investment.
These seem like a great pair of trail shoes for people with high arches. My slightly lower than normal arches are too low to wear these without pain. I had to return them, and got a pair of XT Hawk 2s instead, which were perfect.
Love the new XA Pro. Loved the old ones but for long runs and firm conditions the old XA Pro's felt like they lacked cusioning in the heal. But I land hard on my heals. Anyway the new ones are better cushioned and seem to just feel faster and they run better. Same increadible fit and lacing system. Also seem like a little deeper lugs which are better traction and should last even longer. Way to go Salomon.