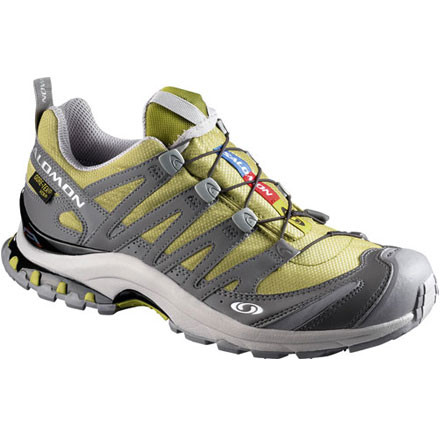 Detail Images
I love this shoe for 3 very important reasons: 1) Gore-tex system keeps feet dry, 2) the arch support and inner sole stability, and 3) most importantly, the lace system. The lace system is not only fast and easy but it really helps cinch the material around my feet to prevent rubbing without curshing my heels or toes.
These are my fourth pair of Salomons, and I'm really happy with them. They aren't quite as comfortable as my non-gore-tex shoes, but much warmer. I have wide feet and Salomons seem to work really well for me.
are these waterproof? which running shoes...
are these waterproof? which running shoes are waterproof?
Hello,These shoes are waterproof. There are 2 main water prof membrane materials (a layer sandwiched the otter and inner fabric of the shoe) used. One of them is Gortex which is often abbreviated as GTX. In addidion, XCR (Extended Comfort Ranged) is another type of Gortex that is more breathable. The other material is called eVent. There is a lot of information on both of these on the internet.When looking for running shoes that are waterproof it will usually say one of those key words (Gortex, GTX, XCR, or eVent) in the description of under the product details. Mahlao, Sumo
Does any one know where I could get...
Does any one know where I could get replacement laces for the Salomon XA Pro 3D XCR Trail Running Shoe or similar quick-lacing ones? One of my laces has frayed and doesn't hold properly any more.
I just bought a set at EMS for $12.00.
I've tried using these shoes running. On pavement they really lack cushioning, cannot compare with my road runner. On trails however, they are pretty good, comfortable right out of the box. But mostly I used these for speed hiking. The soles are just thick enough to not kill your feet on some rocks, yet you can still feel the trail. But as the shoes age, they fit looser and looser. I usually have to tighten them down quite a bit, several times during a hike. Perhaps it's time to replace them. Also, on my previous pairs the zip lock laces broke. But Salomon seems to have made the current version laces more durable. Overall I love these shoes, I'm on my 5th pair.
Absolutely don't miss the laces and having to stop to re-tie! They are heavier than I am used to and they seem longer, found myself tripping over the toe for the first week. Didn't take long to get used to them though.
I got these after seeing all the other disc golfers wearing them at tournaments and them not complaining about putting them on the next round. When I first got them I thought they seemed a bit stiff, but once I wore them a few rounds I could see that the stiffness made all the difference especially playing big mountain courses. I got a pair of Keen Tr-something waterproof low tops just before I got these, and the Solomons have been getting way more attention. They're much lighter (at least it feels that way) and the upper is less bulky and more like a sneaker than a boot.
I Loved these shoes but...
I loved these shoes but definately think you need to order a size larger. With a downhill descent you'll want the extra toe room. I take a 9-1/2 and ordered a 10. There was a problem with the delevery and I did not get these shoes in time to try them out before I hike the Grand Canyon-North to South Rim. It didn't matter, they worked great and did not require any 'break-in' period. I don't like anything around my ankle and that made these a big win for me.
I love these shoes, but if you are going to run long, real long, you may want to go one full size bigger. I bought a half size bigger and in a 50k, around mile 20, my toes were killing me.
Great shoes, but sweaty feet
I really like these shoes a lot; they are very comfortable, nice looking and I wear them often. However, my feet get really sweaty and hot no matter what type of sock I wear with them. Otherwise, they are great.
Best ever for Camino Ingles trail in Spain!
Best summertime backpacking shoes I´ve worn in ages.
30 km with a 6 kg pack over 5 days, (one of them in driving rain) and not a single blister or hot spot... and they´re nice-looking, too! Recommended.
These are easily the best pair of running shoes I have bought right out of the box. I have a wider foot so it generally takes a while to break in a good pair of shoes- These were good to go after 1 day.
They have great support and provide a lot of stability on the trails.
I wear an 8.5-9 with thicker socks (smartwool's running socks) and the 8.5. fit perfectly with those.
Definitely a good buy
I wear either a 8 or 8.5 in my running...
I wear either a 8 or 8.5 in my running shoes does this mean I should order a 8 in this style?
I would go with the 8. I wear an 8.5-9 typically and the 8.5 fit me perfectly with a slightly thicker shock (smartwool's running socks).
Unanswered Question
I live in Hawaii and the trails I run take...
I live in Hawaii and the trails I run take me through streams and a lot of mudd, It can get really slippery. Is this the best shoe for these type of runs/hikes
I bought these shoes for my wife. She doesn't trail run, I just thought they were sweet looking. I still stand by that statement. She says they're also really comfy.
Dumb question...is it ok to wear these...
Dumb question...is it ok to wear these shoes for road/gravel running?
absolutely. trail running can take you from one terrain extreame to another, and road and gravel surfaces are included. this shoe was made for all of it.
Liked the quicklace system - no problems with it all. The sizing was a little off - I usually wear a 9 1/2 and bought an 8 1/2. This size is working well now that they are broken in. I am using this shoe as a light hiker and casual shoe. They are comfortable due in large part to the arch support.
worth it spend the money woo hoo!!
I own the mens, same pair so don't know if this is worth anything....but, they are pretty sweet shoes- everyone was telling me how fragile the lacing system was, and I have put them through hell and nothing at all wrong with them, took to my feet well and the "orthotic" sole thingy seems to really make running 3-5 miles easier....waterproof for sure , you could swim in these things, to answer backcountry's question, yes they will work on the moon-

only prob (waaah wahh) they do get real warm inside really quickly- I weigh 240 (muscle) and maybe that has something to do with it especiually going down hills and the friction and all, but maybe that is also a product of the goretex being so effective, either way worth the moneyQ!!!!!!
These shoes are by far the most comfortable I've owned. They replaced a set of New Balance and really out perform any other shoe I've used. The laces are really easy to use and tuck down nicely (don't stand straight up like quick laces in other brands). Great shoes for every use!
These shoes have great support and are easy to get on and off. My only complaint is that I got a huge blister from running with them the first time because my socks were too low. As long as your socks are high enough to completely cover your heel, you will not regret purchasing these shoes! I normally wear a 6.5 or 7 shoe size, and the 6.5 fits me perfect.