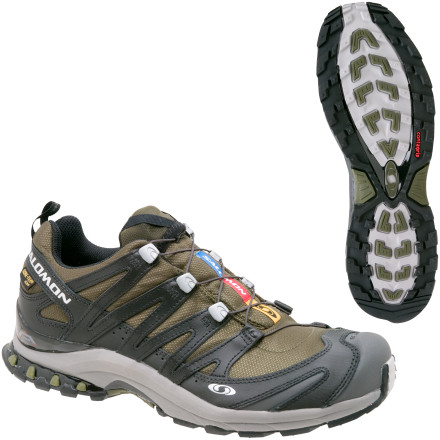 Detail Images
I over-pronate like it's a fad. Great shoe, plenty of support.
I love these shoes! They are really comfortable and I wear them all the time. I use them trail running, camping, and even out to the bars.

Stop thinking about it and buy a pair! You wont regret it.
So these shoes are still working out well. I am in afghanistan and run in them at least 3 times a week. They are holding up well to the rocks and sand that are here on base (no paved roads at all) I think they are actually getting more comfortable as I wear them more. The only issue I am having is that the GTX doesn't breath too well in the heat, so my feet are sweating.
All-time favorite shoe. If I could have only one shoe for the rest of my life this would be it. Light, waterproof, comfortable, durable and actually I think very good looking. I love the lacing system, easy on, easy off. I have been buying this style of shoe from Salomon for about 3 years and have been consistently impressed. I use mine mostly for trail running and long approaches to crags. I have a semi-wide foot and unlike other reviewers below, I have never had any problems with the fit of the shoe.
good shoe...stiff at first
Really like this shoe. I thought it wasn't going to work at first because the heel cup was a bit narrow, and overall the shoe was pretty stiff. After about 40 miles or so, they have started to loosen up a bit. The heel is still firm and supportive but has widened a bit and the shoe seems to have needed a breaking in time. Overall I'm satisfied and would recommend it to anybody
Hello. Can you send the shoes to Erope -...
Hello. Can you send the shoes to Erope - Czech Republic? Thank you *Gsk
visit the "help center" at the bottom of this page
I picked these up last winter. I wanted a pair of runners for the -30c winters. I use them for winter dog walking, to the ski shack and shoveling the snow. Quite the versatile shoe. The fit is accurate, comfortable, dry and durable.
Great shoe once again. I have purchased 3 different styles from Salomon, Winter, Summer, Water. Actually two pair of summer runners. I am that satisfied.
the best running trail shoes i have ever had. thery comfort and they make their job very well. looks good. i like the service of the site.
These shoes are worth every penny. I have corrective inserts for my flat feet and unlike many other trail shoes, they fit perfectly. I had the chance to test the Gore-Tex and water-proofness of the shoes and they are 110% water proof. They took a heavy downpour of rain for 3 and a half hours and my feet were completely dry. Unfortunetly they do not have Thinsulate so they aren't unbelievably warm, but this wasn't a deal breaker. They do run a bit narrow, but I wore them in within a day or two. I am overly pleased with these shoes. If you need a heavy duty shoe for lots of activity, get this shoe.
Good Shoe... Runs a Bit Small
Very happy with the quality and looks of the shoe, but the fit for my size is a just a tad snug. Only room for a very thin sock. I hope the fit will relax a bit with break-in. I like the lacing system.
This shoe has worked very well for me for running, biking, hiking, and casual. I was rather surprised how fast the tread and rubber seams wore down. You will either love or hate the quick lace system. In principal the system is superior to traditional laces but I have a hard time keeping the lace "keeper" in the special little pocket. This also applies on my tech amphibs. I believe a newer version of this shoe comes with an integrated gator...that will be well worth the extra dough.
Unanswered Question
I would like to know if size 12 will be...
I would like to know if size 12 will be availible in the near future in the Asphalt/Black color, or should all we size 12's abandon all hope?
LOVE IT! ...but runs narrow
Almost bought this shoe from BC, but was weary given the other reviews here that mentioned the narrow cut. My local shop happened to have them (and they were on sale), so I was able to try them on. THEY RUN NARROW. That being said, they still fit well, just have to up-size. I wear a 10.5 (wide) in almost every shoe, and just went to the 11s in this shoe. They fit very well, eat up the terrain and work like a submarine when running through streams. VERY happy with these! (side note: got the Garmin Forerunner 305 too. WOW, amazing gadget for getting all the info on your runs).
Bought these shoes before a stint of traveling. From running rocky trails in Africa to fighting the driving snow (and slush) in Japan, these shoes never let me down. I have put hundreds of miles on these and they fit better with each step. Very highly recommended.
These are hands down the best trail shoes I've ever had. Tested in the Wasatch, Southern Utah, and...I'm not ashamed to admit...everyday wear in Park City during the winter. Comfortable right out of the box and waterproof in the snow and rain. I'll be replacing my current pair with the exact same shoes again.
BA, not to sound corny but they are.
If you want shoes that will respond to every move you make, all the while chewing up and spitting out anything you can throw at them... You are have just found the right pair of shoes. I do a lot of free running and trail running, these shoes never miss a beat. Whether you are on dry trails or ripping it up in a mud whole the Salomon XA Pro's are worth every penny.
I don't know what the definition of a perfect shoe is, but I can imagine that a picture of these shoes would be the definition. I wore out my old GCS XCR's last month after 2 years and bought these just 2 weeks prior to my big day-hike of Mt. Whitney this July 1st. I wore them twice for "break-in" purposes prior to the hike. I made the 21 mile round trip without a single blister or hot spot. Then I took them north to the Tahoe Rim Trail for a 4-day with a 40lb. backpack with the same great results. The Gore Tex in this shoe does put it on the warm side however I like it because I never need to tip-toe or worry about stream/puddle crossings and getting my feet wet. Great sock combo with this shoe it the Clima-Cool low rise. Also, I wear a 12.5 for everyday shoes and I went up to a 13 for my past and current pair of Solomons and they fit great. The price is reasonable when you hike in this shoe that actually works/fits and that they will last for 2 years of moderate to heavy use.
I have had them for a couple of weeks now, but no rough races or treks yet. They fit very well, specially after two or three uses. Recommended.
My husband was a little bit skeptical when we purchased these shoes. He wasn't so sure about the Quicklace system, but after three months, he wears them all of the time. Yard work, hiking, zipping around town, they are his home away from home. They were well worth the money and have held up famously.