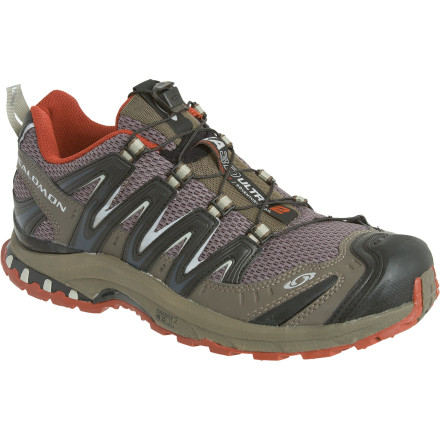 Detail Images

Videos

Community Images
Can you hear that? Somewhere, there's a trail winding through the woods and it's calling out for you and your Salomon Men's XA Pro 3D Ultra 2 Trail Running Shoe. Slide your foot inside the moisture-wicking sockliner, cinch down the quiklace laces, and race through mud, brush, and dusty berms. A protective cap keeps you from squashing a toe, and a stabilizing plate at the mid-foot gives you a cushioned and stable platform for each step. Push yourself into the mountains while wearing this tough, lightweight shoe.
3D Chassis construction combines a protective heel counter, a force-distributing stabilizing plate, heel cushioning, and a sole designed specifically for the entire mountain
Energy Cell2 cushioning helps absorb heel impact due to rocks and obstacles to reduce joint fatigue
Ortholite sockliner wicks sweat and moisture away from the surface of your feet to encourage evaporative cooling
Asymmetricl Quiklacing tightens evenly with a single pull of the threaded cable for a secure fit
Non-marking Contagrip running sole provides traction on worn trails, loose gravel, and mix surfaces
Light trail hikers
Familiarity:

I've put it through the wringer

Fit:

True to size
I love wearing these when the hike is short and the trail is easy. If I am traveling off the trail or if the trail is rocky then hiking boots would get the nod.



The lacing system if very comfortable and easy to use. I have a GTX pair and the non-GTX pair. I love both but the GTX pair makes my feet really sweaty when it is warm out
Try Before Your Buy
Familiarity:

I've used it several times
I have worn Salomons for years now and they have always fit me perfectly. I ordered these expecting the same. These hurt my feet like no other. I thought they would wear in but after 3 days my feet were bruised and I returned them. If they fit you they would be great, they did not fit me. I will get different pair of Salomons
Best thing to come from my EX-GF
Familiarity:

I've put it through the wringer

Fit:

True to size
The best thing to ever come from an old girlfriend was a pair of these shoes I got for my birthday. These are killer trail running shoes. Super comfortable shoes that offer a lot of support. I have slowly made a transition to minimalist style shoes, but do really like these.



Love the lacing system and the fact that it tucks up in the tongue of the shoe! Great shoes!
Comfortable for trail hiking.
Gender:

Male

Familiarity:

I've put it through the wringer
Bought these for a daily walking and light hiking shoe and they have performed well. I like the quick lace system and the support.



I'm normally a size 10 in almost all running and hiking shoes, these seem to run big for me so I bought a 9 1/2 and they fit well.
Can recommend these shoes
Gender:

Male

Familiarity:

I've put it through the wringer

Fit:

True to size
Bought in 2012. Used them everywhere for everything(even went to job and did repairs of my car and used to wear them around the house), difficult to count exact milage, but I think it is over 300-400miles. Of all kind of terrain(except of snow), lots of wet canyoning ( I found them nice for this), lot of hiking trough deepest thickest forest bushes, not only trailing. Not of course 1200 miles as reported below, but I still consider them pretty tough stuff. Weakest point is the mesh, imo. Despite of all damages, I could use them for sure another 100miles before they complitely fall apart, but my young doggy had eaten laces last month, she liked them obviously too... so I need a new salomons, or inov-8 shoes, may be.

What I liked the most it was comfort and speed of lacing, this system works well, also I liked toe protection, it helped good against water too. Have never got a single blister in these shoes. These shoes dryes quickly right out on the legs. Weight is also quite adequite for what you've got for it. Could be a bit stronger on a mesh.
Merch photos are cool and all...
Familiarity:

I've put it through the wringer

Fit:

True to size
But hard data is irrefutable.



I've had a pair of these since before they were called XA Pro 3D Ultra blah blah blah somethings...

I bought my pair in 2009 and they've been my only running shoes since. It's October 29, 2013.

In between 2009 and 2013, I've trained hard for some big climbing goals (Denali, Aconcagua, Teton Traverse, French/Swiss Alps, other stuff), and I started thinking, "I wonder how many miles I've run in these things...wonder how many calories I've burned while wearing them...I wonder what my average heart rate has been since wearing them..."

I've been tracking most of my workouts since June 2009 with a Suunto HRM, so I totaled it all up.

In a nutshell, I've spent in excess of 545 hours running in these things. 1200 miles. Burned almost a quarter million kcals...



Then I sorta went full-nerd (cause that's what I do):



243,979 thermochemical kilocalories =

1,020,808,136 joules

968,186.88817 thermochemical Btus

7.747481 US gallons of aviation gasoline

283.5578 kilowatt hours

104,093,460.66 meter kilogram-force

380.2572 horsepower hours

202.9840 miles in my Subaru



These are like...good shoes.



The tread is getting thin. If they were tires and I took them to Goodyear, they'd pull out a Quarter and attempt to shame me into buying new ones.

But I've decided I won't replace them till I hit an even 250 thousand kcals. I like round numbers. Don't tell me what to do...



Oh!

Pretty weak kiloton value, but...I'm cool with it. I GUESS.

0.000243979 explosive kilotons



Now if I could only figure out how many beats-per-minute of pure #@$%ing metal I've rocked out to in that time. How many cumulative decibels. How many double-bass hits, how many drop-C triples, how many times I've streetmoshed, pointed at cars in traffic and yelled lyrics at soccer moms.

But that really has nothing to do with how awesome these shoes are...

5 Stars...and only 6 thousand kcals to go before it's New Shoe Xmas Time. STOKED!
Like a cradle for my foot!
Familiarity:

I've put it through the wringer

Fit:

True to size
My wife has been getting Salomon XA Pro's for quite a while now. This summer, I opted for my first pair. I love these shoes but the insole leaves a lot to be desired. I now currently have the Superfeet Green insoles but I am going to try a pair of the Sole insoles. I really like how these shoes are fastened and the support these give. Also, these are fairly light. Although these are for training and running, I use them for everyday casual, hiking and running. My next pair will be waterproof for use in the wet weather times.
What is the best Salomon hiking low profile...
What is the best Salomon hiking low profile show for support and orthetics?
"Best" is a rather subjective term, but I know many people who have hiked many many miles with these shoes and love them. They have the 3/4 solid shank which supports your foot better then most "running" shoes do for backpacking and load bearing. If you want good orthotics for any shoe you should probably get some custom insoles and put them into these shoes yourself... I would say you can't go wrong with a pair of these though!
I agree with Terran, I've put close to 3,000 miles on these shoes (not all on the same pair of course), and I love them for hiking and trail running. The default insoles pop right out and I use superfeet with mine--should fit any orthotics though.
Excellent Hiking Shoe
Familiarity:

I've put it through the wringer
I've had these shoes for several year now, and used them for day hikes, multi-day backpacking trips, traveling, in mud, gravel, scrambling up rocks, and walking on pavement. They are super comfortable, durable, breathable, and provide great traction.



Two most important things that I look for in a hiking shoe are: ultra breathability and a stiff shank. This shoe fit the bill. The shank is super stiff, providing great support for hiking many miles carrying a pack. They are quite breathable, although I've found myself wishing they would dry faster. I previously had a pair of Asics that seemed to dry a bit faster.



They seem to be quite durable. I have walked many miles on rocky trail, as well as scrambled up many peaks. I've been using them for three or four years now and they still have good traction and don't show signs of falling apart.



One thing I was unsure about when purchasing these shoes was the lace system. I was worried that the loop at the top would snag on brush as I walked. I tuck the loop back under the bottom lace loop and I've never had a problem. However, after years of use, the adjustment lock is getting a little stiff, so it isn't as easy to tighten and loosen the laces anymore.



This is an all around great shoe. When it's time to replace the pair I have I'll definitely look to see what Salomon has to offer.
Great shoe for flat feet
Familiarity:

I gave it as a gift but have feedback to share

Fit:

True to size
I bought a pair of these as a gift for my father-in-law and after trying 7-8 different pairs, these were the ones that fit the best for his flat feet.



He's had issues finding shoes that fit comfortably for years because his feet have flattened out. His last pair of shoes should have been replaced two years ago but because he couldn't find anything that fit his, he just kept wearing the same shoes until the completely blew out!



Another thing he loves about these shoes is how well they breath. Along with having flat feet, he also has very sweaty feet and because of the exceptional breathability of these shoes, he deals with less swampy feet.
So far a good shoe.
Familiarity:

I've used it several times

Fit:

Runs small
The size is snug. I'm wearing a 13 , if you aren't use to a snug fit then the shoe might not be suited for you. I'm enjoying mine and don't have a problem. You'll see that on many websites and even backcountry folks are buying this shoe a 1/2 size bigger. Guess that's the way to go.
Good To Go!!!
Familiarity:

I've used it several times
I finally got a chance to really use these shoes for a long trek other than just short 5 mile day hikes.

I did buy them a 1/2 size bigger than I normally wear and there was no problem at all. The ease of the quick tie lace is really convenient and the little pocket to tuck the laces away is cool. The shoes are really comfortable, very sturdy, and lightweight. Our hike was intended to be 15 mile days for 5 days, but we had to cut it short due to two team members having injuries. So we ended up doing one 17 mile outing. We all carried an average of 32 pounds of gear and I can honestly say I had no foot pain, no blisters, and no hot spots! I am really pleased with these shoes and only negative thing I can think of (and it's not really a negative) is, while hiking, a pair of gators is recommended (I'll need to do that), and as with ALL vented shoes, your feet will get DIRTY!



Bottom line, I would recommend these to any friend or fellow hiker!!!
Bought two pairs of these for an upcoming AT thru-hike and just completed the first 3-day backpacking trip with them.



Made it perfectly through rough terrain and several stream crossing ? drying very quickly. Insanely comfortable and the perfect weight for the job at hand.



Lost one star for the insoles ? they are worthless and should be replaced immediately in my opinion.
Best brand, hands down
Gender:

Male

Familiarity:

I've put it through the wringer
I actually bought these shoes to wear to work because my other Salomon shoes are so comfy. They have outperformed anything I've ever had as far as comfort. I used to get sore from being on my feet all day on the concrete and tile floor, not with these shoes! I will purchase them again, no doubt!
Salomon XA Pro 3D Ultra 2 Trail Running
Unanswered Question
Not a question about this shoe, but a...
Not a question about this shoe, but a question about this shoe's owners' ski boots.... I love these shoes, have for years, as they fit my foot fantastically. That said, I'm looking into getting ski boots, and wondering what those who favor this shoe's fit wears. Appreciate the opinion. (I have a high instep too.)



(BTW note: I replace my insoles with superfeet, which make the shoes last much longer, as the soles and the exterior of the shoes have a longer lifespan... may want to consider it)