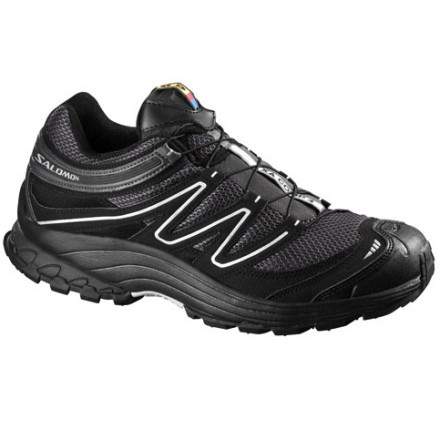 Detail Images
good venting, horrible insert
I bought these XA Comp 4, after I had purchased the Salomon Men's XA Pro 3D Mid GTX Ultra, because I really liked them, however these XA Comp 4 come with no arch support in the insert compared to the XA Pro 3D Mid GTX Ultra. These are pretty much a flat thin cushion.

Now, aside from this, it is true to size and very ventilated and comfortable, after changing the inserts out.
This has been my best bang for a buck from Salomon so far. I've been trail running and on the road with these and they feel great. they are the coolest shoe (temperature) that I have worn. Plenty of air flow through the mesh on the toes. The only thing that I can say is bad or awkward about these shoes is that the laces are very long. Takes a bit to stuff them all in the tongue. But if you can get around the extra 5 seconds you will have to spend to stash the laces, these are amazing shoes.
Please pay attention to store the laces in their socket on the tongue. Don't go running with laces like on the picture here above on the black shoe. It can be dangerous if you grab a branch or a root. When stored though, it's safer than classic laces
, ☃bcs_badge_alumni_label☃
Great shoe
I run trails and thats all. These are great trail shoes and were so good I ran home on the road to see how they would work. I had no issues with running on the road with them. They are really light under foot and the lacing system kills it. I enjoyed them so much I have gone running twice for a few days since I have had them.