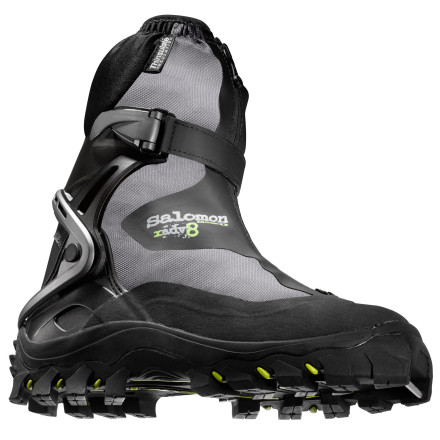 Videos
Description
Alien weapon styling, Nordic genes and righteous abominable snowman skills.
Salomon designers chased a grizzled Sasquatch through deep, untouched alpine wilderness before returning with notes on how to construct the extremely technical and supportive backcountry Nordic boot, the X-ADV 8. Salomon created this boot for Nordic slayers who require supportive rigidity and weather protection without any sacrifice to the off ski walkability when you need to drop yours skis and flying tackle Bigfoot.
High, hinged Energyzer cuff supports lateral stability and ankle strength
Seamlessly welded synthetic upper blocks out water
Thinsulate insulation regulates foot warmth
Lace cover prevents debris snags
Precise, one-pull Quicklace system for fit adjustment
Fully integrated gaiter and external gaiter hook to keep out snow
Stiff shank for supportive performance
are the salomon x-adv 8 sizes listed uk or us?
What is your return shipping policy?
All sizes listed are US so the X-ADV in size 8 is a US size 8. You can return a new, unused item anytime for a full refund. Used gear can be returned within 30 days for Store Credit. Also, you can exchange an item for free, we will cover shipping both ways. So if the size 8 does not fit we can definitely help you exchange it for another size.



Contact me with any questions about Salomon boots or other cross-country gear:

klivingston@backcountry.com

801-736-4337
No SNS XA boots for us big footed guys eh?...
No SNS XA boots for us big footed guys eh? Size 13? Does anyone build 'em that size?
Hey Kevin,



Unfortunately I'm not finding any SNS XA boots in a US size 13 on the site. However, you should be able to get that size from just about any manufacturer if you go direct through them.
Salomon X-ADV 8 Backcountry Boot
Works well for me!
Gender:

Male

Familiarity:

I've put it through the wringer
Bought this boot based on my love of Salomon trail running shoes and hiking boots. The fit for me is spot on! I would say I have a pretty normal sized 11 foot. Other reviewers said boot ran big, so I ordered a 10.5. That was a good decision as the 10.5 XADV 8 fits like my other Salomon sized 11 products. The booth is very stable and very warm. Combined with a thin wool sock, the boot keeps me warm and dry down to -10F. I use this for 100% off trail backcountry kicking around in the mountains southwest of Vail, CO. Overall, a great boot for me and my off-track adventures. Have not had one issue with it.
I just got back from my first trip with these. It was a 13-mile out-and-back with a 1200 ft climb to a pass in Montana's southwestern Rockies. They were paired with Madshus Eon skis (83-62-70mm) and Salomon X-ADV Raid bindings. The trip up was over warm, sticky snowmobile tracks with temps in the 40-50 range. I spent the night at the pass, so the morning trip down was over hard, ice-covered fields of snow and icy snowmobile tracks.

The boots were sturdy enough that I felt comfortable on all of this terrain, even carrying a decent amount of speed. I didn't whip out any tele turns, but I'd have had second thoughts about charging these conditions even with my resort tele gear.

The boots are too narrow for my feet though. I used a size 11 US, and my largest foot measures exactly eleven inches heel-to-toe, 4 inches across at the ball of the foot, and 3.25 inches across at the arch. The toe-box was roomy, but the arch is where I had a problem. Half-way up my ascent, I began feeling pain in the arches of both feet. I stopped, took out the liners, and put on some body-glide, but it didn't help. By the time I reached the pass and took off my boots, I had huge blisters along both arches.

After coming home, I examined the boots and found that Salomon put very thick pieces of foam around the ankle cup that extended forward half-way over the instep. That's exactly where my blisters were forming. I like everything else about the boots, so I think I'll try to break them in by wearing duct-tape over my insteps, or I might take a knife to some of that foam.

Unfortunately these aren't ready for long BC treks right out of the box, at least not for fat-footers like me.
I have large bunion's on my feet and need...
I have large bunion's on my feet and need wide boots size 11. What is the fit like on these boots.
salomon are REALLY narrow....try to find some alpina....
salomon are REALLY narrow....try to find some alpina....
fit great, worn out hinge point
I'd really liked every Salomon shoe I'd ever worn, so I bought these sight unseen. They fit so nicely and felt so warm and comfortable that I was super stoked...until the big toe hinge point wore through in less than three weeks. I do ski alot in the backcountry, but it seems that Salomon didn't foresee the wear and tear coming...why not??? I can't imagine that any tester would not experience the same problem....I'm going to glue a hypalon or rubber patch on this point to try to seal them back up, because sending them back for a new pair would seem to be futile unless there has been a change in design. Good luck to all you Salomon fans out there. I hope my patch helps.
I've got Saloman Greenland boots that sadly...
I've got Saloman Greenland boots that sadly must be replaced. With three sets of skis having SNS back country bindings, I'm hoping that the X ADV takes the same binding. Odds are slim, I know, but do they?
Best Answer
YES, the X ADV boots will fit the SNS Back Country bindings that fit the Greenland Boots. I have BOTH X ADV and Greenland Boots that I use on the same pair of skiis.
Only difference between BC/XA bindings is shape of rear edge of flexor.
How do the XA DV compare to NNN BC?


Unanswered Question
Looking for the do-it-all backcountry boot....
Looking for the do-it-all backcountry boot. Hike long distances to get to snow, then skin up, and tele down. Is there one boot that can do all this well enough, and is this the boot?
Should be as just like the X-ADV 6, which I love!
I am just getting into back country skiing and ordered the X-ADV 6 boots on faith (having never tried on a pair) because I have always had good luck with Salomon. It looks like the X-ADV 8 is the same boot with a higher, elasticized collar. I absolutely love the X-ADV 6 boots! As with every pair of Salomon boots or shoes I have ever owned, they fit me perfectly from day one. They required no breaking in and have never given me as much as a hot spot, much less a blister. I tried out many other BC boots by other makers and they all gave me horrible heel blisters. Salomon footwear always feels as though it is custom made for me. I am a woman with wide feet and I often buy men's shoes in order to find a good fit. With Salomon I can wear men's or women's with equal comfort. I hope I can find some Salomon AT boots.
Comfertable right out of the box. Good control and support on icy, rutted snow on first trip out. Can't wait for decent snow next winter.
Are these compatible with Salomon's SNS...
Are these compatible with Salomon's SNS Pilot-Sport bindings?
, ☃bcs_badge_alumni_label☃
No. For a SNS Pilot binding, you will need an SNS Pilot boot. These are SNS XA, which requires a SNS XA binding.
Works great on skinny skis.
I'm using these with Fischer Nordic Cruisers. I don't think are the greatest boot for anything over 60mm in the waist but they are light and fast for kicking around in the woods and on logging roads. If you encounter something you can't handle terrain-wise, just take off your skis and walk down. The soles are super grippy. Of note: I think no matter what skis you put them on, you can't really ski in set nordic tracks. The lugs on the soles scrape on the sides and stop you. NOT made for set tracks.

I have quite a few pairs of Salomon boots for different purposes: snowshoeing, hiking, street wear. If Salomon footwear tends to work for you, so will these. Of note: I went down 1 whole size for these boots, even though all my other Salomon footwear is the same size.
Just what I was looking for
Just got these to use on Fischer Explorers. I plan on using them out of tracks at local nordic area that is very hilly and on another pair of skinnys for knocking around in the woods.I was concerned that they would be too stiff for light nordic gear or not enough stiffness for narrow backcountry touring skis. Both concerns are void. I feel there is plenty of support and ski control for my intended uses. Lateral control and support is very good and they still have the "walkability" that I was looking for. I am able to skate and diagonal stride in these boots and if the terrain is over your head or inappropriate for the ski your on, they hike very comfortably.I have a fairly narrow and low volume foot and I am pleased with the fit. I had no problem wrenching them tight enough and they stayed tight my whole ski day. I love the built on gaiter. Two thumbs up, and big toes up, too!