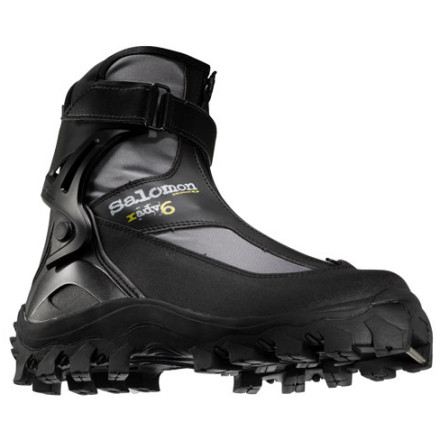 Videos
The Salomon X-ADV 6 Backcountry Boot offers backcountry skiers support and protection along with excellent walking comfort. Salomon's Powerful Cuff provides rigid lateral stability without sacrificing front to back freedom of movement, while the central zip cover protects the inner boot from cold and snow. A Thinsulate liner retains heat and keeps your feet warm during long backcountry tours. The Quicklace system snugs tight with just one pull.
Share your thoughts
What do you think of the
Salomon
X-ADV 6 Backcountry Boot
? Share a...
Comfortable, warm and seem to be sturdy.
Familiarity:

I've used it once or twice and have initial impressions
I received a pair of these for Christmas, and although they were cramping my feet to start, they are now very comfortable. The sizing does seem to run big, at least in a 13, but they cinch up nice and provide a ton of support for this type of boot. I have used them six times now, about two or three hours each trip. I have been using lighter and lighter socks as they are very well insulated and keep my feet nice and warm.
Best boot I own
Familiarity:

I've put it through the wringer
This is my third season in these boots and they're going strong. I ski about 4 times per week, and the boot has held up beautifully. My feet have too; no blisters or hot spots, even on the days when I ski over 12 miles.

Most comfortable boot I own.
Flawed design...
Familiarity:

I've used it several times
It is hard to believe that Salomon has not fixed the design on this boot. I bought these boots in 2012 (same design as today) and within four ski days the stitching where the fabric upper joins the more solid lower part of the boot was coming undone. The design clearly stresses this point each time the boot flexes as you move forward with a stride. I know two others who bought the same boot and have had identical problems. For the other two, they have not been able to get any resolution from their retailers (in their case not BC.com) or Salomon. The good news for me is that Backcountry.com has been very responsive -- offering refunds, replacements, making good.
Interestingly, I also still have the version of this boot from the 1990s and have more than two hundred ski days on it. And there are no signs of the problem that occurs with the newer boots. The only issue, completely understandable, is that the waterproofing on the fabric on the uppers eventually goes making them rather wet to use on warmer days.
In all other respects this is a great boot, that fills a really important niche: heavy duty/off trail/backcountry nordic type skiing.
Shame on Salomon for not addressing the design flaw!
What, is this my 3rd winter w this boot or only the 2nd?
okay, i go every day. but Im no hotdogger, mostly level skiing and Im not hard on any gear. These boots started going to hell the first season. the gaiter was already pulling away from the boot. i shouldve returned them, why ever didnt i? they have only continued. our last boots, the salomon greenlander and an earlier Salomon leather boot lasted 16 and 18 seasons. then the sole sheared lengthwise. old rubber. the uppers were still FINE!I tried an eBay pair of Greenlanders, 'new' never worn, out of the box. i paid about 50 bucksplus shipping.
on the 3rd time out the sole sheared in two. this is how i learned that just because its never worn doesnt mean its new! old rubber...
what has happened to this company? now the mate's gaiter is also ripping. the zippers seem imperiled also. will i even get a 3rd year out of these? i have had to punch holes & handsew the gaiter since a shoemaker wouldnt sew the plastic. i then glued patches over that, looked like a perfect fix, compatible material and all but the contact cement isnt holding. today my feet were wet...
i actually looked at an old 'never used' pair of leather Salomons on Ebay again tonight...hoping...
it is so totally disappointing that Salomon has made such a disintigrating
boot. fits me good, works good, all true, but....

How do these fit? As a reference, I seem...
How do these fit? As a reference, I seem to typically wear US size 11.5 in Scarpa backpacking boots and approach shoes, as well as just about all of my foot ware. That said, I have *old* Salomon Active S9 Pilot (Classic XC boots) and Salomon Team Combi (Skate boots) both in a surprising size of 44 Euro/10.0 US which fit me perfectly. Do these new Salomon BC boots run large like their old XC boots?
Canyonlands,
The Salomon X-ADV 6 Backcountry Boot fits a little on the large size. Based on the other boots you describe here I would recommend that you try a US 11.
Thanks MD. One thing I need to point out is that it appears that either the size info is incorrect for these boots, or that Backcountry doesn't sell a US 11.0 in the X-ADV 6. When I put size "11.0" in my cart, the order details tell me I've selected US 11.5/UK 11.0. The next size down indicates US 10.5/UK 10.0.

So should I give the ones detailed US 11.5 a go or will they likely be fitting more like a size 12.5? I might be able to handle a boot fitting more like US 12 with an aftermarket insole. Anything running larger than that is almost certain not to work for me.

Thanks again.
Best Answer
I am sorry about the confusion on our site. The drop down menu shows the 11US, but that is actually incorrect and we are currently out of stock (though we normally do carry them). If you are interested in going outside the 11US I would recommend staying at 11.5US rather than going all the way down to 10.5US. Either way, I will get back to you tomorrow with a time estimate on when we will be getting the 11US back in stock.
Canyonlands,
Bad news. We don't have any more of the 11US in stock, and for the moment, we don't have any on order from Salomon. We do have 4 pair of the 11.5US in stock if you are looking to go that route.
are salomon bc boots compatible with the...
are salomon bc boots compatible with the NNN binding?
Best Answer
Negative. You need an SNS-XA binding. The NNN, NNN-BC, and the SNS-XA systems are not cross compatible.
SNS BC or SNS-XA uses a single heavy duty ridge down the centre of the binding. NNN-BC is just a heavier version of the two ridge NNN binding.
see the photos at apexweb com then /xc-skiing/tips/binding-confusion-2/
How do the NNN BC compare to the Single Ridge XADV or sns BC?
Jeff - thanks. All my bindings have...
Jeff - thanks. All my bindings have on them is the SNS Back Country logo and the # 185 on the latch mechanism. Sounds like they may work.
Rachael
Yes, I believe they will work. The 185 is the flex. Good luck!
Will these boots fit on a Salomon SNS Back...
Will these boots fit on a Salomon SNS Back Country binding?
Best Answer
Rachael, if the binding is a Salomon Backcountry Binding, then YES, this boot should fit it. Are they the XADV Raid bindings? Good Luck.
Yes, I got hold SNS BA binding and it fit with the XADV boots
Salomon gets BC boot right
All the standard Salomon features here: cushy comfort, warm, well made, easy in and out. But the killer feature in my opinion is the easy, forefoot flex as you roll off the ski. There's no restriction as there is in the NNN BC set-ups. In combination with Salomon's robust Raid binding, it's a superb boot for off-track skiing. Mind you, it's not a turning machine (no system boot is); you'll need three-pin bindings and Garmont Excursions or something similar if this is your objective. But the binding is very secure for two-footed parallel turns on tame snow assuming a fairly narrow ski like a Madshus Eon or similar model (skis wider than 60-65 mm are tough to get on edge with system boots). I wouldn't hesitate to use this boot with the Raid binding on a traditional-length touring ski (something with a 50mm waist) for all-day comfort that will take you far from the parking lot.
I'm looking for a size 15 us or a 51 uro...
I'm looking for a size 15 us or a 51 uro ski boot for back country sking
Hey Bob. I'm in the same boat. Heh. Or pair of boats. Was wondering if you'd ever had any luck? So far I can't find anything. Thanks - Andrew
I have wide feet, 11 2E, would these fit ok?
I have extremely wide feet and have always...
I have extremely wide feet and have always had problems with cross country ski boots - all of them are
just too tight and uncomfortable. Will the Salomon X-ADV 6 Backcountry be any better ?
You may want to give Alpina a try. They typically run the widest of the XC brands.
I haven't been cross country skiing for...
I haven't been cross country skiing for about twenty years.
I plan to rent the skis up in Vermont but the boots will
create a little problem for me. I have extremely wide feet
and in the past just suffered through the ordeal. Now I am
seventy years old and want to ski in comfort.
Best Answer
Your best bet is to go to a master boot fitter so they can fix you up exactly to your foot
Unanswered Question
Is this boot crampon-compatible?
Is this boot crampon-compatible?
Unanswered Question
Write your question here...Will boot fit...
Write your question here...Will boot fit salomon sns bacoutry binding ? Bar needs to be 40 mm wide.
Very warm and cozy and absolutely so pain from breaking in (and I'm a big complainer). If they didn't have a lug sole they would feel like slippers.
Will these boots fit on 6 rear old SNS...
Will these boots fit on 6 rear old SNS backcountry bindings?
No. They use the new Solomon binding SNS XA. I tried them with the Profil, the Pilot, and the Universal. They won't connect. Had to take my skiis in to have the X-ADV binding mounted.
Yes they will measure front bar it needs to be 40mm.
Yes, definitely! the only difference between the newer XA and older SNS-BC bindings is a slight change to the shape of the trailing edge of the flexor. Older BC flexors are angled forwards towards the top while the newer XA flexors are vertical. This means that there will be a small gap (~3mm) if using the new boot in an old binding. You can fix this - if you think it matters - by replacing the flexors, of maybe by using silicone sealant, etc.
I need a ski for steep hills, deep snow,...
I need a ski for steep hills, deep snow, out in the pasture of my Wisconsin farm. I haven't skiied in fifteen years. any suggestions?
I have Atomic Sierra Rt's 69 tip kick good and turn awesome in woods carriage paths and fields. or maybe bigger Madshus Eon are decent turn well float and kick well.
Unanswered Question
I need a ski for steep hills, deep snow,...
I need a ski for steep hills, deep snow, out in the pasture of my Wisconsin farm. I haven't skiied in fifteen years. any suggestions?