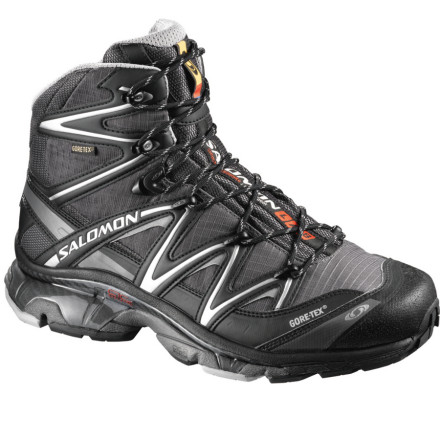 Detail Images

Community Images
Be kind to your feet and lace up the Salomon Men's Wings Sky GTX Hiking Boot next time you step foot on the trail. A waterproof breathable Gore-Tex membrane keeps your feet dry as you scramble to the mountaintop. The comfortable Ortholite sockliner provides heel support and added cushioning throughout your trek, and there's no need to worry about slipping and sliding with the Contagrip rubber outsole, which delivers excellent traction on any terrain.
The best
Familiarity:

I've put it through the wringer

Fit:

True to size
You can't really beat Salomon in my opinion. This is a great trail weapon especially in wet conditions. Not that great in the snow because they are insulated but still a great trail weapon!
Unanswered Question
Do these fit more like the Salomon XA Pro...
Do these fit more like the Salomon XA Pro 3D (narrow) or the Salomon Quest/Cosmic 4D (roomier toe box).
Best Answer
I weighed myself this morning and I clocked in at 145 lbs but I hope you are asking about the boots though. We have these listed in the tech specs as about 18 oz for the pair but this will vary slightly by size.
Looks great, feels great.
Familiarity:

I've used it several times

Fit:

True to size
I purchased these boots in early February. I wore them casually to see how they feel and after wearing them all day my feet felt fine. I have hiked with then 4 times on a 6 mile hike over hard gravel, blacktop, hard packed dirt, ice, and snow. They are comfortable and fit true to size. (13). I have also snow-shoed with them on two occasions. I have not really tested them through extreme wet conditions. I could rate them a 5 but since these are my first real pair of hiking boots I cannot compare then to anything else I had.
Unanswered Question
Are the insoles removable so they can be...
Are the insoles removable so they can be replaced with Superfeet inserts?
Greetings from NZ. I'm looking for a...
Greetings from NZ. I'm looking for a lightweight-but-capable trail boot, and the Wings Sky seems to fit the bill in many respects. However, previously a pair of Salomon XA Pro Ultra 3D 2 trail shoes have given me blisters on the arches of my feet, probably due to the high arch profile of the shoes (and perhaps also to the narrow sole width at the arch, and the fact that the OrthoLite insole is rubberised at the arch). As the Sky Wings also apparently features a "high arch", is it likely that I would encounter the same problem with arch (!) blisters? If so, what other light-but-capable trail boots can you recommend (ideally, but not essentially, non-GTX!). Would any of the following be worth a look: The North Face Hedgehog Guide Tall GTX III; La Sportiva Hyper Mid; Salewa Hike/Alp/Mountain Trainer Mid? Many thanks!
Having owned both the Wings Sky and the Salewa Alp Trainer, I did not experience any blistering with either boot. Between the two, the Salewa is more robust and has the advantage of a "no blister" guarantee. You can adjust the volume of the foot bed and so reduce the arch support if you want. Downside is it is a stiffer soled boot which you may not like if you just want an easy hike/ trail runner type shoe like the Wings Sky.

Salewa's new Hike Trainer--a lighter and less stiff version of the Alp Trainer may be worth a look. Reviews have been very good and its styling is kinda cool too!

Anyway, good luck in your search. Hope you turn up something that works for you.
Really nice boot
Familiarity:

I returned this product before using it

Fit:

True to size
This boot feels really high quality, comfortable, light. I first tested grip on wet rock and found it was too slippery, so I never hiked in it. Too bad because I would have kept it I'm sure.
Good Boots for what you get
Familiarity:

I've put it through the wringer

Fit:

True to size
These are great boots but there are a few things to consider. They are extremely breathable for a gore tex product so winter hiking can be a little cold. The arch support is high and designed to be used for running so light walking can be somewhat irritating on the middle arch and when standing still. The laces seem to keep coming undone also but they are long enough to double the knot. Mine do not have the traction on the pic. much less knotty and more like a sneaker. Keep that in mind for rocky and slippery surfaces.
Crap boots
Familiarity:

I've put it through the wringer

Fit:

True to size
After owning them for less than a year they have a hole in them. BIG gaping hole. They are very sweaty and they get wet easily. At first they were waterproof but a few months later they were getting wet.
Great hikers, but not much support
Great boots for trail runners. But if you're looking for a boot for hiking with any type of load, these wouldn't work (at least for me.) The fit & finish is exceptional (like all Salomon stuff) and the weight makes them perfect for trail runs. But, I was fearful of using them for any hiking where support was critical. I returned these and went with a heavier boot.
Favorite boots
Gender:

Male

Familiarity:

I've put it through the wringer
I've used these for almost two years now. As good as new. Durable, awesome looking, comfortable. They feel like my running shoes, are light for hiking boots, and great waterproofing GTX. Definite recommend!
What's the weight on these boots? It says...
What's the weight on these boots? It says "[pair] 18 oz" in the specs but that can't be right. Maybe 18oz each? Also, if you happen to know the specific weight for a size 10.5, that'd be helpful too.
Hi ziko,

These boots are so extremely light and comfortable that the first time I used it, I actually ran a little.



You are right, 18 oz. each, not the pair, but your feet will not believe it anyway. My boots are 11 and the weight is 19 oz.
Great lightweight boot
Familiarity:

I've put it through the wringer
For the low weight and bulk of these boots, they offer great support and grip in many different settings. Ive been out on the trail with these guys in many different situations from quick summer dayhikes to all-day postholing in 15 degree weather. They keep you surprisingly dry for their light weight and all. I once had to stand in a shallow (3-4 inches) creek for a few minutes to help others across a log bridge and my feet could just barely start to feel the slightest wetness. For a lightweight trail boot that was impressive.



They break in quick and are very forgiving during the process. I do agree with some other people about the clammyness though. Its not something Ive experienced consistently, but if the conditions are right they can get clammy. Nothing thats a deal breaker for me, but it happens.



Fit is great. They dont jam up on my toes too much on steep descents and the ankle support is perfect. I like my boots as flexible and "natural" feeling as possible so I could understand someone thinking the support is a bit light, but they are a light weight boot so hopefully you arent expecting mountaineering type boots here.



Overall awesome boots that have become my go-to for everything.
Light and comfortable
Gender:

Male

Familiarity:

I've put it through the wringer
These boots are very light and comfortable. they provide great support. They work in all kind of terrain. Great grip from rock hopping to snow. Actually snow traction is amazing. 100% waterproof.



On the downside the plastic on the toe box scratches very easily. Haven't had any leaks because of it yet.



They are kind of clammy even in moderate heat. I never have a sweaty feet but these boots build up quite a bit of sweat.
great warm weather hunting boot
Gender:

Male

Familiarity:

I've used it several times
Bought these to use for everyday at work and for hunting out west early season and Kansas deer November. Haven't had a chance out west with them yet. But so far around home working and everyday they're great. Light, supportive, comfortable. Have used them on the ski slopes making snow didn't get wet or cold. Definately would buy them again.
Great Buy
Gender:

Male

Familiarity:

I've put it through the wringer
Walked/hiked serious mountain and canyon trails with some bushwacking involved. All in and around the Tetons. All day long carrying fly fishing gear and packs into and out of remote areas hopping boulders, stream and river crossings and serious up and down in rocky terrain. Ten hour plus days on many occasions. Still look like new. Muck and water proof but also an accidental knee high river crossing.



The results: Contragrip is awesome, comfort was good and great after the first day, the orange color gets mixed reviews from others but looks a lot better than you would think. The durability has exceeded expectations for such a light weight. I mean I punish these especially on the descents into fishing areas and they are still like new after 40+ hours of use. They dry quick. If you are a person who Salomon fits perfect like me. You can't go wrong with this boot. It has exceeded my expectations. I love 'em!
So far.... a great performance boot
Gender:

Male

Familiarity:

I've used it several times
Bought these boots true to my size, 11 great fit, have logged 36 miles in them out of the box, carrying a 30lb backpack. Love the lightness, support is fantastic and have repelled water nicely so far. If you are considering a move to a lighter boot and need the ankle support, I would recommend these without hesitation.