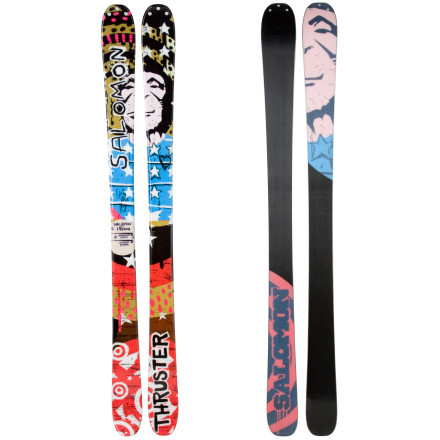 Detail Images
What do you think about this product?
Have questions about this product?
I just picked up the 2008 Thrusters before I headed to ParK City the other weekend and I loved them. I skied every kind of terrain offered to me and they were great. I was at the Canyons and the snow was hard packed and at times icey and they did fine. At Park City the snow was incredible and the skis did awesome. They did wonderful on the groomers. The ski is light and has an easy turn initiation. I took them through the powdery trees and in the back bowls as well and I loved them. Good park ski as well. Very easy to turn in the air and did well on rails and boxes. Great ski in my opinion. Skied mostly on Volkl's my whole life and i would never regret changing to these skis.
yeah i don't actually ride them but--
but ive felt them in shops. VERY LIGHT. topsheets seem good like all other Salomons. pretty soft. people say chattery at high speeds. very park oriented

PEACE