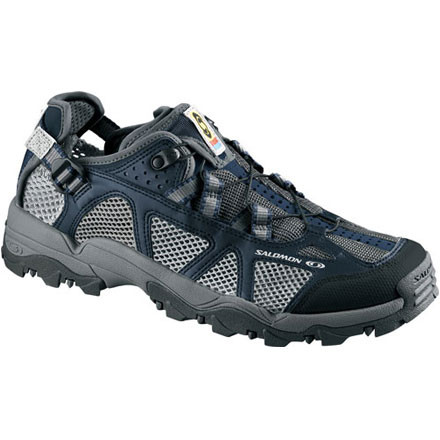 5 stars because they do everything great and breathe like no other hiking shoe/everyday shoe, and for 80 dollars at first might seem a little steep for a mesh shoe,after almost 2 years of abuse this shoe is still my everyday/first go to shoe.They did a good job of keeping me upright on a sea voyage with some rather sickly conditions for half the passengers(20/40). They have gotten completely soaked and always quickly dry (east coast too.)-saltwater and complete mud suck and after a rinsing they always look very good in as a bar/dress shoe. BLACK/BLACK colorthey are a little beat around the edges-one tear recently from slotcanyon water hole rock, but stil my most comfortable shoe.Got me to a couple peaks, got me through a couple fishing trips-surffishing,deep sea fishing,canoeing and fishing from riverbank and rowboat. Lots, lots of camping, many desert mile(I think they shined in the desert with the breathability),hanging at the beach, driving long distances, and everyday use. Great shoe
this shoes are really reaally good!!!! the looks nice and also very comfy
The Perfect Adventure Shoe
If it's hot and you're going to be in and out of the water these shoes are ideal. Durable, supportive, comfortable and decent looking, I wouldn't change a think about them. Since I started wearing Salomons with speed laces a few years ago I've given up every other brand of running and adventure shoe.
Do they grip on slippery rocks? I have...
Do they grip on slippery rocks?

I have found that only felt soles will grip onto slippery river rocks. Anything else, when walking a rocky bottom, is just an exercise in preventing an ankle injury as you slip all over the place. What's the deal with these. Do has anyone "really" waded upstream in these bad boys (i.e. fishing) and found them to grip like felt? Thanks.
, ☃bcs_badge_alumni_label☃
Best Answer
It is just a rubber sole so it will be like any other water shoe. Definitely not comparable to felt as far as grip.
Thanks. Good to know. Every other "sticky" water shoe I tried out there with a rubber sole always just had me sliding off rocks and stubbing my toes.
These are great shoes. The first thing I noticed was the comfort of the insole. I also like the mesh panels. I have a pair of similar style without the mesh panels. They allow a lot of airflow but do not have the mesh to keep out debris like the Techamphibian sandals do. These will be my primary shoes for summer.
Unanswered Question
Do Salomon shoes come in wide sizes? Love...
Do Salomon shoes come in wide sizes? Love the shoes, but blow them out because my feet are wide.
Weird sizing, very narrow
I wanted to love these shoes. I definitely like the concept and the way they looked. The insole being very loosely attached to the shoe was the only problem upon first inspection (this has been the case with every pair I've looked at as well). The size on these shoes is very problematic. I normally wear 10.5 or 11. ne of my feet is slightly larger than the other, but this rarely causes a problem, and I easily wear a 10.5-11 all the time. These shoes I went with the 11 first, as they are supposed to be a little narrow. The 11's were completely unbearable, and by toe knuckles bulged out of the shoe. I then went with an 11.5, and one foot was good, the other was still painfully too narrow. Backcountry no longer has anything over an 11.5, and a local sporting good store has a pair of 12's I'm going to try, but I don't think that will work, as one may fit, but the other may be too large. I tried a pair of North Face Padda's that fit fine in an 11, no problem, but I really liked the idea of the Techamphib, and am bummed at the weird sizing. Backcountry was very cool throughout this, and made return shipping and trying another pair very easy. I love this company and will recommend it to anyone.
what is the difference between detroit...
what is the difference between detroit blue & autobahn detroit blue.also if shoe size is men's 11 what size should we order with the sandal shoe?
I got the size 13 and I wear a 13 in regular shoes. they fit great on my (slightly) narrow foot. as for the color I think the Autobahn adds some grey, and the other is more blue, but you wouldn't notice much difference unless they were side by side. I am ordering my second pair before they go and discontinue it on me.love em.
very good service and fast time
Do women wear these shoes?
Do women wear these shoes?
If they want. Women's shoes are usually narrower, so they might be a bit sloppy, but if you want to, then go for it.There is also a Women's version http://www.backcountry.com/store/SAL1531/Salomon-Tech-Amphibian-2-Shoe-Womens.html
WILL MENS 10.5 REPLACE MY NEW BALANCE 10.5...
WILL MENS 10.5 REPLACE MY NEW BALANCE 10.5 4E
Got it for the BF. Ordered half size smaller, which fit him perfectly. Used it in Hawaii for wet, rainy hikes. Dries well. He loved it.
How does the lace up system hold up? I...
How does the lace up system hold up? I have been mid rescue and have had shoes with similar lace up systems completely fail and than your stuck with one shoe on one shoe off
Personally I'd keep looking. I've had major lacing problems with these shoes. It's a great design but I've only gotten a month to 6 weeks out of them until the laces literally shred to pieces. I ended up going to a shoe with a standard lacing system just because of that problem.
What your return policy on items on...
What your return policy on items on sale?
You get refunded what you paid for it, not what it's currently going for.
I have a nueroma in the metatarsal region in my left foot & I can wear these shoes all day long, week after week, and I never feel any discomfort. All my other shoes leave my in agony after an hour or so. I hope they never stop manufacturing these shoes although I have stocked up and am good for many years. Sure beats surgery!
Unanswered Question
If you wear a mens 10W shoe what width is...
If you wear a mens 10W shoe what width is correct?
These shoes are priced about twice what they should be, but I like them enough that I'm on my second pair. I bought them for canoeing, but use them for most everything (even in winter with wool socks).
The most versatile sneaker/sandal ever. Comfortable enough for everyday wear and enough support for an all day hike. Bonus - I can wade with them while fly fishing or hop through waterfalls while out hiking and not worry about them. The only Achilles heal, pun intended, is the heal strap. I have had 7 pairs of them and have had to replace them because of the heal strap breaking. This shoe is so good that I can overlook it. Plus Solomon will replace them when the strap breaks.
I was so excited when I got these finally!!!

No dice...the tongue is extremely stiff and extends too far up the shoe and so constantly digs into my ankle. Ow... the Salomon Karma is a very similar shoe and MUCH more comfortable. I love those ones... this one just sucks.

OW...
Awesome hot weather/gym shoes
I wear these to school, work, and the gym all summer long and they help keep my feet cool and comfortable. Toss in a decent, supportive insole and they are good for most athletic activities if you don't require ankle support. I'm on my 3rd pair and each has lasted at least 200+ days of wearing with lots of gym time.

The only drawback is that the heel adjustment never holds in place and the stock insoles have no arch support or cushioning.