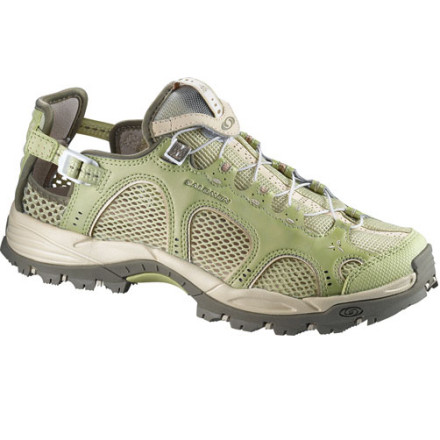 Community Images
I got my shoes 3 years ago and all in want i to buy more ,i will stick with those shoes sa long as they are sold.
Great shoes! I've worn them for adventure racing and working in the water. Very comfortable. Only neg. this is that the strap that tightens the shoe comes lose often with a lot of activity.
I had a pair that I bought in 2004 and have pretty much worn in six continents for extensive hiking, city walking, jungle trekking, etc. They're getting a bit worn so I bought a new pair, I liked them so much. They feel a bit loose and slipping during my lunch walk today. I don't have the receipt and am not sure I could return them, plus it seems like 1/2 size smaller was too small...I tried racheting down the heel strap and the laces as tightly as possible and they feel better. The true test will be a longer hike this weekend. They are a bit wide, so I'd steer clear if you have a narrow foot.

Also, for those who are looking for a "water shoe" for kayaking or whatever - I would classify these more as a meshy walking shoe than a true water shoe.
I just wear these shoes for everyday and they are absolutely awesome. I have severe back problems and when wearing these shoes most of the pain goes away. They have tremendous support for just walking around during the day.
ultimate product testing scenario
I purchased these shoes for myself as well as a pair of the men's version for my husband. I've been saving them for our trip down to Zion in a month where we will be exploring the Subway from the bottom up as well as Keyhole Canyon.

Over the weekend we decided to explore a part of the middle provo river we've never fly-fished before so I busted out my new shoes. First of all, on our river adventure there was no trail. So we were blazing our own trail through high thickets of brushes and tight-knit trees. We crossed the river about 5 times, maneuvering over lots of large slippery river rocks. The traction was good. Not as good as my flyfishing boots with the felt but good enough we're I was able to get across pretty quickly. I did stub my toe a few times. We also crossed a lot of muddy streams that filtered into the river and my shoe got through those areas really well.

I wore neoprene socks with them which helped to keep the pebbles out. (my husband wore just socks and had to empty out his shoes towards the end of the adventure).

I've never owned a pair of water shoes, maybe a pair of Tevas in the 80's so I don't have anything to compare it to but these shoes definately rock! I hope they hold up just as well in Zion in a month.
Tech Amphibian scrambling out of the Black Canyon
enough traction and the perfect weight to use as an approach and exit shoe..and it handles run-off and wet conditions extremely well- fast drying.
A versatile and light shoe, I have been using these beyond the scope of just water application. Due to their sticky soles, and lower density material/construction, I have used them for approaches to climbs in the High Sierra and in the Black Canyon. They perform really well on longer hikes, bouldering/scrambling, and through and over wet terrain. They are also easy to clip to a harness and fast to dry. I wear them without socks and had no issue. I wear a women's 8.5 and they fit true to size.
perfect fit, many ways to adjust to fit just right. Color is true to website photo.
Love these shoes extremely comfortable. Wore two days just around with socks to break in. Been fishing and hiking and no complaints. Only one small one the back strap can get a little loose causing some sliding. But just cinch down and good to go. Perfect for river fishing walking...
I wore the Solomon Tech Amphibian 2 shoe on a 6 day canyon backpack trip. We had 4 days of water and mud and 2 days of sandy trails. They worked well in both situations. I did add a sole insert for additional arch support.
This is my fourth pair over so many years. I bought them for hiking each time. They give the best traction on slick trails, when my friends are sliding and falling sometimes. I hike mostly in Hawaii, so they're great to go through mud and then walk through a stream to clean em out. And no shoelaces, yay!
had the first generation of these shoes back in 2006 and they have been the most comfortable shoe ever! so of course i had to get the 2nd generation! they're really good as everyday casual shoes and day hiking shoes. also, they're great for backpacking! Light enough to carry for backpacking and good shoes to transition to if needing to cross a stream/creek, and great for lounging around at the campfire at the end of a long day hiking. I had these shoes on a 4 day backpacking trip in the Maroon Bells/Snowmass Wilderness Area and wore normal hiking boots during the hike, but switched to the Salomon's when I set up camp for the night. If felt so good to put them on after wearing stiff hiking boots all day! They breath really well and dry quick after wearing them in the water. i agree with the other people that the heel strap slips, but i just tightened the Quicklace so my foot wasn't as loose. i just got used to the looseness of the heel.
This is my second pair of Salomon Amphibian's and I love them. I bought the first pair for use on a cruise. I then discovered that they are great for everyday use instead of sneakers. They are much cooler and very comfortable, thanks to the mesh body of the shoes.
The first pair lasted a long, long time.
I also found that I needed to order 1/2 size smaller than I usually wear. I wear a size 7 and a size 6 1/2 in these is perfect. You won't be sorry if you get them. My only worry is that they might stop making them!
Great Shoes for Water Aerobics
Recovering from foot surgery early this year, the aqua shoes I was wearing for water aerobics didn't provide enough support. Salomon Tech Amphibian Shoes are lightweight and sturdy, provide enough arch support, comfortable and dry quickly. Several people in my class want the same shoes.
I really liked this watersports shoe, but had to return it for a 1/2 size smaller.
The 6 1/2 I ordered was more like a 7 1/2 (interestingly enough the label inside the shoe showed US size 6 1/2, yet European size 38 - US size 6 1/2 is normally a European size 37). I hope the smaller size will work for me.
Best water/land shoe ever
I've had two pair of these amphibians by Solomon...the fit is perfect because of the adjustable heel strap in particular and also the quicklace system..my feet are narrow and these are the best fitting shoes I've ever owned. They've made it through oyster beds, deep muck, rocks, roots and still look nearly new though they're several years old. Time for an addition to my collection!
Does anyone wear these shoes for water...
Does anyone wear these shoes for water aerobics? Or do you know of other shoes for that purpose?
I have never worn anything this supportive for something like that, mostly for wet hikes. I don't see why you would have any trouble with these though, its probably a better option than an old-fashioned water sock. My advice, go for it!
I have never owned water shoes - I wear a...
I have never owned water shoes - I wear a size 7-8 - would you recommend going to the upper end (size 8) or the lower end (size 7)?
It depends on what kind of hiking you want to be doing in them. If you need them to be super supportive I would size on the smaller end, they will stretch a little. However on the same end if you find your self descending a lot and want to avoid toe banging I would size up.

Bottom line: Gauge your fit on what you want the shoe to be able to do.
Great Shoe with the right alterations - see below
First of all, these shoes handled like a CHAMP - once I knew what I needed to do. Allow break in time - WITH SOCKS- because the side stiching on the outside of the shoe can be a bit tight and rub your skin raw if you don't. Second, if you are going to use these as a water/hike shoe like the Narrows, or Havasu Falls/River adventure, you will need to ditch the insoles and get some SUPERFEET (green ones with solid support) or good insoles. You will not need to change out shoes at all. I was able to hike the 10 miles from Supai Reservation with my 35 lb pack on and then roll right into swimming and riverwalking with no problem. I did bring a pair of sock liners and wear them so when my feet got wrinkly and moist it would not rub raw blisters. They were extremely comfortable. CON: The buckle adjustment at the heel does not stay tight, but I knew that going in, so I rubbed in some surf wax to get the nylon part some stick before I left (you could drip a couple drops of candle wax too) and that provided some resistance and I didn't have to sinch my sandals so much. All in all, these were great shoes and very versitile. The bottom line: 1.. break them in w/socks 2. wax the sinch straps 3. replace with good insoles - you will be set.
I use these as a summer shoe. The mesh allows a lot of air flow on a hot day. As with all Salomon shoes they are very supportive and comfortable immediately. Excellent quality, and extremely light. I also rercived excellent advise from Backcoumtries gear experts. Happy