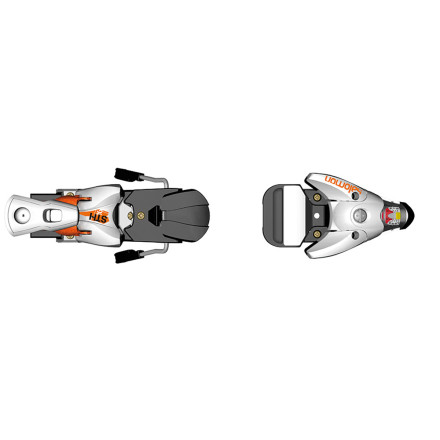 Community Images
With its high-DIN, low-profile design and durable, steel-housing construction, the Salomon STH 16 is an expert-level, freeride binding that can do it all. Built with Salomon's micro-adjustable toepiece. Micro Simultaneous Wing adjustment lets you dial in a precise fit for your boot toe, thus eliminating slop that can cause a premature-release. The large underfoot profile increases leverage over those wide powder skis that you love to steer down the steeps.
DIN range of 9-16 provides the range of control that expert freeriders demand
Burly steel construction stands up to big drops, hard landings, and plenty of abuse
Micro simultaneous wing adjustment lets you dial the front contact points to match your boot shape
High lateral transmission provides excellent leverage for driving wide skis
Way cooler than the orignal
Familiarity:

I've used it once or twice and have initial impressions
I have a of these from the first year they were released and these seem much better. The wings on the toe piece feel much stronger and the composites seem more rigid than previous models.



I'm continuing the phase out of my p18s in favor of these.



Is anyone else ready for ski season yet?!!
Great balance. Light and Strong
Familiarity:

I've put it through the wringer
If you want a strong, trustworthy and consistently releasable binding (i.e. safe) this is your binding. It's a blend of the best components of the STH 16 Steel and a lightweight binding like the Z12. It features unbreakable plastic (well at least in my 5 years on them I've never chipped, knicked or broken a single piece), steel innards (for all the springs and joints) and a design that is the industry standard for design performance. I trust these bindings with my life often and never think twice about doing it with these bindings. The best binding on the market by far.
Love them, will never use another brand
These are bomber, I have them on both my Kung Fujas and Obsethed. I never have and problems with prerelease or non warranted release. they give me the confidence and peace of mind to rip accordingly.
From a P18 fan,...
Gender:

Male

Familiarity:

I've put it through the wringer
I had my doubts since I had been on the turntable P18 bindings since 2006, but I got a deal I could not pass up for the STH 16. I enjoy these bindings as much as the P18. Just remember, you have the keep the Toe Wing screw tight as well as the front & rear DIN screws or you'll eject & 'have a bad time'. I shred Jackson Hole pretty hard & barely ejected out of these bindings. I'm happy, I saw some of the new STH bindings coming out next season & they look as more of an upgrade. Rick Armstrong was telling me about how Salomon improved & upgraded from the current STH with tweeaking springs, & toe boot contact points making the STH 2 series. I'm now a Look P18 AND Salomon STH 16 fan.
These bindings are solid and sturdy. Been using it on my Corrupt skis. They have never faild me no matter where ski.

Never pre released on me nor have they stayed on when I wanted them to release. All in all, a great binding and people I talk to keep saying they are great.
Solid Binding
Familiarity:

I gave it as a gift but have feedback to share
I gave these binders as a gift. I have heard that they are a great binding. High din and sturdy. Lots to like!
Can't go wrong
Gender:

Male

Familiarity:

I've put it through the wringer
Very stable bindings with a high din. Heavier than the marker bindings but well worth the little extra weight.
Awesome
Gender:

Male

Familiarity:

I've used it several times
Solid, reasonably light weight, high din clamps. What's not to like?
Best out there
Gender:

Male

Familiarity:

I've put it through the wringer
i have skied these for the past three years and LOVE them. no binding even compares to the quality. i have had friends with marker jester and others and they barely hold up a season and have tons of issues. these are ridiculously durable and never pop out unless i need to! they are a must have for any serious skier on any part of the mountain!
Love at first sight
Gender:

Male

Familiarity:

I've put it through the wringer
I have used this binding since birth, well maybe not since birth, but that is the kind of relationship I have with this sexy beast. We go to the movies, romantic dinners and sometimes an occasional hot tub. She is always holding me tight and only lets go when i'm really eating crap.True love.
are the brakes interchangeable with the...
are the brakes interchangeable with the Atomic FFG 16s?
Best Answer
yep, sure are.
yep FFG16 is a straight up rebrand so they are


First off, first review is written by a sponsored Salomon skier, so big suprise he says they're awesome. Skied Salomon binders for years and they were always great. These are pure junk! Don't know what Ssalomon changed in their production. Heel piece developed significant slop after 2 days! Had Salomon warranty them and the next pair lasted a week! After skiing Salomon bindings for years, this is the last pair ever. 2 pairs that lasted a grand total of 8 days skiing. Absolute garbage!
I have mounted these on my k2 kung fujas's and i love them. i usually only use bindings that go up to at least 15 and above and these were perfect. there easy to adjust. I have never had a problem with these pre releasing when im riding or breaking. overall a solid binding.
Solid binding, great price
These bindings are top of the line but won't take a heavy toll on your wallet like some of the other high performance bindings out there. They are sturdy and responsive enough for any aggressive skier. Enjoy!
at 5'10"/150, am i over my head looking...
at 5'10"/150, am i over my head looking at this binding? looking for something for the rocker2s as i progress.
At your weight you will be on the edge of the DIN chart settings at 9, which is the minimmu here. You can find options which will suit you just as well without paying for a 16 DIN setting, which you are unlikely to use.
Well if you are an extrememly aggresive skier i would say you aren'tover your head but if not, i would go for 14's because im 5'11 and 175 pounds and i have my dins on 8 and i landed sidways and the just barely released. If they wouldnt, i might have broken my knee or ankle. So i don't know. If you are boosting off 10-30 foot cliffs daily, i would go with the 16's. But because you're so light, i would go with the 14 just for to be safe. hope this helps.
If you want to use a din from 11 to 14 these are your ticket
I have never been let down by this binding. High DIN performance and lighter than the Rossi & Look. 100% confidence in no fall zones. ice, rocks, whatever I encounter out there I'm always glad to have the sth16 holding me in.
Trying to find the right freeride/big...
Trying to find the right freeride/big mountain binding for my new RAMP Peacepipe's. I have looked at Marker Jester & Griffon, Salomon STH 14 & 16, Rossi FKS 140, and some other bindings like the Look Pivot and Atomic FFG. I am not big by any standard (only 5'10" 155lbs) but I do plan on competing and consider myself advanced but not quite expert. I have never been binding shopping so anyone who could shed some light on what binding is the best choice for the best price. (Under $350)
Best Answer
HI Brandon, I think you could go with sth14 no problem and I doubt you'll need to set you din higher than 12 on them... maybe 13 on comp day. I will vouch for the total security you get from the Salomon driver series bindings. I've been using the sth16 since they first came out, so I've been thrashing on them for the last 6+ years, and I've NEVER had a pre release I wasn't happy about. You step into the 14 or 16 driver and you know your locked in good. I also find them pretty easy to put on on the steeps after hiking or whatever. If you look from the top down you'll notice that the driver toe piece wraps around the boot pretty far with the "wings", this makes it easier to hook your boot toe into the binding, level the ski, and and step down. On hard snow your performance wont suffer like a Marker either, the side to side transmission loses nothing. Hope that helps!
This is a much beefier binding than the 14. I would recommend the 16 over the 14 if you have eyes on a comp or 2.
Maybe this binding isn't made completely out of metal but they sure do hold up. The reason I consider them the best is because of their value. No binding comes close to these in terms of bang for the buck. I weigh 115 lbs an keep my din at 12. No Pre release. I wouldn't recommend this if you ever fall at all but I had a Few bad crashes last season and they did come off when needed. Many people rave about the fks but i really prefer these because i find the heel piece shape very reassuring. I plan to try the steel version to see if the durability is better. If you are a expert skier who need to mount more than one pair of skis, i recommend these. From what i've heard the steel version is great so if you can afford the extra 300 bucks try the steels.