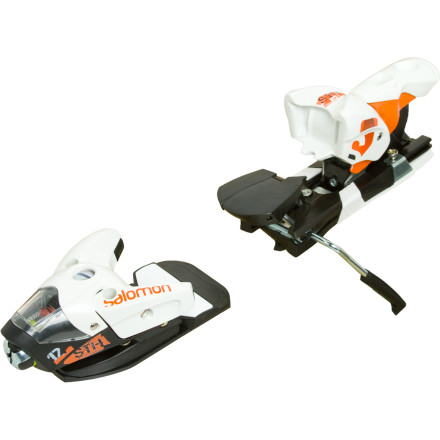 Detail Images
Great for beginner, intermediate, or lightweight expert, Salomon's STH 12 Driver Binding.
DIN range of 4-12 allows you to up the DIN as you up your confidence on the hill
Steel housing creates bombproof durability, and
Will the toe height adjust enough to work...
Will the toe height adjust enough to work with AT soles? Is there a true alpine binding that does besides Marker Duke and Tour?
The STH 12 does not have an adjustable toe piece. Right now, Marker and Fritschi are the only bindings that are compatible with both AT and downhill boots.
The STH 12 DRIVER does have an adjustable toe piece height and will accommodate AT soles. That being said, release values are compromised where the rubber sole meets the fixed plastic AFD. Non DRIVER STH bindings do not have the adjustable toe piece height.
Hi, I need a link to the install instructions...
Hi, I need a link to the install instructions that should come with these bindings. There were none in the box. I have a wise old skier I sent these to that doesn't have a ski shop locally (northern BC) and he needs the drill bit size to use for this binding. Other details would be useful too.

I don't need any disclaimers about liability and broken legs. He knows that stuff.

Thanks
Best Answer
He'll need either a 3.6 drill bit for non metal laminate skis or a 4.1 for metal laminate skis, both sizes available at tognar.com, also printable mounting templates are available here:

http://www.tetongravity.com/forums/showthread.php/153971-Binding-Mount-Paper-Templates

also it's a good idea to put a drop of waterproof glue in the mounting holes prior to attaching screws, also available @ tognar.com (Roo Glue) The drill bits are great they are shouldered and won't allow drilling too deep/through the ski. I've mounted bindings on several skis @ home with no problems, just check/recheck the centering and heel piece/toe piece spacing b4 drilling!
What differences are there between these...
What differences are there between these bindings and the Salomon STH 12s?
Best Answer
This one has the toe height adjustment so you can raise and lower it depending on how worn out your boot soles are. as well as adjustable toe wings to make the perfect fit to your boot. It is a wee bit heavier: 2120 grams vs. 2050 grams.
What does the "12" mean size length? I...
What does the "12" mean size length? I have Armada TSTW 176 and looking to purchase the mfd all-time touring binding. Need help with understanding binding sizing on the STH 's. Thanks
the 12 means it goes up to DIN 12
Best Answer
Hey Annie,

Like Mitch said, the 12 indicates that the bindings maximum DIN setting is 12. As long as you purchase the "Blue" MFD all-time plate, this binding is will work perfect

Thanks,
Nick