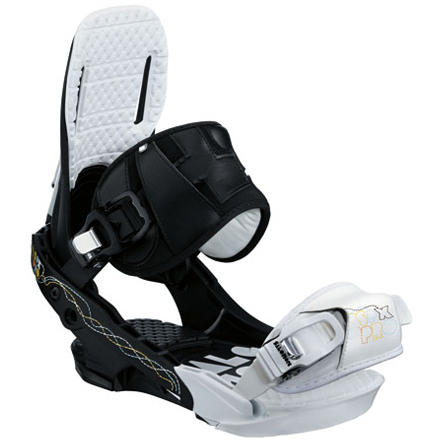 What do you think about this product?
Have questions about this product?
I am increasingly amazed at the quality products that Salomon has for snowboarding. These are the first bindings I have absolutely loved! They are easily tightened, can't be taken off in a matter of seconds, and they stay solid all the way down the mountain. To my surprise, the metal clips stay functional throughout an entire day, and never get iced up.

If you're not sure what to get, this is serious contender to the Burton Cap Strap system. These bindings flat out rock!
I have the 2005, large model (Salomon Malamute boot US 10.5), for my Palmer Classic 157 & Palmer Proto 162 boards. I've been snowboarding freeride/freestyle (I love parks) constantly since 2005, from US crap East Coast to Tahoe & Colorado to Swiss Alps, and I must say the Salomon SPX Pro bindings are just amazing.

They're literally the perfect fit with Salomon boots (I tried my comfy/easy-lace Salomon Malamute boots with Burton bindings and the fit's terrible). The fast-fit toe-straps are single-piece, so you can loosen them to take your foot off, but they don't separate like other bindings (SPX Pro front straps stay linked as one piece), making your life MUCH easier. You'll be up and ready when your friends are still strapping.

The great cushion (for jumps), no-tool adjustable bottom plate length, integrated base-plate screws (they're attached to the base-plate so you don't lose screws), and plate covers (no rusty screws) are amazing detail touches. I've never had a problem with the binding rachets, even when my friends' bindings wouldn't lock because of ice in their strap rachets.

Also, if you've ever seen your friends struggle with their Burton boots, you MUST try the Salomon boots for their amazing comfort, fast lace system, and dual-zone lacing (separate tightness for forefoot and ankle) system. Just give them a try, and you won't regret it.