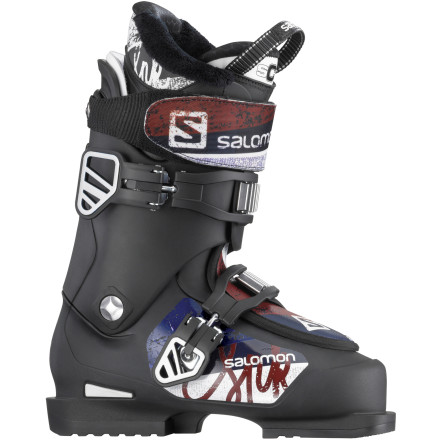 Videos
Salomon designed the SPK 85 Boot to offer maximum cushion and forgiveness for park riders who push limits. It has a thermoformable Thermicfit liner for a precision fit and efficient energy transfer. An extra-padded spoiler and heel cushioning system take off the edge on hardpack landings or going big slopestyle.
A forgiving 85 flex index allows some give to prevent shin bang, and the ample 104-millimeter last has enough room for all-day comfort when sessioning the park or hiking the pipe. It also eliminates toe bang. The extra-wide 55-millimeter power strap and oversized buckles strap you in securely in a flash. Removable DIN pads can be replaced when they wear down with rugged use and abuse.
The SPK 85 is the moderate-stiff boot in the Salomon's freestyle SPK series.
Advanced shell technology polypropylene
Textile overlap
Thermicfit liner
85 flex index
104-millimeter V last
Extra padded spoiler
Heel cushioning system
55-millimeter power strap
Two oversized magnesium buckles
Heel and toe removable DIN pads
What do you think about this product?
Have questions about this product?
Salomon SPK 85 Ski Boot - Men's
Anyone who skis a lot spends a lot of time...
Anyone who skis a lot spends a lot of time walking back and forth on pavement and wears the sole plates down. Salomon is smart they make the heel and toe replaceable. And then.... I guess they have made it so only ski shops can get the pads. They certainly don't stock them. Not that I have found. So here i am on the internet searching and searching and all I fiond is the advertising for " Removable DIN pads can be replaced when they wear down with rugged use and abuse." I GIVE UP! There are a lot of us out there more than capable and qulaified to maintain our ski wear. Especiallly some thing so sensitive as the critical part that meets another super critical part - the binding. How about it Salomon. Please make your parts readily accessible. Every day from car to lift wears the soles to the point where if the bindings work at all. they work in a pre-release fashion because there is nothing left to clamp down. I am being harsh, I know. These are my sons boots who had enough gumption to say Dad, I need new soles. This is the same kid who takes new skis to the curb to round edges. But Hey! who am I? I can't flip twice while spinning 3 times at 60 mph 20 feet overhead. So when he says the skis wiggle a little. IO know that means its a lot! HELP send replacement soles for this boot now. Thanks!
You kind of lost me somewhere along the way, but while you are waiting for someone to send you replacement soles you should invest in a pair of "Cat Tracks." Easy to slip on and off, totally protect the sole of the ski boot, and are cheap. A great investment. And you won't have to beg to get a new pair of boot soles anytime soon again.

http://ecom1.sno-ski.com/product200.html
If I were you, copy and paste that same message, but send it to Salomon's customer service.