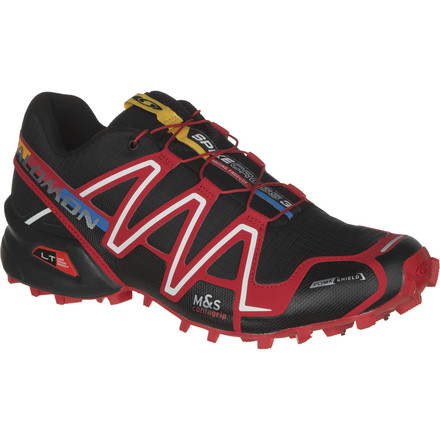 Detail Images

Videos
Description
Stay on your feet and keep them dry once the wet winter snows arrive.
Despite the layer of snow and ice covering the trail, you speed past the other racers with the Salomon Spikecross 3 CS Trail Running Shoe keeping your steps secure and your toes dry. When winter weather threatens to cut your running season short, get out there with this shoe's nine metal spikes and ContaGrip outsole digging into the wet and frozen trail.
Climashield membrane over the front portion of the tongue and shoe provide waterproof protection while the normal breathable lining keeps your feet cool during mile six
The Lightweight Muscle chassis features two layers of EVA in the midsole for reducing the constant impact of running, without more junk to slow your pace
Mud, fresh snow, and icy sections are no problem thanks to the non-marking Mud & Snow ContaGrip rubber outsole and nine metal spikes sticking you to the variable terrain
An anti-debris mesh and water-resistant textile upper with mud guard help you master the trail, even if it's not in perfect condition
Sensifit outer design uses a one-pull Quicklace system to ensure the shoe wraps tightly around your foot and doesn't move throughout your many miles on the trail
Ortholite footbed cradles your foot with shaped foam and an EVA heel cup for additional impact absorption
When you walk on hard ground (asphalt or...
When you walk on hard ground (asphalt or indoor) do the spikes make a lot of noise or is the sound barely noticeable?? Thank you.
Best Answer
Hey Jeremie,



These do have embedded metal spikes in the sole and if you are on a hard surface you will hear a tap tap tap. I really wouldn't recommend wearing these indoors.
Thank you Wayne.



I wouldn't really wear them inside. They would be used as a "winter shoe". The little time I would walk with them inside would be to get to my locker to change shoes. Maybe the speedcross GTX would be better though.
Is there a version thats full gore-tex?...
Is there a version thats full gore-tex? If not why;)?
Unfortunately the Spikecross does not come in a full gore-tex at this time. I hear they are planning to release it in full GTX like the Speedcross in future iterations, but not this year. Overall, it is still a very dry breathable shoe with Climashield.
Great
Gender:

Male

Familiarity:

I've used it several times
Love these. Just got back from a run in below freezing conditions with mixed ice and snow and pavement. First of the season... Used them last year as well.



Fit is right on length wise, though they run narrow.



Amazing traction even on thin, smooth ice - though you should still be careful! I trust them enough to cruise at high speed up/downhill and pivoting for turns along the way. I love the sound of the spikes tearing into the ice.



Has extra insulation for winter running.



Great for - winter condition trail running or running on ice. You will be pleased.



Not great for - Running on bare pavement. Makes a nasty grind sound that would be unbearable on a full length run. This is fine when commuting to the trail from home, but if you live in an urban environment and you will be mostly on bare pavement I advise to you to brave it in normal, non-spiky shoes.



Saloman makes my favorite shoes. Love the lace system, fit, durability. Highly advise these




Salomon Spikecross 3 CS Trail Run Shoe
Winter 'Speed' Hiker
Gender:

Male

Familiarity:

I've used it several times
So far, I 've used the Speed Cross 3 to 'speed' hike on groomed ski trails in New England, which means I typically come across some pretty icy patches. The shoe has worked great for these conditions -- it holds great on ice. The sizing runs small and narrow, so I would suggest ordering at least a half size up, possibly a full size up if you are going to use a thicker sock.
3 months and still saving my ass on ice and snow
these shoes are the gear. I've been running on snow ice and some pavement (to get to the snow and ice),shovelling snow and running up and down icy wooded trails daily all winter. the stick to ice and snow is unbelievable. the quick lace is still bomber as on all Salomon's .the fit was a bit off for one foot but breaking in insoles solved any fit problems, plus no toe nock.durability fantastic for these shoes after three months of hard use they still look new.
shoe screws cannot even be compared to the spikes in these high performance shoes. ice temps do make a difference how hard you have to pump your feet down for traction and I have "skated" several times down icy steep hills. the climasheild is as good as the others (poor breathers, damp when wet)I've had both feet submerged and finished my day damp, But not wet and cold. when it comes down to fit, traction, trust (performance), weight, durability and convenience in lacing I found these hit the spot for me .
Do they have pronation control?
Do they have pronation control?
Yes...Pronation Control is located at the medial midfoot and is a higher density foam designed to reduce overpronation.
Are the Spikecross 3 CS water proof ? Are...
Are the Spikecross 3 CS water proof ? Are there a Salomon trail shoe with the same type of tread with out the metal spikes that are water proof ? Thanks Steven.
They're water resistant, but only if you don't go over the top of the shoe, and nothing will be totally waterproof if you're out all day. These are probably about as good as it gets though.
Best Answer
There's a design flaw with the CS series shoes. The tongue is not sewn in on the sides. This means that the 'over top' point of the shoe is at the base of the tongue just above the toes. I expected it to be nearer the ankle, but total depth before water floods in is about 2 1/2 inches.



I have these shoes, and I like them, but water/melting snow leaking in at the toes is a problem. The same problem exists for the Speedcross 3 CS series. I switched a pair out for the Gore-tex version, which has the tongue (and its waterproof membrane) sewn up to the top laces.



If Salomon gets smart and offers a Spikecross 3 with Gore-tex, sews up the tongues, I'll switch these out for the too.
I like the look of these and they are comfortable, but I'd disagree that they stick well in icy conditions. Sure, they work great just like most trail runners with any grip on snow, but ice kills these just like most other trail runners. The only way they'll stick is to throw some screws in them.
I love LOVE these shoes. Out of the box great fit, no problems or blisters and have been running up a ski area this fall and on lots of cross country ski trails. Excellent resistance to water, the studs are key on ice and they awesome traction on dirt/grass. Also light weight. I will definitely be checking out some more Salomon trail running shoes.
Salomon Spikecross 3 CS Trail Running Shoe - Men's
Not a good fit for me at all...ran a 9 mile trail race and ended up with some pretty killer blisters!!
are these salomon spikecross the same...
are these salomon spikecross the same colour as on the picture