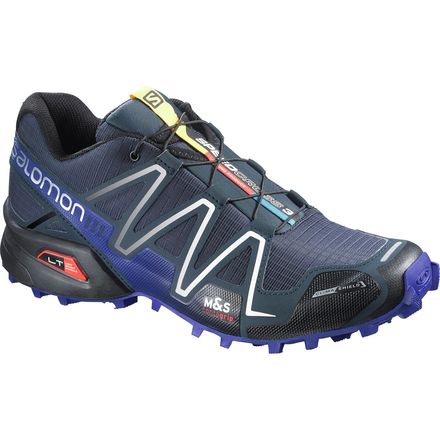 Detail Images

Videos

Community Images
Description
Sure, dry steps for your race through shifty mountain weather.
As the rest of the racers get soggy and slow, you keep up your speed because you're wearing the lightweight Salomon Speedcross 3 Climashield Trail Running Shoes that grip the slick trail. Designed for racing over snowy or wet trails, this shoe features just enough cushioning and a waterproof breathable Climashield membrane to ensure the elements don't dampen your race pace.
Climashield membrane over the front portion of the tongue and shoe provide waterproof protection, while the normal breathable lining keeps your feet cool during mile six
An anti-debris mesh and water-resistant textile upper with mud guard help you master the trail, even if it's not in perfect condition
Sensifit outer design uses a one-pull Quicklace system to ensure the shoe wraps tightly around your foot and doesn't move throughout your many miles on the trail
Lace garage stows your laces out of the way for a sleek profile
Ortholite footbed cradles your foot with shaped foam and an EVA heel cup for additional impact absorption
Lightweight Muscle chassis features two layers of EVA in the midsole to reduce the constant impact of running
Non-marking Mud & Snow ContaGrip rubber outsole delivers secure footing on mud, slick rock, and fresh snow
Unanswered Question
Hi, is the CS version same protection as the GTX? is it only because of the trade mark Goretex that makes the price different? Because I went to a shop and tried them both, the feeling is quite the same, for me I found the CS more supportive at the back of the heel, the GTX tend to slip a bit.
I'm planning to use it for mud run and snow run also. Thx
Super Comfy
Familiarity:

I've put it through the wringer

Fit:

True to size
I have used these for running, hiking, backpacking and some climbing. One of the most comfortable shoes I a have ever worn right out of the box. Only issue I have is that the tread is soft, which provides good stick in wet conditions, but it shreds in rocky conditions. Wish they had the same shoe with the same tread but made with a Vibram sole so it would last longer.
Dry and cozy
Familiarity:

I've put it through the wringer

Fit:

True to size
I know they are designed for Fell Cross trail running, but who cares? All I know is they work for the muddy, wet, slippery conditions here in NorCal. I have always love the lacing system and the fit is just slightly small. I selected true to size because, on initial fit they feel a little small. Once they're worn a few time they get a little broken in. If your doing serious running, I suggest the 1/2 size up. Typical euro last...
As happy as a little girl..
I have the Goretex Backcountry version but wanted to try a larger size and didn't want the same color again. Just going up a half size made a world of difference with my feet and being able to use my favorite insoles.



I wanted to get a shoe for our trip to europe when I didn't want to wear a dress shoe. I think these make a pretty good statement of being someone from europe or looking like Eurotrash. I am going to say Germany. I am like Dieter from Sprockets.. ' I am as happy as a little girl. '



These shoes aren't really for urban environments or city use. They grip like crazy in the right conditions, but put them in a damp or wet smooth slick surface and finding any traction is almost impossible. There were many times I felt I was walking on a freshly zambonied ice rink.



These shoes are great, they help in keeping your feet from getting wet from puddles or just when it is raining. I will most likely be using them out on the trail here very soon too.. Though I don't usually run. I will also be using them as a basecamp shoe whenever I go back up to Camp Muir. They are a very light shoe that provides some sort of moisture protection. I was so jealous of the people who had a normal shoe and didn't have to clunk around in their mountaineering boots in the evening.




Great Feel Shoe
Familiarity:

I've used it several times

Fit:

True to size
I've been curious about the Salomon shoes for a while and recently tried these as my first pair and I have to say I really like them. Excellent grip in wet and dry conditions, wonderful feel on my feet, they just make me want to run and move in them. The lacing system took a little getting used to but I've grown to like it. Although my experience has not shown them to be completely waterproof, I still really like them and will explore more Salomon shoes based on this first experience.
ive always run sportivas for distance and...
ive always run sportivas for distance and nb minimus for lighter. Thinking of making the switch to salomon, tho ive been interested in the Bushidos from Sportiva.. Any diehards out there who have run Sportiva and Salomon and can stack up a comparison??
Best Answer
Hi Andy - I've worn Sportiva's Quantums for a while now and recently tried these Salomon's and have to say I really think they are both solid, quality trail running shoes. Neither are great for road running (not made for that) but they're both really great on the trail. A couple differences I've noticed: the Salomon's do seem to grip a bit better in the wet and muddy conditions. However, the Sportiva's seem to provide a bit more mid-foot stability, if that is important to you. Lastly, the Salomon's feel like they have a greater drop than the Sportiva's. I can't say definitively because I cannot find the drop information for the Sportiva's and am going just on how they feel. Bottom line though is I do think they're both good and it's a matter of personal preference and I would say you should give the Salomon's a try and see what you think.
Do these shoes have adequate protection...
Do these shoes have adequate protection for sharp rocky trails? I had the La Sportiva Helios and the forefoot protection was terrible on our local trails.
Worked extremely well
Familiarity:

I've put it through the wringer

Fit:

Runs small
I purchased these specifically for a Spartan Race and was not disappointed. I ran with them a few times on dry surfaces and they were OK but not great.. Took them to Spartan and was impressed. Excellent traction on all terrain but they really shine on wet surfaces. Since there were several water crossings, there was no way to keep the water out completely but they drained well enough and my feet were comfortable the entire race.. I normally wear a 11.5 but ordered 11.5 & 12 so I would be sure to have the correct size in time for the event. I sent the 11.5 back. The 11.5 fit ok but after a bit of running my feet would swell and they would have been too tight. 12 was loose at first and then became perfect. As with any shoe, sock thickness can help with slight fit adjustments. The lacing system does take a little getting used to to get the proper tightness. The lugs on the bottom did not seem to retain the mud as other shoes I have worn so you are always running on the shoe and not a slippery layer of goo caked to the bottom..

Excellent for my intended usage.
Get them
Familiarity:

I've put it through the wringer

Fit:

True to size
I have the regular SpeedCross 3 and came across these on sale and bought these too. I like them for rainy days being that they are waterproof. Salomon product is always top notch and these are no exception.
Switched for the GTX version
Familiarity:

I've put it through the wringer

Fit:

True to size
These shoes are great. As others have mentioned, the grip is spectacular, the fit is snug, and the build quality is solid. I didn't find them overly hot on warm days, and they breathe reasonably well too. I live on Baffin Island so the tundra is the trail and I like the added stability and cushion, yet they're lighter and more responsive than my Salomon GTX Wings. The issue I have with these is that they're not waterproof. Half of it is the ClimaShield and the other half is a design flaw. The tongue is only sewn in at the base and the stretchy cover between the tongue and the laces doesn't do much to keep water out. If your toes get splashed, the water seeps in at the base of the tongue and you end up with a soggy foot. This is not the same as over-topping them (i.e. stepping in a creek up to your ankle). I'm talking about a design flaw like the Titanic. The whole shoe gets soaked if you dip your toes in. So I returned them for the Gore-Tex version which has the tongue (and the accompanying waterproof membrane ) stitched in all the way up to the top eyelet.



Bottom line: If you'll only need the weather protection on the odd run, these shoes are for you. If you want consistently dry feet, look elsewhere.

5 stars for fit and grip

-2 stars for soggy feet


Confortable and useful
Familiarity:

I've used it several times

Fit:

True to size
It is so useful and confortable
The Salomon / speedcross 3 Trail shoes could run you up a downspout if laced to the right feet.
Salomon Speed cross 3 green/clima shield
First look:

Color green-very bright for my taste but I do like them and after a few more runs on the trail they will be a true forest green color. So it gets s 4 because I have to do some of the coloring haha.



Fit:

Great for a regular foot with a regular arch. Sole of shoes are great, firm but feel great on trails. On pavement you can almost feel the knobby bottoms but its not a big deal from the truck to trail just an observation. I wish I had bought a half size smaller, they fit good but a half size smaller may be better, but after a longer race the feet swell a touch so it may be no big deal.



Use:

Great form and function-running trails and steep hills in Germany with no issue. great traction and durable and no doubt they are a amazing off road shoe. Would recommend to all- easy on and off no issue with the lacing system or use! great!!!
Salomon Speedcross 3 Climashield Shoe
How do these shoes breathe as compared the...
How do these shoes breathe as compared the the original Speedcross 3?
Very good even with the Clima shield
They are hot in the summer.
Too Narrow/Not orthotic friendly.
These shoes look aweseome, and are built tough. Unfortunately the heel cup is narrow. If you need orthotics they probably won't fit in these shoes.
Light enough, grip that will make you want to run straight up a wet cedar, warm toes...these babies are the stuff
I ordered the same size I have in XT Wings and XD Ultra Pro GTX and worked out just fine. Have used these on central Kentucky single track and has preformed great. This shoe is awesome for winter running conditions(cold and muddy). For me it is by far my favorite winter trail running shoe