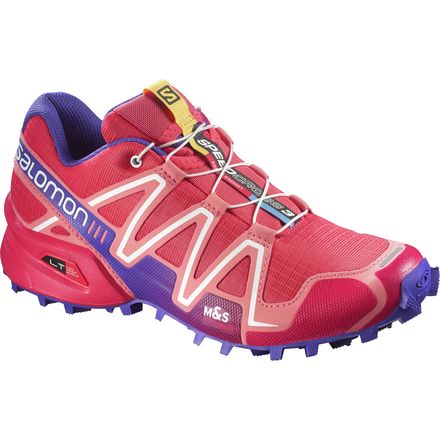 Detail Images

Videos

Community Images
Description
Stay light on your feet and move fast across rugged terrain on race day.
Salomon created the SpeedCross 3 Trail Running Shoe for women who can't stand to run on the pavement when they race on foot. Comprised of lightweight uppers and a flexible midsole and outsole, this shoe offers ample protection from hazards on the trail and an aggressive design that helps you move fast. Slide your foot inside and you'll immediately fall in love with the contoured and supportive fit, and just a single pull of the QuickLace tab tightens the laces and locks your foot in place. Running on the trail means that you're bound to encounter some sloppiness, so Salomon gave this shoe water-resistant textile, a mud guard, and large, traction-happy lugs.

Salomon divides its running shoes into a number of different collections: the XS for speed in all conditions, the XR for performance training, and the XT for all-terrain running. This shoe, the SpeedCross 3, belongs to the XS collection, which makes it ideal for blazing through tough terrain from late spring to early fall. Runners who want even more weather protection than this shoe offers might prefer the Speedcross 3 CS, which comes with a waterproof breathable membrane in the forefoot to keep your foot dry when you're faced with rain, mud, and the like.
Fit is optimized for the shape and size of a woman's foot
Upper is comprised of a combination of breathable mesh for comfort in hot weather and durable textile that's supportive and lightweight
Anti-debris mesh keeps dirt and sticks from finding their way to your toes, and rugged mud guards lend extra durability and protection
Feather construction and LT muscle chassis combine to create a stable platform that's also relatively light for the amount protection it offers
External Sensifit structure wraps from the top of the outsole to the top of the instep, locking the foot in place once your laces are tightened
Ortholite sockliner provides extra cushion and maximum comfort
Quicklace lacing system allows you to secure the laces and get a nice, even fit with just a pull of a single cord at the front; lace security tab tucks into a small pocket on top of the tongue so it won't flap around when you're on the move
11mm drop (heel-forefoot offset) offers a more traditional running shoe feel and supports runners who naturally heelstrike (or prefer to) when running
Molded EVA midsole provides cushioning and shock absorption
Aggressive, non-marking Contragrip rubber treads help you keep traction on slippery surfaces
Push This Tread to the Limit!
Familiarity:

I've put it through the wringer

Fit:

True to size
This is my third pair of trail running shoes - I've been trying to learn what's best for me as I get into tougher runs on trails here in Utah. It's pretty rooty and rocky out here, and after busting my ankle running downhill, I knew I needed a much grippier tread. The ankle support on this shoe was a huge sell, but it took some getting used to after running in a more minimal shoe (Brooks' Pure Grit).

The tread on these is like an off-road tire, and performs about as well - especially in mud. It really grips, and works best in looser dirt packs and rocks. Since the tread is so long, it does wear really quickly, even if you're careful to stay off pavement. I've learned that harder trails can definitely increase wear a lot more quickly than I'd like in a shoe like this, but I love them in the right terrain and I'll be keeping them for loose dirt, mud, and pebble situations. They are a BLAST on muddy trails. I feel like I can really rip downhill and in corners. I can't wait to see how they perform in light snow!
Best trail shoes for mountain running
Familiarity:

I've put it through the wringer

Fit:

True to size
I've been a runner for 12 years now have just recently switch over to these sneakers. I put a lot of tough miles on these shoes and they hold up great. I've never had a pair of sneakers keep such traction in mud and snow and even rock. I've been using them while I train for an ultra trail run and they far exceed the other brands I've used in the past. I'd recomend them to anyone who is looking for a trail shoe with a little extra suport. I primary use these for trail runs on flat ground and up mountains. They are also great for summer and fall hikes.
great feel out of the box
Familiarity:

I gave it as a gift but have feedback to share
I gave these as a gift to a friend for letting me crash at her spot for a while. I asked for some feedback after a couple of months and she was overall very pleased. Super comfortable out of the box and still feel great after a couple months of regular use. The tread is super soft and 'luggy' making for a great mud and soft ground shoe, but not that great for dry, rocky terrain, which she finds herself on frequently. If you do most of your trail running in a drier or desert climate, I'd suggest another option, like the XA Pro 3D from Salomon- http://www.backcountry.com/salomon-xa-pro-3d-trail-running-shoe-womens?rr=t
Best Trail Shoes Ever
Familiarity:

I've put it through the wringer

Fit:

True to size
I love these! I wear them everywhere and have never had one complaint! They have an awesome speed lace on them that makes them super easy to put on. I think for places like utah where there is a lot of hills and dirt that the sole is awesome and can dig in the ground deep so you don't slide around that much. I usually wear a size 6.5 shoe but got a size 7 to give myself a little room to run in so my food doesn't hit the top of the shoe ever.
Great company, weird shoe
Familiarity:

I've put it through the wringer

Fit:

True to size
Perhaps I am the only person who experienced this, but when I bought a pair of these shoes I immediately went for a run on a muddy trail. Instead of providing traction, the mud caked up on the bottom of my shoe. It was like walking on a slip and slide- I had to keep stopping to pick mud out from the bottom of my shoe with a stick, so I wouldn't slip and get hurt. Has this happened to anyone else? I use these shoes for mostly dry terrain now, since the grips work great on granite on other types of smooth rock. I love the Salomon company and the products they make, but these shoes were a major disappointment.
probably the best
Familiarity:

I've put it through the wringer
I bought these as a gift for my girlfriend (at her request) and I'll just say that her feelings on them echo what most other people say. They are the best and she can't live without them. She had me buy her 2 pair just in case, in case what I don't know but we're set for a while in speedcross 3's
Mud and Sand Beasts!
Familiarity:

I've put it through the wringer

Fit:

True to size
These are great trail running shoes IF you are planning on running in muddy and/or sandy conditions. I run through a lot of river bottom trails that are often a mix of muddy terrain and sandy/muddy silt.



They tear up slick slopes without sliding and really give you good pivoting on sandy trails. I have managed to shatter my cartilage in my left knee and so I need a shoe that can take a solid impact and give my knee some good cushion. I've looked at Hokas as well but these do a much better job for the type of running terrain I utilize. Some people have said they switch sizes throughout Salomon shoes, but I went true to size on these (I wear a size 9 in running shoes and hiking boots).



I would not recommend using these on hard, compacted trails if you want the lugs to last longer than a few months. Look at some of the other shoes from Salomon(XA Pro, Wings Pro, Misson, Sense series) if you typically run on harder terrain. Their lugs are less likely to sheer off compared to the Speedcross lugs.



One important feature that I see people asking in reviews: There is a little pocket on the top of the tongue of most Salomon shoes for you to tuck your laces and quick draw clasp up into while you are running!




I bought these for a mud run and they were the best! The comfort, stability and traction were better then expected. I also use these for trail running and they are excellent.
Love them
Familiarity:

I've used it once or twice and have initial impressions
I bought these shoes for their lightness and grip and was not disappointed. I used them for the first time on a trail shortly after it rained and felt very stable. Then I used them for a trail running event that turned into a mud run and was able to keep traction when others were slipping all over the place. I usually buy a size 10 running shoes, but ended up with a 9.5 in these.
The only shoe I wear!
Familiarity:

I've put it through the wringer

Fit:

True to size
These are by far my favorite running shoe!!! I trail run about 4-5 days a week and occasionally run a few on the road. I have terrible SI joint dysfunction and these are the only shoe I can comfortably wear for more than a few miles (walking or running). I have significant wear on the outside treads on my shoes after about 50-60 miles due to my stride ( I supinate) After about 150 miles I swap them out for my every day casual shoe and purchase a new pair for running. I am currently on my 3rd pair!
Will these out-last the competition?
Gender:

Female

Familiarity:

I gave it as a gift but have feedback to share

Fit:

True to size
I bought these for my girlfriend. She has initial impressions about the running sneaker and it's overall performance.



We trail run together every day, around 5 miles per day, give or take. We've limited our runs to trails in Acadia National Park and though some of the trails here in Maine can include a wide variety of harsh terrain and granite rock, this shoe has been used ONLY in the environment it was intended.



That being said, she hasn't used this sneaker on pavement whatsoever. Even when approaching trails from the vehicle she has been mindful-walking on the side of the road to keep from damaging the rubber. So you could say she has been careful with the shoes and respectful of their purpose.



She has logged approximately 40-50 miles in the past couple weeks and has noticed the rubber on the bottom is steadily wearing. The tiny knobs attached to the traction are dissipating quickly and even though this is to be expected, we have doubts the shoe will last for distance, cross country/trail runners.



Also, the quick tie system is a great feature on the shoe, but she's noticed her prominent right side has started to slip, allowing the shoe to loosen during runs. Though this is a slight amount of slippage, runners can relate that stopping to retie shoes during exercise can be nauseating. It hasn't been a big enough problem at this juncture to warrant serious malfunction, but it may happen over time. This concerns her.



The orthopedic nature of the shoe is fantastic! My girlfriend has suffered past knee injuries while running and this shoe has allowed her to run longer/harder, without discomfort, so you could say Solomon hit a home-run when designing the orthopedic inner.



The shoe breathes well also and though the rubber on the bottom is in question, the durability of the shoe seems solid on the outer.



Overall decent shoe, but will it last after months of running?



(Pics-taken during trail runs and after/60-70mi by our approximation)
Really good trail shoe
Familiarity:

I've put it through the wringer

Fit:

True to size
Very comfortable supportive foot bed, super fun colors, great traction - I'm happy trail running or hiking in them. I always go up one size in a running shoe, the size 8 fit true to size. My only gripe is the lacing system. The "pocket" for tucking away the extra tail wasn't super intuitive for me and while the system is kinda entertainingly novel, I don't know that it beats out a good old classic lace.
FAVORITE TRAIL SHOE!
Gender:

Female

Fit:

True to size
This is hands down my FAVORITE trail running shoe! I love the beefy, gripy soles. They hold onto even the steepest, wettest trail with ease. They feel super snug around my heel, which I've never had in a running shoe before but now I am obsessed with! The quick lace system is also new to me, but I enjoy it!



The top mesh fabric is meant to help protect you from the muddy trails and is great for that! Its not the most breathable and can definitely get hot in the heat of the summer. I have accepted this and am fine with it purely because of how good these feel! I recommend these to all our trail running, speed hiking enthusiasts out there! Nice work Salomon!



This shoe fits true to size, so if you are between and 7.5 and 8 but most of your shoes are a 7.5 go with the 7.5.
I use the shoes for hiking and several of...
I use the shoes for hiking and several of the treads ripped off. Anyone else have this problem?
Hey,



These lugs are designed to really dig into snow or muddy surfaces. If you are running on harder impact surfaces you will start sheering these lugs off. If you are on more mixed terrain or hard surfaces you might want a shoe with a sole more like the XA Pro ( SAL3136 )