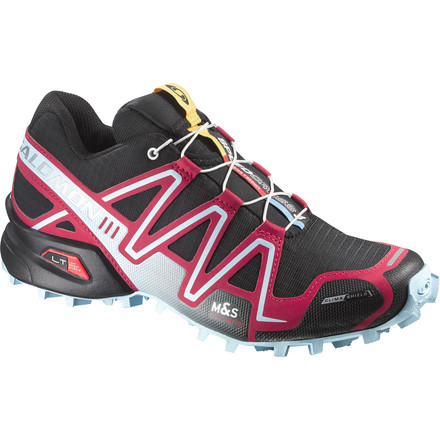 Detail Images

Videos
Description
Bad weather? What bad weather?
Your most brutal winter run has just met its match; the Salomon Women's Speedcross 3 Climashield Trail Running Shoe boasts the wet-weather protection of a Climashield upper and the impressive traction of a rugged ContraGrip outsole.
Women-specific lasting designed to match your foot's shape and stride
Water-resistant Climashield membrane repels wetness and provides a small amount of insulation for those ultra-cold days
Anti-debris mesh keeps dirt and sticks from finding their way to your toes and ruggedized mud guards lend extra durability and protection
Rugged ContraGrip Mud and Snow outsole provides burly tread for slick, icy trails
Lightweight chassis provides stability on uneven terrain without weighing you down
Molded EVA midsole provides cushioning and shock absorption
Best hiking shoes
Familiarity:

I've put it through the wringer

Fit:

Runs large
I wore these for 8 days hiking and camping in Smoky Mountain National Park. They were light as a cloud, super easy to slip off and on and kept my feet dry. They're also stylish in a funky kind of way and I wear them to the office with jeans on casual Friday. I normally wear a size 10 but got a size 9.5 and they fit great.
Smartest decision I've made!
Familiarity:

I've put it through the wringer

Fit:

True to size
After some pretty nasty blisters on the trail in the heat & humidity of Maryland in August, I made the decision to switch to trail runners and after some research settled on these. Smartest decision I've made! I've taken these through about 106 miles of trails in the last month in New York, Massachusetts and Vermont in all sorts of terrain.... rocks, dust, dirt, mud, streams, etc. The grip is phenomenal. I actually ran (which I never do) up the rocks at Anthony's Nose twice and was shocked by how grippy they were on the rocks. In Vermont (aka Vermud) I trudged through miles of muddy trails and didn't slip at all. At one point, my foot sunk into some deep mud up to my knee. After getting out and to a rock to take my shoe off hubby and I were shocked that despite me being covered in mud, there was not a drop of mud inside the shoe.
These are also incredibly comfortable on the trail. I feel lighter on my feet and the comfort and grip has led to faster miles and higher mileage days. There's definitely less leg fatigue since I started wearing these instead of boots and my knee (which is recouping from an MCL sprain) fares much better in these. The only negative is that those sections of the AT that involve lengthy road walking are not comfortable in these at all and my feet did hurt after about 2 miles of walking on pavement.
The quick lace system is great to loosen if you have any foot swelling, but I did notice that with these that instead of waking with foot swelling that continues through the day, my swelling has actually decreased within the first few morning miles. Going uphill, there's no uncomfortable slide in the heel and downhill there's no annoying and uncomfortable toe squish.
I'd highly recommend these! A little note though… in these I wore my true size, size 7. When I ordered the GTX model, they were too big in a size 7. I don't think sizing down, as I've read is necessary for other Salomon Speedcross models is necessary in the Climashield ones.

Perfection in a shoe!
Familiarity:

I've used it several times

Fit:

True to size
So I haven't been using these as intended, I just needed a comfortable workout shoe that I can play outside with my kids in without slipping on wet grass. I can't say much about the winter/cross country aspect of it, but I can say that these are beyond the most comfortable shoe I've ever worn. They are heaven on my feet! I have a wide foot with a narrow heel and super high arches, these fit perfectly. The extra cushioning on the balls of my feet are great, especially after being done at the barn. I'm not overly in love with the color for use in outdoor (the sakura pink) just because it shows dirt so well, but really every detail down to not having to ever tie my running shoes again is the greatest thing ever. My feet have not been getting too hot, nor are they cold ever, even in the cold mornings (40-50 degrees.. I'm a wimp). I usually am a 5.5 or 6 in shoes and I was happy to see that the 5.5 fit perfectly on the first purchase. I will be ordering a pair of Solomons for the gym soon too. Awesome brand for little feet!
Super disappointing
Familiarity:

I've used it once or twice and have initial impressions

Fit:

Runs large
I have 3 other pairs of Speedcross 3's and finally decided that I needed a weather resistant pair for the winter, I'm still new to running. I wore these on my easy mid week run because it was warmer than usual and I knew the trails would be super muddy. I immediately started to hate them and wound up cutting my run short my nearly 2 miles. They're quite a bit larger than my other speedcross in the same size (not a full half size but significant enough) and are uncomfortably stiff throughout the entire shoe and sole. My feet and ankles were sore for several days after the run.

I'm going to try using them a few more times with the hopes that they break in a bit.
Great for trail/outdoor running
Familiarity:

I've used it several times

Fit:

True to size
My first Salomon purchase and pleased but they are not completely waterproof , which was the main reason for my purchase. They are still very comfortable and provide excellent traction on rough terrain. Not used to paying this much but expecting to last quite a few runs. Normally wear a 5.5 or 6 and the 6 fit good with room for heavier sock on cold days.
Tough enough for the Tough Mudder
Wore these brand new for my very first Tough Mudder @ Mount Snow in Vermont on May 31, 2014. They were ridiculously comfortable, almost didn't feel like I was wearing anything on my feet. They made the climb up and down the mountain (MULTIPLE times) ridiculously easy. Though they got soaked and caked with mud, once they were put through the wash it looked as if I had just pulled them out of the box brand new. I couldn't believe how incredibly well they cleaned up. They were comfortable and were beyond what I expected for a 10.1 mile trek with 20 or so obstacles thrown in between miles. I am typically a 9.5, but with this shoe I had to return my original order for a 1/2 size smaller and I still had plenty of room. Definitely recommend!
These shoes kick butt!
Familiarity:

I've put it through the wringer

Fit:

Runs large
I ran 10 miles today on sidewalks with 3-4 inches of fresh snow and these shoes were awesome! I'm usually slipping along , or I would avoid snow covered sidewalks, but I bought these for winter running so I figured I'd put them to the test. They are awesome! They went through the snow no problem and the 2" icy puddle didn't even get my feet wet! I love these shoes!!!
Love them
Familiarity:

I've put it through the wringer

Fit:

True to size
I use to wear the salomon crossmax then tried these, which I like a lot more. The toe box is more narrow, lots more support/cushion and the soles are super grippy even in wet conditions including snow, ice and slush. I ordered the CS which are very water resistant. One of my concerns was that they would be too warm, but that's not the case...though wore them in 20-50s F. And, my feet don't get cold even with light cushion running socks.



They are true to size.


Wow
Familiarity:

I've put it through the wringer

Fit:

True to size
These shoes are amazing. There was no break in period. At all. Went from the box to the trail with zero blisters, zero pain, zero hot spots. The trails I run on are a mix of technical, uneven rocky terrain and slippery southern red clay. The speedcross handles both perfectly. I haven't had any of the early wear that others have experienced. The only thing that took getting used to were the laces--at first, they didn't feel like they could synch down tight enough, but after a couple runs I got used to them. I will be buying these again and again.
not weather resistant
Familiarity:

I've used it once or twice and have initial impressions

Fit:

Runs large
I bought these because I run through some dew covered grass on my morning run and need to keep my feet dry, especially with the weather turning cold here in Vermont. How upsetting it was today to have soaking wet feet within a hundred yards! The shoe is comfortable and light weight, although I think a half size smaller would have fit better. Too bad we can't return/exchange after use like other sites offer.
materials seem to wear down faster
Familiarity:

I've put it through the wringer

Fit:

True to size
I've worn at least 3 salomon before this one, and I find that the either due to the quality of material or maybe its a byproduct of this construction, but the shoe wore down a LOT faster than my other salomon trail running shoes. specifically for me on the inside of the heel (inside the shoe) I can touch the hard plastic inner thingie. My other shoes have lasted waaay longer than this, but I will say this shoe is def .lighter than the others which is nice.



Also the soles wore down super fast--but I think this is b/c the sole material is super light so the shoe is lighter.

I use this shoe every day and also go jogging 7 miles a week.



Someone else said to buy half a size up, but its true to size actually.
Salomon Speedcross 3 Climashield Trail
The fit on these shoes are great, they are so comfortable, and I've never had a pair of running shoes that didn't put blisters on my feet the first few times I ran in them, and I didn't have a single one with these, despite the 4 miles I ran in them the first day.



I bought these shoes for spring and fall running because of the climashield, figured the ones without it would not hold up so well on muddy trails.
I already reviewed these shoes they're not holding up at all . too bad I really liked them but when I checked my bill they didn't make it 2 months without ripping ..............
I love the fit & traction of these shoes ... unfortunately after less than 3 months they're ripping at the outside of the toes & that great grippy traction has already worn way down .Where is the quality this company used to be known for ?
These shoes are the bomb! Awesome colors, super grippy and well cushioned. I can't complain about a darn thing. love 'em so far!
Finally a salomon that fits & is as close to the originals I've worn for 15 yrs. I love the traction of these shoes & I'm hopeing they hold up like the shoes of days past ... when the company was sold the quality suffered mightly . The fit & support of these has made a huge impact for me as I walk 5- mi. per day over all kinds of terrain .
Love, love, love my Speedcross 3's. I have one pair with Climashield for late fall, early spring Upper Michigan trails (read: cold, snowy, wet), and one pair without for warm summer trails. Wear them daily for errands and everything because they feel so good on my feet, look great, and have the easy on/off cord stop on the laces.

Highly recommended! Great arch support.



One note, I have purchased men's Solomon Speedcross 2's in the past -- to get a bright yellow color not offered in women's -- and while they weren't uncomfortable, the women's fit is definitely better.
This shoe is AMAZING! The fit is perfect. Even though I have to wear a brace on my right ankle till it heals, it was still a perfect fit. Everything is comfortable, keeps your feet dry. It does everything it claims to and its cushions your feet nicely. Ran at an Agility trial this weekend and they were comfortable ALL day. Definitely worth the money