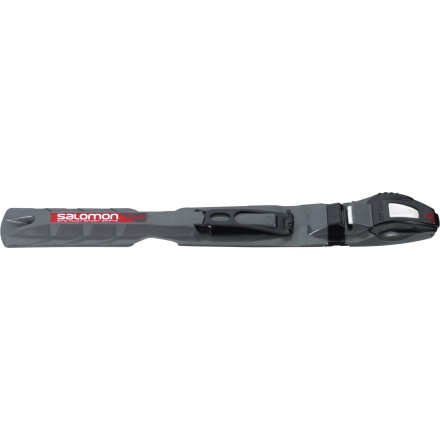 Description
If only all equipment were this easy to use.
The Salomon SNS Pilot Sport Skate Binding is an excellent binding for beginning skaters and dedicated, fitness-focused skiers alike. The SNS Pilot Sport Skate features full-length guide ridges that align with a groove in the sole of compatible boots (all Salomon and Atomic offerings), helping you maintain better control of the ski throughout your glide and on downhills. The SNS is also the simplest binding system out there: simply step into the binding to engage it, and use your pole or a finger to press the button at the front to release.
The entire SNS Pilot family features a unique, two-axis binding-to-boot connection system and front pivot axis that's set 10mm back from the toe of the boot.The rigid double link provides maximum torsional rigidity, leading to increased power transmission and ski control, while the rearset pivot axis encourages natural foot roll. Combine this improved rigidity with the advantage in ski control offered by the guide ridge underfoot, and you have a binding that helps you get the most out of your ski, whether you're hitting VO2 max or enjoying a relaxed skate.
Two-axis rigid binding-to-boot link
Rearset pivot point
Full-length guide ridges, compatible with all Atomic and Salomon boots
Automatic step in and one-touch release