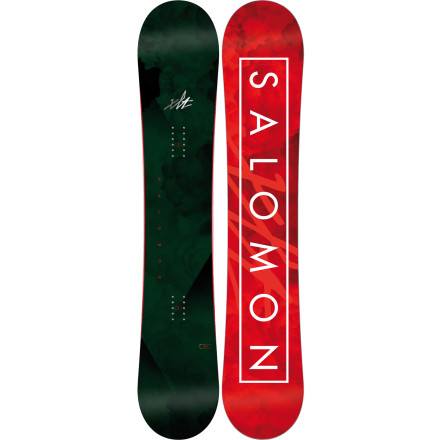 Reach speeds you previously thought impossible to hit on a snowboard with the cutting-edge technology of the Salomon XLT Snowboard. It's loaded with some of Salomon's most innovative features and time-tested design elements to help you tear up steeps and fly down groomers.

Tried-and-true camber still delivers edge hold, pop, and stability that other profiles just can't match. A slightly setback stance offers more control and drive without compromising switch rideability, and the quadratic sidecut allows for smooth, seamless turns. Ghost Carbon Stringers blend carbon fiber into the triax glass to improve snap and response without adding weight.

Honeycomb core components and carbon stringers make the Ghost XLT core super-strong, yet insanely lightweight. Royal Rubber Rails reduce vibration for a smooth ride and prevent blowouts, and an All-Mountain Edge Bevel makes the board feel less grabby straight out of the package. It's all finished off with a high-density Area 51 base, which is infused with a super-secret wax formula to keep you moving faster for longer.
Camber profile
Directional twin shape
Quadratic sidecut
Ghost Carbon stringers
Triax glass
Ghost XLT core
Area 51 sintered base
Royal Rubber Rails damping