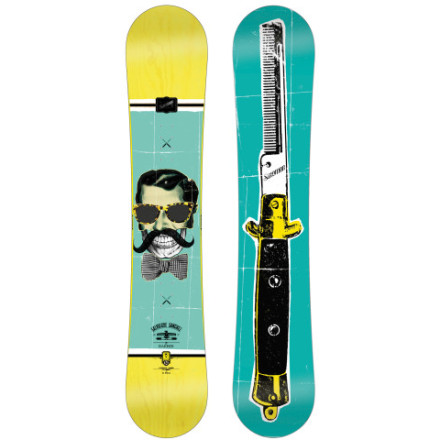 If you're the type that likes to butter your muffin, grind everything in sight, and dork around the entire mountain, the Salomon Salvatore Sanchez Wide Snowboard is your board. This freestyle-friendly snowboard uses an extremely soft flex and Pressure Rocker profile to deliver effortless presses, stylish butters, and easy turn initiation—making this board great for not only seasoned park riders but newcomers as well. The Pressure Rocker profile is essentially a tip-to-tail rocker in its purest form, allowing for catch-free jibbing and turning. Gone are the days of catching edge after edge when learning to jib or turn, as the pure rocker profile doesn't bite at the contact points like a traditional cambered board.

The board's Aspen Strong core provides consistent flex all season long, and the high-density insert and rail zones are durable against hard slams. Biax Medium Density fiberglass gives easy torsional flex for supremely simple carving and easy turn initiation. Rubber Pads are placed within the high-pressure zones of the ABS sidewalls for superior shock absorption and chop-absorbing dampening. A classic radial sidecut keeps things simple, predictable, and responsive when laying turns. Additionally, this board uses an extruded base for easy maintenance and long-lasting glide.
True twin shape, ultra-soft flex
Pressure Rocker profile: pure rocker
Aspen Strong core: FSC certified wood, high-density insert and rail zones
Biax Medium Density (BA MD) fiberglass
Rubber Pads within high-pressure zones of ABS sidewalls
Radial sidecut
Extruded base
What do you think about this product?
Have questions about this product?
would size 11 boots hang too much ? on a...
would size 11 boots hang too much ? on a centered stance
You should not experience too much heel or toe drag with newer size 11 boots on this board. Any of the wide boards on the market should accommodate a standard size 11 boot. If you would like to call or chat we can look into your specific boots and give you a definite answer as to whether or not you would experience toe or heel drag, but in my opinion you will be fine with this board.