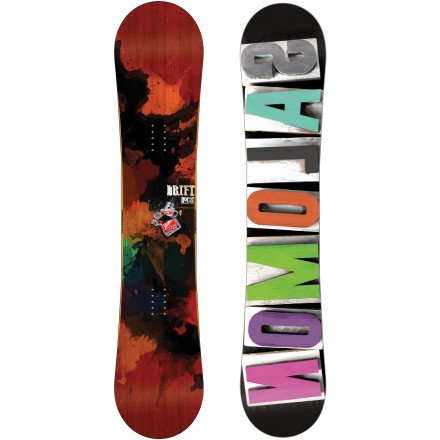 If your grom is anything like you, he's probably pushing his limits and drifting closer and closer to the park. The Salomon Mini Drift Rocker has all the tech to get him in the park with grom-specific features to help keep him progressing.
Pres-Sure Rocker reverse camber profile creates a smooth and easy ride while he's still learning the basics and a fun and forgiving experience while he ramps things up in the park. Ambidexterity on a snowboard won't just set him apart from the pack it will also prepare him for just about anything the mountain can dish up; the true twin shape encourages and allows for a fluid and natural transition from regular to switch and back. Stable EQ3 side cut provides control and playfulness. Bite Free Edge tune makes for less hangups while learning how to set an edge. An Aspen core, BA LD construction, and an extruded base keep the board light and lively all season.
Before you know it, you'll be asking him to wait while you catch up in the park. Until then, the Salomon Mini Drift Rocker will help him perfect the basics and add to his bag of tricks.
True twin
Pres-Sure Rocker reverse camber profile
BA LD low density fiber construction
Bite Free Edges
EQ3
Salomon's softest flex rate
ABS dampening system
Aspen wood core
Extruded base
What do you think about this product?
Have questions about this product?
salomon mini drift rocker.
Familiarity:

I've used it once or twice and have initial impressions
I ordered this board a few weeks ago and my local hill opened up and i got a few hours to try it out. First thing i want to say is the flex is not a 1 its more like a 4 which was what i was expecting. i got the 139 and im 5"2 and 107lbs so a bit long for park riding but i have time to grow into it. This board defiantly feels more durable then most youth boards ive ridden, and salomon backs it with a 2 year warranty. The rocker is rocker in between the feet and basically flat between the inserts. makes it easy to lock into those presses. The e3 sidecut is weird to look at but it makes the board really stable and provides good edge hold. the other thing ive noticed is if you land 270 (or 90) and a jump/rail your edge doesnt catch as easy. so you don't eat shit and scorpion.the graphics look amazing in person! The one thing that it could use is a tad bit more pop but it has enough to get you over whatever you need to get over and nothing more. i think it would be sick if Salomon put the rubber pads in the youth model... but what can you do its a kids board. The abs gets the job done.



I love this board ive ridden burton, never summer, and capita and this is by far my favorite! I would recommend this to the kid who laps the park all day and occasionally cruises around the mountain. you can really do anything on this board, but it is more park oriented.



Thanks Salomon! for a quality kids board.