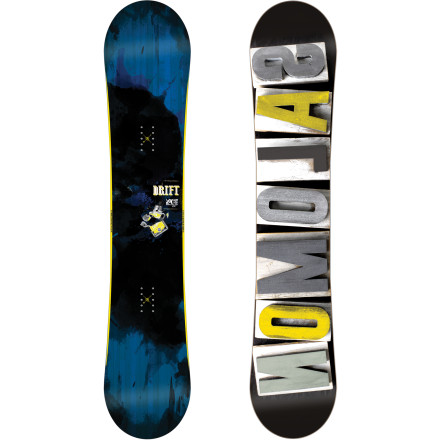 Videos
Do you suffer from toe drag? Do you have difficulty going to the park? You have could have huge feet, but you're not alone. Salomon Men's Drifter Rocker Snowboard can help. Built to cruise, the Salomon Drifter incorporates tech designed to give you a mellow, feel-good ride.

The full reverse camber profile, Pres-Sure Rocker, creates an easy, playful ride on the mountain and a more forgiving and fun experience in the park. True twin shape places perfect symmetry under your giant boots, increasing potential switch tricks. Freestyle edge bevel detunes the tip and tail 2-degrees and 3-degress between the feet, providing stellar edge control while reducing catching to take the worry out of trying new tricks and adding rotation. EQ3 side cuts distribute pressure along three straight lines to maintain control during turns but ease the transitions in and out. BA MD medium density fiberglass layers create a medium flex and remain consistent from tip-to-tail ensuring a light and lively board from fall to spring.

Reducing vibration and lessening the impact of landings keeps you on the mountain longer. That's why Salomon fused 4mm Royal Rubber Pads into the sidewalls for a smoothed-out ride. Popster construction utilizes the natural snap and powerful pop of the Drifter Rocker's Aspen Strong core for a skate-like feel. And the Extruded EG base is extremely easy to fill and repair after the unavoidable rail ding. Yes, folks, The Salomon Men's Drifter Rocker relieves the effects of big-footed snowboarding. Talk to your board shop today to see if the Drifter Rocker is right for you. Side effects may include: increased gnarliness and missed work days.

Pres-Sure Rocker reverse camber profile
True twin shape
Freestyle edge bevel
EQ3 side cut
Flex rating: 4
BA MD medium density fiberglass layers
Popster construction
Aspen Strong core
Royal Rubber Pads
Extruded EG base
What do you think about this product?
Have questions about this product?
Salomon Snowboards Drift Rocker