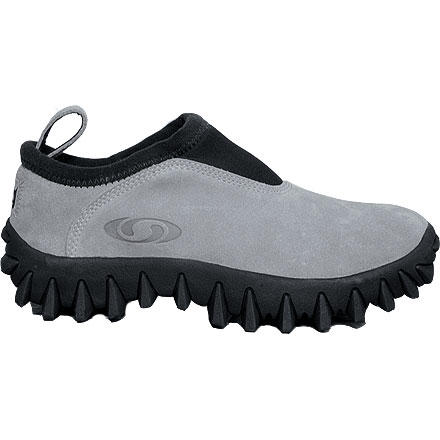 Best ever. Feet are further away from the cold, because of the think sole. Easy to put on, light weight, look fabulous, especially the grey and black and of course they don't make them anymore. WHY
I live in Juneau, AK and these shoes did great all winter. They definitely run big, but mine fit well with big thick socks (which I wanted to wear anyway since it was cold). The shoes were warm and had good traction when it was icy. I work in a lab and they were comfortable to stand in all day long. I'd keep wearing them through the summer but they're too big with thinner socks. Overall, I'm very happy with them, looking forward to wearing them again next winter!
Great shoe but be sure to order down a size. I usually wear an 11 in womens, but I read other posts about this shoe and ordered a 10 and still have to wear two pair of socks! This shoe gets a great grip in the show and is very comfortable walking on pavement unlike other snow shoes I have purchased! A great buy.
Not as Good but still worth wearing
This is my second time getting the shoe. The shoe was huge. I had to order a size smaller that what I got last time. The new one is just not as comfortable as the old one. They messed with the recipe!
These shoes are great for the snow, the "teeth" really do their job in helping to prevent slipping. They definitely run big. Buy at least a 1/2 size smaller than usual. They also run pretty wide.
These things were developed for after ski, so they developed them with thick winter socks in mind. I bought my wife a 6 and it was too snug. Then I returned them, and bought a 6.5. Now they're too loose. I guess I need to buy her some quality winter socks. It's true what many say; buy a half size smaller. As far as traction goes these things are like snow tires for your feet. In snow, slush, and mild ice they cling. On rock hard ice well you're SOL. They are plenty warm, as I have a pair for myself. I can attest to that.

Tatsu,
in Japan,
I wanna come home and ski Jackson Hole
Unfortunately I had to return my gear. I'll have to say I was grossly mislead on the sizing for the Snow Clog. It was recommended that I buy a women's size 8 or 8 1/2 which was way too large. I normally wear a 7 1/2. I was told the snow clogs run small, which is totally wrong, they run extremely big. I ordered a 7, and it was still too big. The fit is very odd. They are very loose around the top slip on area, which causes the heel to slide around. I was not happy, wish I could have found a better fit. Your online tech totally misled me on the sizing which I'm sure is not his fault, but I think you need to get a better idea of how large the sizes run. I would recommend the same or 1/2 size smaller than a regular women's shoe, and I have big wide feet too!
Take their advise, order a size or so smaller. They were too big and even on my sister's larger foot the ankle support wasn't adequate and they kept slipping off her heel.
I had a pair of Solomon Snow Clog STLs and I loved them. I wore them constantly to the point of wearing through them. I tried to order another pair and they don't make the STLs anymore, so I bought the normal ones. The first pair didn't fit. I tried another size, still not right. Sadly, I've had to move on to a different brand.
These clogs are so terrific that I immediately ordered a pair for my 77-year-old mother who also is delighted with them.
They provide terrific stability, warmth and comfort and look very presentable—a combination almost impossible to find.
I love them, Mom loves them, and your delivery team is truly world class. The price was perfect too.
Thanks a million!!

Ann M Cooper
Finally, a comfortable shoe!
I broke both the Tibia and Fibula bones in my right leg two years ago, and as a result I could not wear everyday shoes on my right foot. The Snow Clog was recommended to me by two of my co-workers. I absolutely love them. I bought a half size smaller and they fit perfectly. They are the most comfortable shoe I have ever worn. Needless to say, I walk on the snow and ice with a lot more confidence.
Love the look of the shoe. Very comfy. This shoe runs very roomy and wide.
women's solomon snowclogs
These are a great product. I've been wearing them from the first season they came out. I don't slip, they keep me warm—they rock in the snow clog world. But, these are very big on me—I put in double liners and they are still big.
These are the best shoes ever! From bear viewing to -20F these keep my feet dry and toasty warm. Get them if you want a comfortable shoe too!
THE BEST THING SINCE HOLES IN SWISS CHEESE
II purchased these shoes 5 years ago and haven't found anything better for easy on and off, total warmth and absolutely dry feet. They are great for those light snowfalls before the big boots need to be lugged out, as well as rainy fall days and nights that I have to walk my dogs. I am assured by the bottoms that I will have the utmost in secure traction and not take a spill if there is some ice that is not noticeable. There is nothing wrong with the pair that I have, just a woman's prerogative for a new color!
I love the shoes, but they definitely run large. I'll have to wear thick socks with them, but they are great!
I read the reviews and ordered a half size smaller and they were still too big. Probably should've ordered a full size smaller. They're also very wide.
Wished they would've fit.
I had to return these snow clogs because they were so huge. They felt really comfortable and I know they're awesome shoes from what I've heard - but anyone ordering these should order a whole size smaller - not just a half size.
I headed the warnings in other reviews and ordered a full size smaller and the clogs were still about a 1/2 size too big. Other than that they are great comfortable shoe that are easy on and off.
My wife loves her snow clogs and says they only have one drawback. She thinks they seam to run a bit wide even though she has wide feet.
Easy to get on and off, warm, dry and seam to breath well. Great product would buy again.