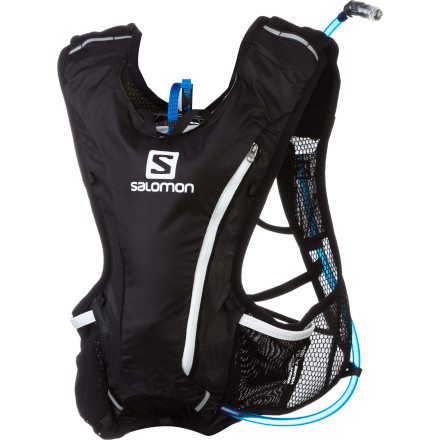 Description
Like an extension of your body.
With its stretch-fit design and Sensifit adjustable waist-belt, the ultra-lightweight Salomon Skin Pro 3 Hydration Pack becomes part of your body, so there is no bouncing or shifting while you run.

P.A.C.E. fit utilizes hard and soft elements for comfort, protection, and freedom of movement during intense races and workouts
Fully adjustable shoulder straps manage moisture for added comfort
Adjustable waist belt adjusts infinitely for the perfect size and stays put
Multiple convenient pockets for energy and hydration
Rear pocket for safety equipment or a rain shell
Chest pocket for easy access to essentials
Trekking pole-specific loops
Reservoir with bit valve on/off system included
Whistle included for added safety
Race number snap conveniently flies your flag
Reflective elements for added safety
Where have you been all my life?!
Familiarity:

I've put it through the wringer
First off, I have this product in the 14+3L version. Same pack, but with an additional 14L compartment that is accessible only when you unzip it and allow the pack to expand.

That being said, and even with the quadrupled carrying capacity - I fill this puppy to the brim and run 10+ miles on the trails without it budging an inch. Fairly serious trails too with significant altitude gain, rock stairs and scramble. The Salomon site also describes the side pockets as long term storage, but I have had no problems grabbing a nalgene or the like out of them with the pack strapped tight. Maybe I'm lanky?

Regardless, this is the best running pack I've ever used. Plenty of secure straps, both to keep the pack on you and your gear on the pack. Extremely durable for the lightweight material used, and it even comes with an emergency whistle. (Couldn't make an 'all the bells and whistles' pun work...but believe me i tried!)

The only negative? Water bladder is 70 oz not 100 oz.
I've just received this pack and planned to take it on a 20mi road run to test it out. I pretty familiar with water backpacks and have several from camelbak that I use for biking. So, I loaded 1L of water into the bladder, slid the bladder (with insulation sleeve) into the pack, connected to the tube, bled the air, strapped the pack on and headed out. Got 100 yds and stopped. The bouncing is terrible, and no, I'm not a bouncy runner! The pack itself is very snug and comfortable - I spent an hour the night before going over all of the adjustments to ensure a good fit. I'm 5'10" 155. But once running with water, the bladder and its sleeve seem to be sliding inside the pack. The noise is pretty monotonous, so I had to run without it.

I appreciate how easy it is to slip the bladder into the pack, but the sliding up and down needs to stop.

The only other issue I have is pretty minor. The 'bra strap' closure system in the front results in a mangle of long dangling ends. Not a big deal tho.

I really like the other features of the pack and the appearance is great. I may have to rig up some elastic around the pack to hold the bladder in place. Looking forward to solving this and enjoying the pack in the blazing summer heat.
One size doesn't fit smaller frames
With so few women's specific hydration packs on the market, I went to the Skin Pro 3 as it was a lightweight smaller pack and the closest to my size that I could find at the time. Unfortunately, for someone with a chest size smaller than 38", it is a bit of a hassle to fit comfortably for longer runs. It's manageable, but you need to shorter the strap lengths, and the reservoir tube.

One thing I'd also like to see is a more functional front pockets. They're extremely narrow and can only fit 1 gel in each.

In terms of storage, I can fit my phone and a lightweight jacket in the pack when the reservoir is full- it's tight, but manageable.

Overall, I'm a bit disappointed with the product but admittedly, I should've done more research ahead of time.
Great for what it is
Familiarity:

I've put it through the wringer
I have to disagree slightly with Johnathan. I don't generally like to run with packs due to the bouncing but I needed something that would comfortably carry water, some snacks, and some small items. This pack totally fits the bill for me. It is too small as a hiking pack but it distributes weight well, doesn't bounce or chafe, I love the stabilization straps and I think it will fit well under warmer layers as a ski hydration system when I'm not using a real pack (I haven't done this yet, so I may be wrong).

Admittedly, I've not tried the packs from other manufacturers so I can't compare performance but I have been totally pleased by this for my needs.
Keeping it short
Familiarity:

I've put it through the wringer
Plain and simple, if I am going to wear a pack I had better be able to carry a load of essentials. That said, I was not able to appropriately carry my essential wind gear and emergency blanket, along with food and some extras comfortably. All in all this pack leaves me wanting a Salomon Lab version with more capacity. Aside from that it seats nicely on the shoulders and torso and is very comfortable.