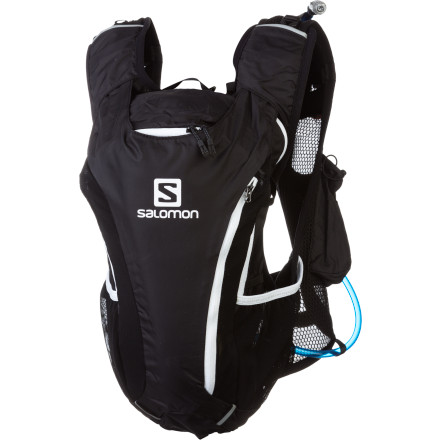 Videos
Salomon designed the form-fitting Skin Pro 10+3 Hydration Backpack Set with stretch elements that literally hug your back. This eliminates the bouncing around and shifting that you normally get with run-specific hydration packs. The added space (about 800 cubic inches) also gives the Skin Pro 10+3 enough room for a light lunch, a first-aid kit, and a rain jacket, so you can crank up the mileage with confidence.
P.A.C.E. fit utilizes hard and soft elements for comfort, protection, and freedom of movement during intense races and workouts
Fully adjustable shoulder straps manage moisture for added comfort
Adjustable waist belt adjusts infinitely for the perfect size and stays put
Reservoir with bit valve on/off system included
Whistle included for added safety
Multiple convenient pockets for energy and hydration
Rear pocket for safety equipment or a rain shell
Chest pocket for easy access to essentials
Trekking pole-specific loops
Race number snap conveniently flies your flag
Reflective elements for added safety
Can't even tell that it's there
Familiarity:

I've used it once or twice and have initial impressions
This vest is extremely comfortable and has plenty of space for the stuff I normally take on a long run in the Appalachians. When properly adjusted, I don't notice any movement of the vest on my body, and have not experienced any chafing- but for longer, hotter trips out I will do it up with the bodyglide just in case.



Only gripes are that the side pockets can be a tad bit hard to reach, and that the 16 oz hydrapak bottles hang just a little bit outside of the bottle pouches on the shoulder straps- so I think I will go to the 8 oz bottles for those.



16 oz is great for the Skin 3 belt system though!
Here to stay
Familiarity:

I've put it through the wringer
Hydration vests are the wave of the future and here to stay. To be honest though I only use these vests when I am on a very long project which is greater than 40+ miles. Anything less than that I simple hand bottle or even streams and rivers along the way can meet my needs. With the advent of gu belts and or whatever they are calling them, I can wear these simple little miniature fanny packs to carry food stuffs essentials. Everything else I need if it wont fit in the tiny internal pocket of my running shorts or my hands, it is not coming. So here we go, pros! You can carry a lot of stuff. Usually wind pants and jacket, emergency blanket, food water and distractions. Cons as comfortable as these can be, with inappropriate layers the straps can wear into the skin and cause some friction while sweating. Again this is a can. Obviously adjustments are key to reducing this and wearing the right layers underneath. I also don't like that this model does not come with an insulated hose, though if it is hot outside it really does not make much of a difference. All in all for longer projects this is definitely a great buy! All said comments are strictly my opinion only and I respect others have different perspectives.
Salomon Skin Pro 10+3 Hydration Backpack
Minimalist, comfortable, practical
Pros: uber light-weight, comfortable, easy access to food and drink while running/hiking, just enough space for the essentials for a 4-6hr run/hike.



Cons: materials already show some wear after limited usage, likely due to emphasis on light weight rather than durability, although I think it will still be good for years to come.



I broke mine in doing a spring ascent of Mt. Olympus, UT. I like the snug fit that keeps jiggling to a minimum. The 1.5L was not quite enough on its own for a pretty strenuous 4h15m round trip, but would have been with some additional bottles of vitamin water, which could easily fit in the side pockets. I loved the chest pockets and stuffed them with fruit leathers and granola bars that I could eat while still hiking. I had room for a waterproof shell, gloves, crampons, 1st Aid kit, bivvy sack, sunglasses, and still had some room to spare. I like the minimalist feel and am tempted to try to make it work (can I stuff a larger water reservoir in?) for some longer mountaineering treks where the light weight would be an asset. I couldn't get the pole system to work with my ice axe and found that it was easiest to just slide the ice axe between my back and the pack.