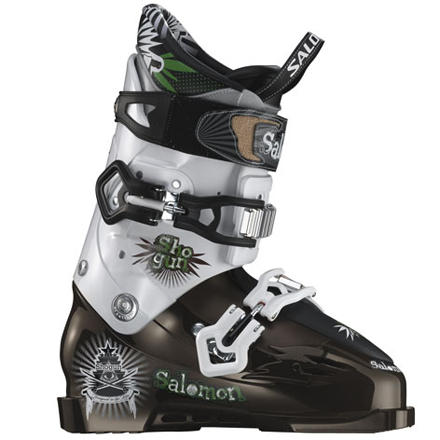 Hi! I`m a 16 year old guy from Norway and...
Hi! I`m a 16 year old guy from Norway and I`m wondering if this is a good shoe for twintip riding? I dont go for the biggest jumps, but I`m wondering if its a good shoe to jump and do tricks with? If not is there another shoe you recommend?
It'd be not bad i'd recommend going for a Dalbello or FT boot but only if it fits you well that's really the key thing but i'm a true believer of there 3 piece design.
I am thinking of buying this boot. I am...
I am thinking of buying this boot. I am skiing on and off for the past 25 years. 10 years ago I tossed my sx90 moon boots. I am now 53 5'5" and about 180lbs. I don't like bumps. I like to cruise quickly, I ski mainly in the northeast. Comfort is now more important than high performance, but I want to make sure that I have a boot that is responsive enough for me when I hit the Vermont blue "hard pack"
This boot is pretty comfortable. Even thought this boot has a tight last, at 98mm it doesn't feel excessively tight. The flex is designed to be responsive but not overly stiff. For someone who's going to be ripping the groomers or just charging in general, and needs a ski to transfer energy and not feel dead, this is a great boot. I would classify it as an advanced intermediate to expert boot. If you're looking for a comfortable boot without sacrificing performance, this is a pretty good choice. Also, take a look at some of the offerings from full tilt and dalbello.
Does anybody know the weight of this boot?...
Does anybody know the weight of this boot?

Any size but 27 would be nice
Hey Stangln,

The weight for a 26.5, in the box, is 9.25lbs. So without the box, you're looking aroudn 8-8.5lbs.

Hope this helps,
NIck
I have question about whole line of 2011...
I have question about whole line of 2011 Salomon ski boots. As I used 29.0 X-Wave 7, I also wanted to buy Shogun or Quest in the same size (Salomon always fits my leg great). And what I have observed there is 28.5 (which is US 10.5) and 29.5 (US 11.5), but nothing in the middle ! I tried to text Salomon, but they have not responsed so far. Could you tell me if this is just a mistake or Salomon really discontinued 29.0 ski boots (which sounds ridicously !). Screenshot of sizing attached.
Hey Rafael,

In regards to Salomon, the shell and liner size in all .0 and .5 sizes is the same. Meaning a 29.0 and 29.5 are identical shells and liners. The only difference is that the 29.0 will have a thicker insole to decrease internal volume.

So, a 29.5 would work for you with a little bit thicker of an insole. Salomon still produces the 29.0's though!

Thanks man,
nick
First, I have to thank James for the great sales and customer service he gave me when I called in. He made sure I got my boot in the time I needed by too.

I have had a hard time deciding on a boot because of my narrow foot. I wear a size 10 nike running shoe. The 26.5's fit me more perfect that any boot I've tried (even $600 boots). I love this boot for my narrow foot. The 2 buckle system works as well if not better than 4 and it is so quick and easy to unlach. I recommend this boot to anyone.. oh yea, its a great looking boot too..

I was afraid to buy a boot anywhere and if I got it on the hill and it didn't fit, I would be stuck with it or forced to only exchange it for something else. At backcountry.com you can buy with confidence that if you don't like it and can't find something they have that you like, they will refund your money, used or not. I could not be happier.
ON Salomon's site, these are considered...
ON Salomon's site, these are considered Big Mountain boots. How would they do in the park? How is their flex?
they are not park specific but I think they will be a really good park boot because they have a fairly upright stance as well as a pretty soft flex. they will be stiffer than most park boots however so that could be an issue depending on your size & preferences.
How much stiffer are the Ghost's compared...
How much stiffer are the Ghost's compared to the shogun? I currently ski the older 1080 pro model which i believe had a flex index of 95. I am 5'9 165lbs, will the Ghost be too stiff?
The ghosts are a good bit stiffer than the shoguns. Shoguns will be a little stiffer than your old boots so they should be good for you I think.
So I'm a bigger guy (6"4' and 180 lbs.)...
So I'm a bigger guy (6"4' and 180 lbs.) and I was wondering if these would be the boots for me. I hear that they're built for the lighter and smaller riders. Would they still handle my weight and height?
It all depends on how stiff you like your boots to be. these are pretty soft at 100, ghost are pretty stiff at 130.
Were there any differences between the...
Were there any differences between the 2009 and 2010 models of this boot?
No, I believe they are exactly the same boot.
Questions for Jean-Yves Couput regarding...
Questions for Jean-Yves Couput regarding Shogun/Ghost Boot Fit
Background:
I'm 6ft 5in, 195lb & currently ski Lange Comp 120LF, size 11. I have narrow feet & really slender calves & even with a Conformable tongue there's still too much play so I've had to soften the flex consideralbly. I tried a pair of Falcon X3 CS (28.5?)while I was waiting for skis earlier this season and they were a revelation - only boot I've ever tried which was immediately snug around my calves in a stock liner. Forefoot fit was good, although I have a high arch and there was some pressure.
Questions:
Do Ghost & Shogun have the same fit as the X3 CS, especially in the cuff? Which accomodates a high arch better? My sense is that the Shogun might be more versatile but I "m concerned that the fit might also be detuned. Which would be more fun in trees, bumps and bowls as opposed to just charging all day? Size 28.5 or 29.5? (My Lange size 11 has BSL of 332 and I normally wear size 46 in a hiking boot)...Dick
Oups, sorry for the late answer, but I've been a lil out of the BC.com website for a while. Here are the answers to your questions by our Alpine GURU Mike Aicher:

The boots have the exact same shell lasting and fit, but the liners are a bit different. Ghost will be a bit more comfortable for all day fit, and the X3 will feel more like a race liner (more precise)
Either boot will allow for some bootfitting over the instep, if necessary, to fit the arch area precisely.
The shogun will be lighter (2 buckles) and will therefore be a bit more nimble, for skiing in trees and bumps, but a X3 will feel more like a top performing race boot, with power and precision. It depends on the skiers preference. As for which shell size, you should have a bootfitter take a look at your foot inside the shell, and determine which is the proper fit.
Both the Shogun and the X3 have a Boot Sole Length of 326mm in size 28.5, and 336mm in a 29.5. It is likely that you will be most comfortable in a size 29.5 from us.
This is my first "freeride boot" and I'm lovin it. Coming out of technica race boots, these things are a dream. At 6'5" 175lbs, I don't weigh a ton, but I've got some leverage to put some torque on these things, and at first I was worried about the stiffness. I threw a pair of booster straps on these, and the ski awesome. No problems with them being too soft. I would compare them to my 4 year old technica diablo 110's as far as stiffness. Just as good performance wise as those, and my feet don't ending up killing me after drops and hard landings. Two buckles is awesome! Super quick to buckle and unbuckle in the lift line. The only problem is the monster buckles are easy to get hung up on your poles when your scooting to the front of the line with them unbuckled, but this is less than a minor issue.
for my narrow, low volume foot this boot is my soul mate. although tricky to get my size 11 (26.5) foot slid into the boot the first few times (think shoe horn), once 'broken in', these boots have proven to be the best. fit great, super responsive yet flexible, and only two buckles; love it all!
How do these boots fit in Marker Jester?
How do these boots fit in Marker Jester?
The marker jester is designed to fit all alpine boots, so these would fit like any other boot. Just make sure you have all the adjustments on the bindings done correctly and their should not be any issues with the fit.
our boots fit any type of alpine bindings.
My main problem with staying on the mountain in the past wasn't that my legs couldn't handle the workout, it was the feeling that my feet were being crushed in vices. I have a wideish low volume foot - the narrow heel took a little to get used to but now feels locked in place.
The two buckle system works well to loosen up the boots for the walk to and from the car but they're comfortable enough that you almost don't need to anyway!
Damn near as comfy as my snowboard boots
First off, this boot simply rocks!
Background: Coming back to skiing (3rd season) from snowboarding for more than a decade exclusively. I grew up skiing and switched over to the board many years ago and now I am back on two planks.

After shopping for boots and trying on a good 30+ pair, I found I needed a narrowish, low volume boot that will fit my narrow heal as well. After looking at several Dalbellos, I put on the Shoguns. I died and went to heaven at this point. The boots felt wonderful right off the bat. The low volume of the boot, along with a 98 last fit my narrow feet to the T. So I bought them at REI with a 20% off coupon (that they did not honor, fine print). Since I have spend a great deal of money at BC.com, I called to see if I could get that 20% I orinially wanted. Based on my history, I got it, bought on the spot and the originals went back to REI. Oh well, more business for Backcountry. You guys keep me coming back....thank you.

Spent several hours at home in several days doing a little breaking in.
My first day on the slopes this year was wonderful, mainly because my new Shoguns felt as comfy as if I were in my snowboard boots.

Great boots period.
I have just received new Salomon Shogun...
I have just received new Salomon Shogun ski boots and by mistake I have been sent a larger number [29.5 instead of 28.5 mondo size]!
I tried them on and even though a larger number I felt pressure points on top of my arches. I will need to change these boots and get my proper size but I'm afraid that the problem with pressure points will become bigger on smaller size. It also feels a little bit tight around calves but I think that is adjustable (at least i hope). Since there is no boot fitter in my country nor neighboring countries, this is the way i have to deal with my boots... getting opinions online. If anyone has experience with boots please advice what model should I buy? I prefer SALOMON, 2 BUCKLES optional, FLEX 100-130
Best Answer
Write your answer here...If I were you ,I would try the Salomon Impact 10. It has a 100mm width and a super adjustable cuff. Too tight a cuff restricts bloodflow and causes stovepiping of the legs.
To ad to Scott's comment, the Impact 10 is a Custom Shell boot and the last is customizable from 100 to 106. This is probably the best choice for you.
More info and better description of the Shogun "little sister" of the Ghost by Mike Douglas in a short video here
http://www.salomon.com/us/?#/ski/boots/boots/shogun