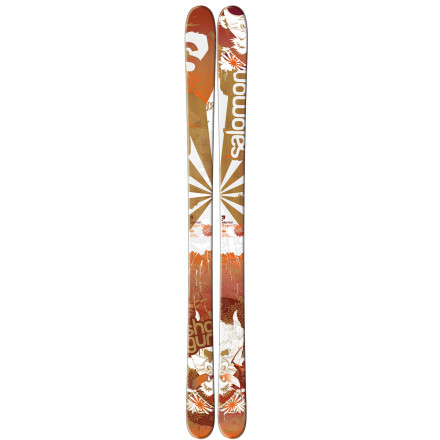 Videos
With it's quiver-of-one dimensions and early-rise tip, the Salomon Shogun Ski is an agile plank that surfs those steep powder lines with the same energy and enthusiasm as it tackles the hardpack. Striking the balance between freeski performance and all-mountain versatility, the Shogun gives you plenty float in the upper-mountain pow and won't skid out when your line spits you out on a groomer track at the bottom.
Double Monocoque (cap) construction employs a second top-sheet layer for strength and exceptional edge hold
All Terrain rocker at the tip aids flotation, prevents deflection in variable, choppy snow, and enhances turnability
A small amount of traditional camber underfoot improves edge hold on hardpack
Full wood core lends stable, predictable performance at any speed
Pulse Pad elastomer layer along the edges reduces shocks and vibrations
Edge Armor tech links the ski's left and right edges with a strong polyethylene cord for added durability
Total Edge Reinforcement adds a layer of fiberglass directly on the edges to further enhance durability
Best ski I have ever been on
Familiarity:

I've put it through the wringer
And that's coming from a guy who patrolled at Alta from '87 to '95. These things just effing rock! I put almost a million vert on them last year.
Unanswered Question
Stoked to get my shoguns in mail recently....
Stoked to get my shoguns in mail recently.



I need help in picking out bindings for ski - any recommendations?



thanks!
Unanswered Question
I'm going to convert my Shoguns for...
I'm going to convert my Shoguns for backcountry use. What skins and nose/tail attachment systems are recomended for this ski?
Unanswered Question
I ski on 155 slalom skis (I am an east...
I ski on 155 slalom skis (I am an east coast racer) But need a pair of pow skis for my trips west. What size would you recommemd? Im 5'2" Thanks!
How well do these skis work as backcountry/AT...
How well do these skis work as backcountry/AT skis?
ok, but you may want something lighter...and the rocker is going to give you less contact with skins If I were you i would check out the K2 hard-side
They work great. I know a lot of people the use them for their AT set up. They are actually pretty light and you definitely won't have any problems with the rockered tip while skinning.
can you center mount the shoguns?
can you center mount the shoguns?
yes, but I wouldn't recommend it.
182 or 191? I am 6-1 170lbs. I ski about...
182 or 191? I am 6-1 170lbs. I ski about 10-20 days a year. Primarily out west. I am not an "expert" skier but will ski the most of the mountain with confidence.
I'd go 182. It also helps that Backcountry doesn't have the 191 in stock.
182 will be right for you.
I would try the 173 if I were you.
Is this a stiff ski? Currently I am on...
Is this a stiff ski?

Currently I am on '09-'10 Armada El Rey skis, I like them, but they are too flexy for me.

I want a more aggressive ski, would this be a good fit? I want to be able to ski absolutely everything, all snow conditions, all places on the mountain, send small/medium drops, with an emphasis on tree skiing. Is this ski a good choice?

My skis now have cap construction, I wanted to go to sidewall construction for better edge hold on harder surfaces, but would this ski do the job?

Thanks!
The Shogun is pretty stiff and has a lot of camber. It has a long radius and needs some speed to come alive. They are more more forgiving than something with metal like my Kendos, but on harder snow take more work to get the tails to slide around through tight spots and bumps. More of a charger than a carefree messing around ski in my opinion. Fairly light with lots of snap. I generally prefer my i-rocks in anything more than 3" fresh. hope this helps.
Great Utah All Mountain Ski
The Shogun is a great all mountain ski for Utah. It's pretty damp and it really does ski almost everything well. The biggest surprise for me was how well it skis pow. Last winter (2010/11), I only took out my old Katanas once and when I did, I kinda wished I was skiing the Shoguns. They're so much better when the snow is weird and I never skied anything so deep that I wished I had a bigger ski.

The only reason I'm not giving the Shoguns five stars is that this season it's been pretty dry and I wish I had something with a little smaller waist and a bit more sidecut. This isn't really a problem with the Shoguns. But if all you're skiing is hard groomers, they really aren't the best ski. So I've been looking at skis like the Rossi Experience 98 and Volkl Mantra, both of which are slightly skinnier at the boot and fatter at the tip. It seems like they may be better all mountain performers in the long run. That said, I do love my Shoguns and I will at least finish the season with them.
Im Thinking of AT Bindings for the 173,...
Im Thinking of AT Bindings for the 173, maybe Marker Barons, do they match up?
Best Answer
It has a 110mm brake, and the Shogun has a 99mm waist so you should have no issue. It will be a good setup.
Can The Shoguns Handle the East Like...
Can The Shoguns Handle the East Like Colorado? I Lived in Colorado in 2009-2010 and skied the 182 Shoguns through anything, including packed, ice and crud, and feel like they could handle the terrain in the east. (I'm 5'9" 155 lbs). I'm living on the east coast now and am tempted to purchase the 173's, but I'm not sure that's the best choice given what I'll be skiing in the east.

I ski aggressively and had no problem with glades and groomers (and powder, but that's beside the point) in Colorado on the Shoguns. They turned well and the rockers made them extremely poppy. I figure if I back down in size I'll have no problem skiing the east, but is there another ski I should be buying?

I know the Sentinel will handle the east better, but I'm looking for some opinions. I'm undecided as I enjoy bumps and glades, but also love cruising in powder, which the east does occasionally see. There could be the occasional trip out West.
The Sentinel will handle the ice better, it is narrower but burlier than the Shogun. However the Shogun is much more playful despite being a wider ski. If you are always looking to duck into the trees as soon as the groomers get icy I say stay with the Shogun, but if you really need a ski that can lay it down at speed on ice and can do everything else too then the Sentinel will be the best weapon.
Any opinions on how well the Shogun works...
Any opinions on how well the Shogun works as an East Coast ski? In particular, how does it hold up on EC hardpack?
Best Answer
for a ski this wide it works surprisingly well. It will not compete with a narrow race style ski but I found it held really good on the man made ice that can be encountered at times here in UT.
I would recommend the sentinal over this ski but it will work but on ice? the sentinal is better.
Need size help...182 or 173..I am an expert...
Need size help...182 or 173..I am an expert level and spend most of my time on steeps, chutes, trees, bowls and occasional groomer to get from place to place. I am 5'9" and 175 lbs. What size would be best? Thx
Best Answer
I would recommend the 182. They initiate the turn very easily because of the slight tip rocker.
I am 5'7" and skied the 182cm this past weekend and loved the length. They were solid and stable on early season soft snow. Very quick side to side and able to hold an edge...but again, it was very soft this past weekend
I'm 5'10" 185lbs and expert skier that...
I'm 5'10" 185lbs and expert skier that have been skiing Rossignol Scratch Mogul skis for the past few years..(175 lgth, 101, 66, 91).. Obviously I ski a lot of bumps but also like Pow and off-piste..so I'm looking for a wider ski that is better in all mountain conditions but still good in the bumps.. Any advice?
I think the Shogun in a 182 would be a good ski for you. I know they are great all over the mountain and because they are pretty forgiving, they should be pretty good in the bumps as well.
Need advice on size. I'm 6'1", 190 lbs.,...
Need advice on size. I'm 6'1", 190 lbs., and 32 years old. I'm coming off a 10 year period where I skied only 5-10 days a year (usually out west). But, I used to ski a ton more (in college, etc.) and even raced a bit. I've been demoing for the last few years; the last skis I owned were Salomon X-Screams at 187cm.

I'm an advanced level skier, but with some back issues that have made quick turns in crud and trees more difficult. I've finally moved out west, putting me in prime position to ski a ton more (mostly in Tahoe). I like moving fast on morning groomers, but my love is off-piste skiing (and I'm done with moguls, as they hurt too much!). I ski trees occassionally, but not super-often.

I'm trying to decide between the 182 and 191. I found a great deal for the 191s (but not for the 182s) and am tempted to jump on that deal. Any thoughts?
I think you'll be stoked on the 191s. They have a good turn radius and with the slight tip rocker they initiate really easily too. For your size, level, and style, 191s are the way to go.
Salomon Shogun or Line Prophet 98? I'm...
Salomon Shogun or Line Prophet 98? I'm 5-8, 160 pounds, prefer to ski the trees, glades and steeps. Anyone have an opinion they'd care to share?
Demoed the prophets at 90. they were nice but they were a let down after skiing the shoguns the day before. the shoguns were also more stable at high speeds
6 Foot 3 and 180 lbs. Looking for the...
6 Foot 3 and 180 lbs. Looking for the Shogun to be my all around Ski for everything but a big powder day. However my main love is getting in the trees and having a ski that will pop quick turns in the trees and powder. Should i go with the 182 or the 191? Thanks ahead of time!
I think the 182 will feel small to you, but it will be quicker easier if the trees at your mountain are really tight. While there is not a ton of tip rocker there is definitely a noticeable amount that really helps initiating the turn... If your a good advanced/expert skier and your trees are not 'east coast' tight, then I say go with 191.
Jamey,
What if im an advanced intermediate who is solid on piste, but new to the back country?
Chris, I'm thinking the 182 might in fact be a better choice. Nothing worse than having skis you can't turn! I think you've probably got 1 or 2 more seasons on something in the low 180s and then you'll probably want to go longer. Hope that helps! -Jamey
I have been skiing on some K2 Recons for...
I have been skiing on some K2 Recons for the last 4-5 years (only get out 12-15 days/yr) and while they may not be the coolest skis on the mountain I think they are solid and I have really enjoyed them. But after skiing them in Vail last Febuary (got 30+inches over 4 days) I'm thinking about picking up something that will do a little better in fresh snow. Would these be a good pick? Any other recommendations? Thanks.
If you are talking days on days of powder, you would be well served with a rockered ski that is at least 108 underfoot, and I believe the fatter the better. At it's biggest, this is only 103 underfoot and a 190 is a lot of ski. But, it would be more versatile. If you opt for this size, also consider the Blizzard Bonafide. If you decide to go with a wider waist, the Volkl Gotama or the Blizzard Cochise would be great choices.
hard pack, pow, groom, whateve
I love the Shogun because it is playful and lively, but also a high performance one ski quiver that rips groomers, pow, and everything in between. Gradual rocker in the tip, which really makes it so much easier in pow and funky conditions. Super easy to ski but solid at speed. I ride these and my Rocker2s depending on conditions.