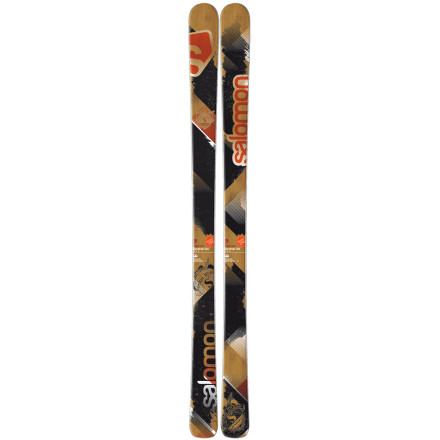 Salomon gives East Coast rippers a nod with the square-tail, full-wood-core Sentinel Ski. Built to round out the freeski offering at the narrow end, the Sentinel brings enough width to keep you afloat on a powder day, plus plenty of power for the crud and hardpack days in between. Sandwich sidewalls and 300mm of tip rocker give you laser-like edging control without sacrificing maneuverability or stability in variable conditions.
Early-rise tips for added flotation and easy, progressive turning
Full wood core for lightweight durability
Sandwich construction for precise control, reduced chatter, and durability
Share your thoughts
What do you think of the
Salomon
Sentinel Ski
? Share a...
I've want to get some climbing skins so I...
I've want to get some climbing skins so I can tour with my Salomon Sentinel 177cm. Can anyone let me know what type of skins I should buy and what will fit my ski. Many thanks,
I'd go with the Black Diamond Ascension skins. Best glue in the biz and super durable. You can find them here: http://www.backcountry.com/black-diamond-ascension-nylon-sts-skins
As for size, get the 140mm and trim to the tip and waist for maximum grip and wall to wall coverage, for some weight savings and if you don't need a ton of grip, go with 95mm and trim to the waist.
NJ - you will want skins that are 130mm wide so that once you trim them the entire ski is covered. If you go for Black Diamond ascension skins, you cut the length yourself so just get the 130mm. If you're going with the G3 Alpinist, get the 130mm Medium to fit your 177 ski. Both skins work well and either one would get you out on the skin track with this ski.
Unanswered Question
Any thoughts on mounting these guys with...
Any thoughts on mounting these guys with a tele setup? I saw that the alpine mount point is pretty far back and would expect that one would have to move up the tele mount point considerably, but that might screw with the camber.
I wanted something to fill the gap between my pow skis and a full-blown GS ski and I got a great deal on these. I wanted a fairly tight turn radius and went with the 184 and I like the ski a lot. They are basically built like a GS race ski, only fatter and with some tip rocker and that's just how they ski--a relatively stiff, quick turning and precise carving machine that can hold it's own in fresh snow due mostly to the fact that with the slight rocker, the tips don't dive easily.

These were the only skis I brought on a trip to Aspen last February and it dumped. I was wishing I had my fattys for sure but the Sentinels performed admirably from steep powder bumps and chunder at Highlands to high speed groomers on Ajax and pretty much everything in-between. If I knew I was going to be skiing pow, I'd bring something else but for those situations when you need one ski to cover you're bases, these work pretty well.




Is it good ski for touring, if set it with...
Is it good ski for touring, if set it with alpine touring binding?
Best Answer
Yes. However it isn't a lightweight touring ski. You will be carrying a bit more weight up hill. But I know people who use this ski with dynafits as their AT setup and really like it.
Coming off the Mantras, a little disappointed
I skied on a pair of Mantras for about 4 years and 200+ days until I finally shattered the tip. After hearing many good things about the Sentinel, I debated long and hard about whether to make the switch (I even posted a question below). I was attracted by the early rise rocker, as well as the apparent stiffness of the ski. I did not demo it before I bought it. My impression is that anyone who says this ski rides a lot like the Mantra (or is as stiff as the Mantra) has not spent enough time on both skis. I have not found the similarity to be true. While the Sentinel is a decent ski, and not a wet noodle like the old Pocket Rocket or many other older Salomon skis, it was not nearly as stiff and did not bring as much energy as I'd hoped. It does pretty well in soft snow (I had them out in 28" in Utah this year), but I never had a problem in my rocker-less Mantras in the deep stuff either. For me, the worst part is the mount line, which is super far back compared to my old mount. This means a ton of shovel up front which makes bump skiing quite a bit more challenging. You could mount it forward, but it throws off the camber of the ski because of the early rise tip. As I mentioned, I didn't find a huge advantage in the deep stuff to being that far back, but a less aggressive skier or someone who feels like they need to sit back in the powder might. Additionally, if you get them up to screaming speeds on hard pack they won't hold a hard turn as well as my old Mantras, letting out of the turn and often times adding a little chatter. I'd say this is a great ski for the advanced intermediate, but for those looking to power the hell out of their skis in all conditions, I'd strongly consider looking to some of the stiffer options out there. For the record, I'm about 6'2 and 175.
The Sentintel's charge, no doubt about it!
The Sentinel is so smooth at speed and breeds confidence with their damp tip, while maintaining fast and sure edge to edge control.

Definitely a winner at Alta on those days between storms. Surprisingly, they smear well when needed in wind-buff and chalky snow.

I ski the 191 and I'm 6'3" 185 lbs.
The Sentintel's charge, no doubt about it!
The Sentinel is so smooth at speed and breeds confidence with their damp tip, while maintaining fast and sure edge to edge control.

Definitely a winner at Alta on those days between storms. Surprisingly, they smear well when needed in wind-buff and chalky snow.

I ski the 191 and I'm 6'3" 185 lbs.
Definitely a stiff and strong ski. The two layers of titanium make it durable enough to do anything you want. I got a pair a few weeks ago and took them to Killington VT to break them in. I have 170s which are 93 underfoot, they still loved the hard pack and the groomed. Some runs where that classic east coast early season ice and moguls but the sentinels hold an amazing line through shear ice and are light enough to hop into the next turn. Im not a park skier but i got in some ice, tree runs, and groomed. My favorite part is most definitely the side wall construction. It allows you to be super aggressive and they just fly through every turn. Bottom line these skis will do great on anything accessible by a chairlift, for backcountry touring there a little narow.
Should I Buy The Shoguns or Sentinels for...
Should I Buy The Shoguns or Sentinels for the East? I Lived in Colorado in 2009-2010 and skied the 182 Shoguns through anything, including packed, ice and crud, and feel like they could handle the terrain in the east. (I'm 5'9" 155 lbs). I'm living on the east coast now and am tempted to purchase the 173's, but I'm not sure that's the best choice given what I'll be skiing in the east.

I ski aggressively and had no problem with glades and groomers (and powder, but that's beside the point) in Colorado on the Shoguns. They turned well and the rockers made them extremely poppy. I figure if I back down in size I'll have no problem skiing the east, but is there another ski I should be buying?

I know the Sentinel will handle the east better, but I'm looking for some opinions. I'm undecided as I enjoy bumps and glades, but also love cruising in powder, which the east does occasionally see. There could be the occasional trip out West.
Sentenials are camber and thinner underfoot, this will give you more edge for hard, crappy snow.
I'm 5'9 155 lbs. and since they are out of 177's I'll be skiing the 184's for in the east this year. I consider myself an expert skier and love glades and bumps. Will the extra 7 cm hold back my maneuverability much?
I'm 172cm (5'8") and weigh 160lb. I currently...
I'm 172cm (5'8") and weigh 160lb. I currently use the Lords for all around skiing in bounds but I'm interested in this ski for an AT setup. I was thinking getting the 177cm Sentinel and pairing it with the Dynafit TLT Vertical ST as this binding is better suited for advanced descents. Would this binding work with this ski?

The ski appears 2mm too wide for the binding but I've heard the brake could be bent slightly in some cases.
Best Answer
Yes. That binding will work perfect with that ski. Typically AT skis are skied slightly shorter than an alpine ski, but that is up to you.

You mentioned "advanced descents", the TLT vertical ST has a max din of 10, even you need something that is burlier you might want to consider the vertical FT or the radical FT (both are din 12)

Dynafit measures their brake from outside edge to outside edge. This makes the inside of the brake even narrower then you are expecting. You do a few options:

1. The TLT Vertical FT can be ordered with a 110mm brake
2. The TLT Radical ST can be ordered with a 100mm brake
3. You can try bending the brake, however they tend to not work as well once bent.
4. You can purchase 110mm brakes from dynafit

Dynafit bindings are amazing.
Thanks a lot Joshua. I'm at an advanced level and my current din is 8. The ST still gives me some room to progress. Will the two additional din settings matter much if I'm not doing huge airs? I'm more into skiing steeps.
Is there any difference between this years...
Is there any difference between this years sentinel and the 2011's?
Best Answer
nope, same ski.
This is a strong, powerful ski that rips groomers and translates well into other types of terrain with a rider that drives it. Stable and solid it blasts through varying conditions and carves it up big on the steeps. Good flotation up to medium size powder days (8 inches) with tip rocker, stability with a flat tail, standing guard as an all-mountain fun and powerful freeski !
Rick Armstrong chats about the Sentinel
Coming off a Mantra: how will this...
Coming off a Mantra: how will this compare?

I'm coming off of a Mantra, which I've skied on almost exclusively for the past 5 years. I have absolutely LOVED this ski, but finally broke it last year. While I wouldn't hesitate to get another Mantra based on experience, the new one is 4 mm wider than mine was, and I spend a lot of time in the bumps...so this might create an issue.

I've been considering the Sentinel instead. Has anyone found this ski to be too soft? The solidness of the Mantra is one of my favorite parts of that ski, and I fear that this one may be too soft in comparison. The old Pocket Rockets felt like a wet noodle to me, but I understand these are stiffer.
Best Answer
The Sentinel was my go-to daily ski last year and by no means should it be considered soft. I used the 191 and it brought back all the sensations of my race skis.

Never spent much time in moguls with them, but I can tell you this ski charges. Super solid at speed, and hooks up really well. There wasn't a day last year I was disappointed when using the Sentinel, even with so many other options in skis out there.

The Mantras are bad ass, and I'm not too sure how much 4mm will make of a difference though.

Either way, you've narrowed down your choice to two great skis.

Hope this helps,
Nick
2 layers of titanium and abs sidewall makes the sentinel solid and damp... Salomon built this ski to compete against the mantra so it is very similar. It really has nothing in common with the pocket rocket.