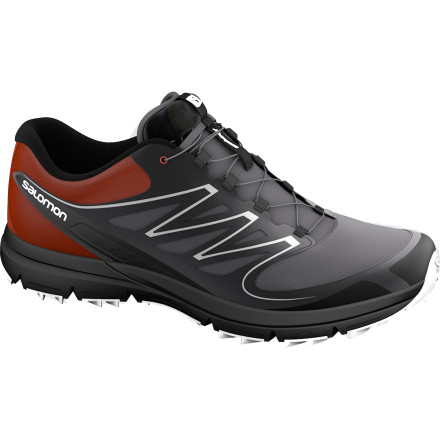 Years ago, when Salomon crafted its first trail shoe, the running community struck gold; since then, Salmon's trail running shoes have defined many of the technologies and trends that have become wildly popular among dirt-loving runners. The Men's Sense Mantra Trail Running Shoe is the latest example of Salomon's unending dedication to push running from the street to the wild. This is a lightweight training shoe is built with neutral cushioning and forefoot protection designed specifically for rocks, roots, and debris. Midfoot strikers will find the low heel drop a particularly attractive element, while high mileage runners will appreciate the low weight. It's not often that a trail shoe feels just as comfortable during your run to the trail as it does when you're on the trail, but this shoe is the exception.
Racing last means that the fit and shape of this shoe were designed for speed, responsiveness, and agility
Upper is comprised of a combination of breathable mesh for comfort in hot weather and durable textile that's supportive and lightweight
External Sensifit structure wraps from the top of the outsole to the top of the instep, locking the foot in place once your laces are tightened
Endofit is an additional, internal fit sleeve that wraps over your instep and down to your arch, pulling the uppers toward your foot and securing your midfoot for a close and highly responsive fit
Seamless construction eliminates seam bulges from the upper, internal fit sleeve, and all other parts of the shoe so there's less for your foot to rub and chafe against
Quicklace lacing system allows you to secure the laces and get a nice, even fit with just a pull of a single cord at the front; lace security tab tucks into a small pocket on top of the tongue so it won't flap around when you're on the move
Low 6mm heel drop encourages a midfoot-strike style, reducing impact on your joints
OS Tendon structure is a flexible structure that sits between the midsole and the rubber of the outsole to help the sole adapt to varying surfaces underfoot
Propriotection Design combines Salomon's OS Tendon structure, a midsole with a low heel drop, and a the Profeel film between the insole and the midsole at the forefoot, to balance support, flexibility, and protection from trail hazards
A mix of materials, lug shapes, and lug density give the Contagrip sole superior grip on a variety of surfaces
Happy Feet
Familiarity:

I've used it several times

Fit:

True to size
I love these so far. I wasn't too sure about the lacing system, but they stay snug. I originally ordered a size 9 pair of Montrails and had to return them because they were so tight. These fit perfect right out of the box.
Personal Preference
Familiarity:

I've put it through the wringer

Fit:

True to size
I've worn lots of different shoes, and right now, so far, these are the best, for me. I like the lower drop. The forefoot is not narrow and provides moderate toe room. Race and train in these. The tread is not heavily lugged. I'm on pair no. 4 or 5.
Not comfortable
Familiarity:

I returned this product before using it

Fit:

True to size
This shoe must be designed for someone well below 200 lbs. Felt like I was stepping on nails
A quiver of one
Familiarity:

I've put it through the wringer

Fit:

True to size
I love this shoe, it is incredibly versatile. The 6mm drop is perfect for a more natural feel with out making you feel like you are completely exposed to sharp rocks and terrain. The grip from the sole is better than I expected ( I have Speedcross 3's for comparison) and the only time my Speedcrosses really shine over the mantra is when the dirt is moist and loose... other than that... the Mantra is plenty grippy (and def more so on hard surface such as rocks/pavement vs the Speedcross 3)



The shoe can be used for cross-train/crossfit as well. It's not the best but there are far worse choices out there. It's the only shoe I am using on my deployment for running, lifting and crossfit and I don't feel like I am missing anything.



The speedlace system has been flawless and I love having a nice tight and streamlined shoe while I am running with no laces flopping around. Did I mention the little pocket you tuck the laces in makes a great place to stash items like a $20 or a key for home?



:) yeah, I love this shoe... I'll will get another pair when these wear out.
Quality shoe, ready for more trails
Gender:

Male

Familiarity:

I've used it several times

Fit:

Runs small
I initially became interested in this shoe because of The Ginger Runner reviewing it. I trust his opinion on shoes, especially trail runners. The first run was 4 miles in mud. This shoe ate it up. I did develop a small blister on the top of my big toe. The shoes need to be broken in, so no marathons on day one. After the blister healed I've been up and down Northshore Trail at Lake Grapevine (Texas D.O.R.B.A. trail) and couldn't ask for more.

Some hot spots during long runs but nothing I blame on the shoe.

I was able to try on a pair at a local store before I bought here (for half the price!) and i went a 1/2 size DOWN. My usual 11 was way too long, and the bend for the toes started too far out. 10-1/2 is my fit.

Get them, they're great. The White/Blue color is odd for a shoe that WILL get dirty, but for the price, who cares?
Five stars!
Familiarity:

I've used it once or twice and have initial impressions

Fit:

True to size
If you're going to buy one pair of athletic shoes, these should be it. Very high quality and they look awesome. Size was perfect.
Awesome shoes
Familiarity:

I've used it several times

Fit:

True to size
Been running in these for a couple of weeks. Local trail is very rocky and loose. These get the job done. Make me feel sure footed and protected.

Thinking in getting another pair!
Excellent shoe after breaking in
Familiarity:

I've used it several times

Fit:

Runs large
The first time I wore this shoe was for a 5-mile run. I developed a terrible blister on my right heel. After giving the blister time to heal I tried again. Issue solved. These shoes feel fantastic on the trail. The traction is good and the padding just right. The only drawback is they are too warm to wear during the middle of day, but for morning runs they keep your feet at the right temp.
Great shoe from Salomon
Familiarity:

I've put it through the wringer

Fit:

True to size
I will first say, I like to experiment with my trail shoes. That being said, I actually was rotating a few different shoes from Salomon for awhile. I have a somewhat narrow foot, and was experiencing blisters from too much slipping in the shoes...with the exception of the Sense Mantra. I LOVE this shoe. They were a little stiff out of the box and I was getting a pressure bruise on the top of my big toe from where the shoe bends, however, after about 50 miles they broke in nicely and that is no longer a problem. I have had no issues with hot spots or anything on the bottom of my foot. They are quick on the rolling stuff, but durable enough for more technical terrain. I recently ran in them for the Speedgoat 50K and had no issues. Have yet to take them over 50K, but I don't imagine I would have any problems with them. Even though I have largely abandoned Salomon, I will likely keep a pair of these in the rotation for as long as they make them.
Salomon Reigns Supreme
Gender:

Male

Familiarity:

I've used it several times

Fit:

True to size
I have been a New Balance runner forever. I never thought I'd try anything else. However when I ran through a pair of 1010s in 3 weeks, I knew I needed to look elsewhere. A friend of mine recommended the Mantras and they have made me a believer. These shoes are the perfect balance of lightweight and cushioning with still being fairly minimal. I run in 10k trail races and even on the road with these. My distances have been getting longer, more towards the 10 mile and half marathon length. The terrain I take them on is pretty rugged, generally consisting of loose dry dirt and rocks with some boulders (wasatch trails). Some people say to size up and some say to size down. For me, they fit completely true to size. I haven't experienced any blisters from these shoes which a feat in its on right. Sometimes I wish they had a little more aggressive lugs but that would take them out of the "door to trail" category for which they are intended. The speed lacing works great and mine have never come loose. I've logged about 100 miles or so in these and they show minimal signs of wear. I'd recommend these to anyone looking to step their trail training game up.
size down
Familiarity:

I've used it several times

Fit:

Runs large
I was previously wearing addidas trail runners in size 11. I also wear NB in size 11. I went into the store to try these on because I have been getting mixed reviews on sizing. Turns out, sizing down half a size was the best fit for me.



I have a narrow heal and wide forefoot. The fit felt pretty good in store, but there were some pressure points, which I was a bit concerned about...but, I was too excited about getting these that I wanted to see if they would work. The first time I took the shoes out, I tried running in them sockless to take advantage of the shoe designs intent; however, I got some pretty good size blisters in varying spots, surprisingly not at the pressure points I felt when I initially tried them on. If anything, this was because the shoes were NEW and the shoe flex was still pretty stiff. I now run with socks and don't have any issues. As far as the hotspots/pressure points, I haven't had any issues there. The shoes appear to have streched/formed to my feet.



I love the 6mm drop. I am more of a midfoot striker than a heal striker, however there is still enough cushioning for the occasional heal strike. I really wanted to get the Salomon Sense Ultra, but those were way more expensive. These were actually designed to be every day trail runners (which is my intent) and should last longer than the Sense Ultra...here is hoping.



I would definitely recommend trying these on in-store to get a feel for sizing. Or you could order your normal size and a half size smaller. Either way, Enjoy!
Best pair of trail shoes I've had! Super light and comfortable right away. I've got about 150-200 miles on them and so far they are holding up well. I actually ordered mine true to size and they fit fine, the lacing system keeps them snug and I have a little extra room for my toes to splay.
Reconsidering the Sense Mantra
After a couple months of trying to make the Sense Mantra my go-to shoe, the shoes have been causing me what felt like the early symptoms of plantar fasciitis. I've never had anything like PF before, having put in big weeks of trail running all spring/summer/fall for three years, so I felt something was wrong with the shoes.



Scouring the internet for reviews of the Sense Mantra, I found that several folks downsized a half- or full-size from their normal shoe size, and the discomfort I felt in my own pair made more sense. Despite being a size 12 in every shoe I've bought since I was 14, including in a couple different Salomons, these shoes are longer than they are advertised to be. I resized to an 11.5 and not only did I get a much more snug fit, but I found the rocker in the sole profile more appropriately located under the ball-of-foot area, rather than just in front of it, the misplacement of which I now associate with the extra fatigue my feet experienced after long runs in the original pair of 12's.



So, still a great shoe, but try them on to make sure you aren't getting a shoe thats too big...
Salomon Sense Mantra Trail Running Shoe
All around great!
Gender:

Male

Familiarity:

I've put it through the wringer

Fit:

Runs large
My initial impression is that these shoes are wonderful. They fit like a slipper and offer good support. The heel to toe drop feels just right as a trail shoe. Tractions seems adequate for an all everything shoe and the fit was as described so order a half size small. The jury is still out on actual durabilty and this has been my personal issue with salomons in the past. I am a short course off road triathlete and do most of my running on trails and forest service roads. They seem to be great as long as you stay away from the big mud.



Ok, after using this shoe for the summer on several trail runs, I have returned it as the lugs on the sole seemed to wear out much faster than advertised. I am a forfoot runner and the lugs around the ball of my foot were almost worn down to nothing, but the top of the shoe still looked new. I still loved the fit of this shoe, but the tread still needs some work.
Overall a happy medium between the Speedcross 3 and the Sense Ultra, both of which I've enjoyed. Super solid construction--in my experience, typical of Salomon shoes--and great fit thanks to the quick lace and "Endofit" inner sock/tongue. The fit is a little higher volume than in either the Speedcross or original red/white Sense, both of which fit my low volume foot very well; however with the quality of the uppers and the effective lacing scheme this has not been a problem.



I was hoping this would be a little more like a stripped down Speedcross than a beefed up Sense Ultra; when will Salomon make a lighter version of the Speedcross??