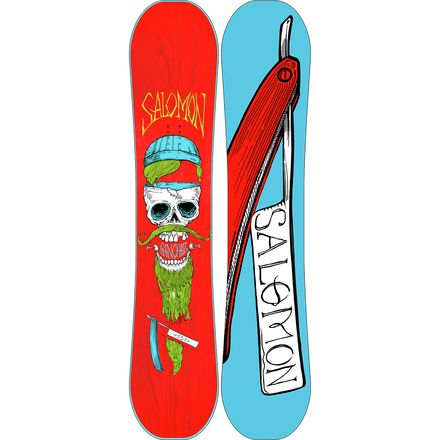 Colors
Description
Buttery goodness.
Super playful and poppy, the Salomon Sanchez Snowboard is a soft-flexing, twin-shaped freestyle board dialed for jib park domination. Its buttery-soft flex enables effortless presses through the rail line and quick turn initiation between park hits. Rocket Science shaping increases its width, allowing you to downsize for an incredibly agile, skate-like feel on the snow. Downsizing also reduces swing weight, which is ideal if you're throwing 270s onto rails and boxes in the jib park.
Featuring Salomon's Flat Out Rocker, the Sanchez is flat between the binding inserts for straight-line stability when you're flat-basing off the lip of a park feature or jump. From the binding inserts outward, the board rises with a substantial dose of rocker continuing to the nose and tail. Rocker at the tip and tail instills a loose, catch-free feel for buttering, bonking, and jibbing with ease.
Inside this buttery-soft board, the Aspen Strong core reinforces the binding inserts and rails with high-density wood strips for extra stomping strength. Tough tips reduce the chance of blowouts when you're thrashing the Sanchez on rails and jibs. Rubber pads placed in the sidewalls lessen the impact from rough landings in the park. The Bite Free edge tune prevents hang-ups when you're perfecting those back lips and front boards. Additionally, the Sanchez features a low-maintenance extruded base that's easy to repair when you smash and thrash your board all season long.
True twin
Rocket Science shaping
Flat Out Rocker
Aspen Strong core
Tough tips
Rubber pads in sidewalls
Bite Free edge tune
Extruded base