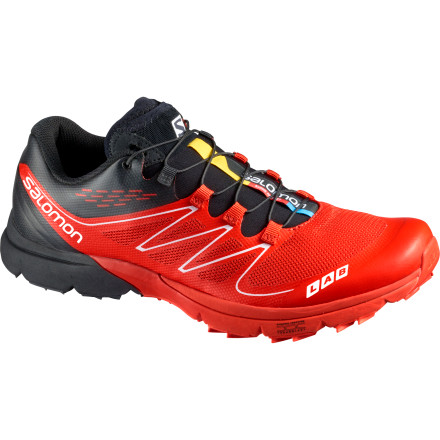 Videos
You know how to run. Your foot speeds over earth with smooth, swift motion in the Salomon Men's S-Lab Sense Ultra Trail Running Shoe, your choice for a top-level, race-oriented performer. Low to the ground for balance and sensitivity, lightweight and nimble to help you feel nimble and quick, and with a sure-footed outsole, this speedster has a bloodthirst for victory. Worn by winners of the 2011 WS100 and UTMB trail races, the Sense Ultra has no equal in Salomon's S-Lab Collection. Only the S-Lab Fellcross offers a lower drop and more aggressive design, and compared to the XT S-Lab 5, the Sense Ultra is ounces lighter.
Consider this light-and-nimble race shoe if you devour long trail runs at a face pace and stop for nothing. Salomon's top-shelf, cream-of-the-crop shoe wouldn't have it any other way, because that's what the S-Lab collection was designed to for.
Racing last means that the fit and shape of this shoe were designed for speed, responsiveness, and agility
Upper is comprised of a combination of breathable mesh for comfort in hot weather and durable textile that's supportive and lightweight
External Sensifit structure wraps from the top of the outsole to the top of the instep, locking the foot in place once your laces are tightened
Endofit is an additional, internal fit sleeve that wraps over your instep and down to your arch, pulling the uppers toward your foot and securing your midfoot for a close and highly responsive fit
Seamless construction eliminates seam bulges from the upper, internal fit sleeve, and all other parts of the shoe so there's less for your foot to rub and chafe against
Quicklace lacing system allows you to secure the laces and get a nice, even fit with just a pull of a single cord at the front; lace security tab tucks into a small pocket on top of the tongue so it won't flap around when you're on the move
Low 4mm drop (heel-forefoot offset) means that there's just a 4mm difference between the measured height of your heel and the measured height of your forefoot
This low drop creates a natural foot position inside the shoe, encourages proper biomechanical flex, and allows you to more easily utilize a mid or forefoot striking style
OS Tendon structure is a flexible structure that sits between the midsole and the rubber of the outsole to help the sole adapt to varying surfaces underfoot
Propriotection Design combines Salomon's OS Tendon structure, a midsole with a low heel drop, and a the Profeel film between the insole and the midsole at the forefoot, to offer a balance of support, flexibility, and foot protection
A mix of materials, lug shapes, and lug density give the Contagrip sole superior grip on a variety of surfaces
Other features include a tongue cover to keep debris out and a rigid toe cap to protect your toes from rocks and roots
My favorite racing shoe
Familiarity:

I've put it through the wringer
I love the fit of this shoe, it is one of my all-time favorite running shoes and I've run in a lot of different kind of shoes. I save this shoe for racing (mostly off-road triathlons and trail races) I love how the shoe hugs my feet, the traction and control I get with the shoe, how light the shoe is, and the drainage (I throw a lot of water on my head when I'm racing in hot places) and breathability. I have also run some shorter road races in this shoe and it works well. It is one of the lightest shoes you can get with a rock plate, it weighs in a 178 grams for size 7 women's. The run one size down, normally I'm an 8, pay attention to Euro sizes. They are also a unisex shoe as Salomon does not make any S-Lab shoes in women's specific. Worth the $$$, this is my 2nd season running on the same pair.
Great shoe but no drain holes!
Familiarity:

I've put it through the wringer

Fit:

True to size
This is a great shoe for technical trails. Super responsive. Don't use it on combination trail run/road runs though. Seems hard on the legs for road running. My only beef is that there are no drain holes. Water/sweat just collects in the shoe with no where to go. The plastic material on the mesh skirts all around the bottom of the shoe with not a single gap. It would be easy for Solomon to expose some mesh to let water/sweat out. Hopefully, they will do so in the next model.
Glove-Like Feathers
Gender:

Male

Familiarity:

I've used it several times
I've had a few pairs of Salomon shoes and love them. I've been using the XR Crossmax for awhile but decided that I wanted to try out a more minimal, lighter, and less-drop shoe. These hit the nail on the head. The shoe is very snug and hugs the foot which is a huge difference from the XR Crossmax. The footprint feels smaller and gives the shoe a very natural feel which I'm really enjoying. Since these do have less cushion than a shoe like the Crossmax, sharp rocks can be felt a bit more but I haven't experience any real pain, discomfort, or bruising. Overall, this shoe fits like a glove and feels weightless. The feel and traction of the shoe is exceptional on various terrain, including the always fun boulder fields.
Nearly the best feel, but not durable
I run in the Wasatch Mountains. I choose rocky, steep trails, and I have a hard time getting a shoe that will last even a hundred miles. These started to fall apart at about fifty miles. When I'm running eight to ten miles a day most days, it's pretty ridiculous to consider how much that costs. Salomon shoes are warrantied for two years, which is awesome, but I heard that they have a one hundred mile warranty on these shoes because of the lightness of the foam. If you want the best shoe to run a race in, get these, but if you're looking for a durable shoe that will last you even a hundred miles....well, I haven't found it yet, but these fall very short.



Also, I think I'm pretty rough on shoes, so if you're doing more moderate trails and not going super fast down steeps, it might not be as much of an issue for you.
Basically I set out in search for a 100k+ shoe with more cushioning and responsiveness than my faithful shorter distance Ultra shoe the NB-MT110's, and let me tell you I have found that in the Sense Ultra! I often find myself running in this shoe everyday and am scared they'll end up replacing my NB's all together! After a good 20-30 miles the Sense breaks in and adjusts to your foot like a glove, making it feel lighter and more agile then when you first tried it on. It doesn't matter what the terrain is, the Sense Ultra's own it! I have so much more confidence in flying downhills in these I have seen a huge increase in speed and with their awesome cushioning I'm able to run further and faster than ever before! Thanks Salomon, keep up the great work!
Love the fit, not the cost/durability.
What an awesome fitting shoe. Love how light it is and how natural it feels to run in. Not as minimalistic as other shoes in the category but with 4 mm of drop it feels perfect.



I've now put in over 100 miles in on these shoes. Now the shoes are breaking down in the forefoot where my strike is. This is a bummer because I was really stoked on the fit. There is an obvious disconnect in the cost to durability. If these would last have lasted longer I could see myself buying a few pairs but for the price they ask, and the lack of durability I will keep looking for the perfect shoe. I hear next year they have a beefy version of the shoe....?



If you are considering them for a casual shoe I recommend them, I also wear them as a nurse putting in long hours on my feet. They have been wonderful for that kind of abuse too. Offering natural support (4mm drop) while on my feet for hours on end.

As a side note, I get a lot of comments/compliments about the shoes. They have a great look.
Salomon S-Lab Sense Ultra Trail Run Shoe
Unusual fit, but standard Sal quality
I have been trail running with Salomons for years now and was very excited to try this new lighter, faster model. I've always been very satisfied with Salomon design, build quality and durability, and in these regards, the Ultra Sense lives up.



My review of this particular shoe is tempered, however, by the fit of the shoe, which is considerably narrower than I'm accustomed to for a Salomon/S-Lab shoe. If you have slightly wider than average feet, this may pose some difficulty and comfort issues for you. I fit nicely into my XT S-Labs despite having a wide foot, but I had to loosen the laces all the way to get my foot into the Ultra Sense, and once I was wedged in, I could barely tighten the laces (which are in a loop, of course, as is standard on Salomons). My foot looked like the footwear equivalent of a fat guy in a little coat. In addition to fit concerns, the shoes felt less stable laterally than with other Salomons with a wider footbed. This was great for "precision traction," but not good for when your ankle starts to roll.



The Ultra Sense has broken in somewhat with repeated use, which has marginally alleviated some of the shoe width issues, and it is exceptionally light. But if you have even a slightly wider than average foot, or are running on rocky paths where lateral stability is a major concern, consider sticking with XT S-Labs instead, which are 5-star for sure.