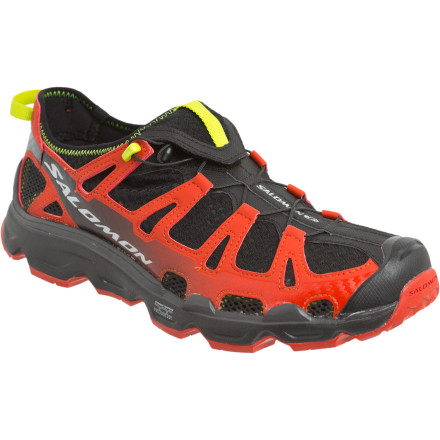 Detail Images

Videos
Don't miss out on trail-worthy durability in the name of all-terrain versatility. The Salomon RX Gecko Shoe takes you where you need to go without sacrificing toughness to cater to a specific style of adventure.
Breathable, quick-drying upper encourages ventilation while keeping out debris
Quicklace system contours to your foot for a natural fit from toe to ankle
Synthetic toe cap adds protection during talus field scrambles and sketchy climbs
Lace pocket keeps cord from flapping against your ankle during a trail run or hike
EVA midsole adds targeted cushioning underfoot
Mixed Bag....
Familiarity:

I've used it several times

Fit:

True to size
These shoes are great as long as you aren't walking or doing anything too active in them. I spent a few hours in these shoes on different trips and everything seemed great - just a little friction where the top of the shoe meets my Achilles' tendon, but nothing that would warrant extra attention. These were mostly fly fishing outings wading and walking on round river rocks. Then I took them on a longer trip (fly fishing). I used these to walk a couple miles up a river bank while fishing over the course of about 5 hours. Hiking back, towards the end, the shoes definitely started rubbing and irritating my Achilles' tendon. I got about halfway back to the car and realized I had dropped an important piece of tackle at the furthest point in our hike/fishing. I was in a hurry and had to pick my parents up from the airport and it was getting dark so I decided to drop all my equipment and jog back to that spot to retrieve my forgotten stuff....BIG MISTAKE. By the time I got back to the car, these shoes had cut such a notch in my tendon that it looked like someone took a hatchet and cut a 'V' in it and the entire back of the shoe was bloody. Total mileage for the afternoon wasn't more than 4 miles. The back of these shoes aren't padded enough and don't go up as high as they should. I was walking on river rocks so that didn't help. I'll wear these again, but only when I'll be doing very limited walking (less than a mile) or maybe just canoeing or kayaking. These shoes would be great for boating or walking on flatter/more docile terrain.
Unanswered Question
Does anyone know how much protection these...
Does anyone know how much protection these would offer my feets, branches, rocks, scrapes etc would be very inconvenient on my trip. Also, I'm aware that many of Salomons shoes have a lot of support and are quite (sometimes too much) fitted. Are they relatively flat on the inside? Too much arch doesn't work well for me.

Thanks
Nice
Familiarity:

I've used it several times

Fit:

Runs large
I havent used these kayaking yet but I think they will do fine as h20 shoes. I have been using them around town. Comfortable, pull lacing system sure beats shoe laces, grip is good on wet pavement. Light on my feet.

I usually wear a size 10 and the 9 /12 works with these.
Here's me in my Salomon Geckos jumping off a 50-60 foot cliff in St. Thomas, USVI. These shoes slayed it this day and many others. Basically Salomon's "water shoe". Once I swam back to the rocks to climb back to the top of this cliff, my shoes maintained a fantastic grip on the slippery rock, even though the shoes were soaked. The mesh along the sides of the shoe allow for optimal drainage once you get out of the water. Bottom line: if you're friends tell you to jump... just do it!
I got these for sea kayaking and I love them. They are light and they drain just fine, they also dry very well. I like to walk around and explore and these shoes give you the ability to have great mobility when hiking around.
Salomon RX Gecko Shoe - Men's
These are pretty good. I dig the look, they're pretty comfy but seem to run a bit large, between a size and half a size. They dry pretty quickly and are comfortable with or without socks. If you use them as a water shoe they're pretty durable, I have my doubts if they were used as a running shoe or something like that. Very very light weight. I look forward to using these to replace my chaco's as I'm not too big a fan of them. I have no complaints with these besides the price, definitely a bit steep for what you get.
Good universal water shoe
Not open to all the small pieces in the water, adequate drainage, comfortable for running/walking, easy to pull on/off. I doubt I'll ever lose sight of the "look at me" seaweed green but it does make stepping through murky water a little easier for foot placement. I have a wide foot & found the fit correct but the toe box slightly long if I had to be picky
Unanswered Question
I'm looking for a water shoe that I can...
I'm looking for a water shoe that I can run in ... I trail run with my dogs and like to swim with them without having to bother to take of my shoes (sandy area, so it's a mess if I do). How would these be for running? hows the tread, arch support, and weight of shoe? thanks for any help.
will they stretch in width/ with break...
will they stretch in width/ with break in?
A small amount, but not much!
I am a wilderness/paddling instructor and was looking for a solid set of water shoes to wear while instructing. These fit the bill perfectly! As with any water shoe, they let in a bit of sand, but it almost all drains out when you get out of the water. Great for both on land and in the water. As with most Salomon's products, I ordered a half size smaller and they fit perfectly!
Run big. Size down one full size.
These shoes are awesome. I used them for a few days in Hawaii and they performed stellar. Great in and out of the water. The sizing is big on these. You need to size down one full size to get the correct fit while barefoot. Awesome grip, super comfortable. Great water shoe.