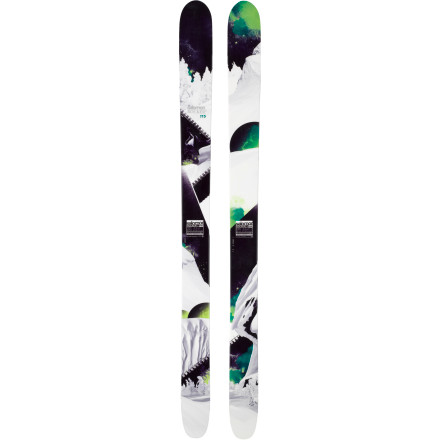 Videos

Community Images
The Salomon Rocker2 115 is the ski of choice for powder surfing and big-mountain crushing. The fatty-rockered tips and tails float effortlessly while a little extra sidecut puts 113mm underfoot for sweeping turn perfection. This ski is prepared to devour the big mountains and have fun while it's feasting.
The playful Hybrid Twin Rocker maximizes your ability to surf, spin, pivot, and float like a cork in the deep stuff
A Full Woodcore from tail to tip makes this ski super stable and responsive, giving you the necessary confidence to push the envelope
The Edgy Monocoque structure provides precision edge grip and efficiently transfers energy from skier to snow, making this ski feel like an extension of your body
Honey Comb structure in the tip and tail makes the rockered extremities light as a feather so you can spin like a top with less inertia
Total Edge Reinforcement incorporates fiber reinforcement directly on the edges for increased durability and edge grip
Thicker edges increase shock resistance and durability so you can don't have to worry about hammering your edges when you throw down a park lap at the end of the day
Edge Free tip and tail further reduces swing weight and ensures you will never hook a tip again
139mm in the tip, 113mm underfoot, and 131mm at the tail (178cm) mean this ski has been engineered for all-mountain dominance
Unanswered Question
Hi everyone. Im kind a new on this app. My name is Seb. I am ski instructor in Canada. I wonder which big ski i will bought this spring for next year. I can have a salomon rocker 2 115 178 for 400 or a 4frnt YLE 177 for 460. Im not sure wich kind of binding i will put on them. I think probably a touring binding next year. I am a agressive skier who like to drop cliff, jump, shred some powder and do fast line. I have presently a rossignol experience 88for my trainning with the snow school. And a pair of 4FRNT Cody(123-98-117) that i use for my everyday riding, they are pretty damage but they are good in a lot of different condition. By the way i am 5'8 145 pounds. Do you think i need to go over 180cm ski? Thanks
How does this compare to the salomon...
How does this compare to the salomon czar?
Best Answer
Let's just say it's like going from a 1985 Honda Accord to a 2013 BMW M5. They're similar in that they're of the same vein, but the new one is light years better. Just imagine a czar that is easier to turn, floatier in pow, better on groomers and more versatile in mixed conditions.


Fresh untracked pow, exactly what these skis are made for
One thing to think about...
All the reviews on here are pretty accurate. I have the 188's mounted with Guardians. They are a great ski for big open lines and will take your breath away on a fresh snow day. However, they are tricky to maneuver for shorter radius turns, especially in heavy Tahoe mank snow. Also, I really HATE the minimal-rise tip design. I have almost gone over the bars countless times due to the tip plowing straight into a mogul or pile of loose snow. This is something that I noticed immediately and still can't quite get over. I've never had this problem at all on skis with a more traditional raised-tip, and I've had to intentionally get into the backseat on numerous occasions to avoid the tips plowing into a mound, and I feel like that's my persistent number one concern with these skis. It keeps me from really wanting to let loose in anything but untracked snow. I haven't heard this mentioned in a review once yet, so maybe it's just me?
I was wondering what height ski you would...
I was wondering what height ski you would recommend for me? I'm 5'8" and a pretty aggressive skier.
I would probably go with the 178. They ski a bit short so you can go a bit longer than you normally would. I am 5'10, 165lb and I really enjoy the 188s.
I am 5'9" and I would consider myself an aggressive skier. I just bought the 187 4FRNT Hojis. Have not used them but you can always return them at backcountry with their return policy if you decide you would prefer another length. Also if you plan on skiing trees mainly that may be your better choice.
Would a 110mm binding fit on these? ...
Would a 110mm binding fit on these? Planning on getting these in a 178 (113mm waist). Would a 110mm fit on a 113mm? Thanks
Yes that should work, bending brakes 3mm is no big deal.
How are these compared to the Armada JJ...
How are these compared to the Armada JJ and the BD Amperage? I ski primarily in VT but do make it out west once a year. I am looking for a fatter ski on our seldom powder days and I enjoy riding the tight trees the most. None of these skis are offered for demoing out here/the season is almost over. I want something that is not too soft because even on our "powder" days, I know I will make my way onto the groomers every once and a while and I do not want too much "chattering". I may even consider throwing caution into the wind and check our the Rocker 122 or Ben Chets (thoughts?). I currently ski the Volkl Bridges (if any of them remotely compare to the Bridges construct, play, flex etc...) and I enjoy them but as I progress fairly rapidly, I want to go wider (I get about 25+ days). I have been doing research on all the mentioned skis till my eyes hurt but still need some guidance. When I do make a decision on a fatter ski, I do plan on keeping my bridges for the groomers and bare days. I am an advance skier, 5'10, 205lb and open to other suggestions. Thanks in advance!!
Hey Peska,



Thanks for the thorough question and I'll break it down by saying that all three options in the Rocker2 115, JJ and Amperage are the right width and rocker shape for what you want to do. The Amperage will be the most responsive while being the softest, the Rocker2 115 will be the most damp and still and the JJ will fall pretty close to the middle of the two. I first thought the Rocker2 115 would be prime for what you want, but then you mentioned the tight trees and wanted to mention the JJ could be an option depending on how much energy you like to put into your shorter turns. If you like putting a ton of energy into each short turn, then the Rocker2 115 will be the best, but the JJ may do a bit better for you if you like to finesse your turns a bit more when things get tight. I'm taking the Amperage out of the equation as I feel it'll be a bit softer than what you are looking for. I hope all this information helps.
Best Answer
I just got a set of Rocker 122 skis in the 192 length and I absolutely love them. I primarily ski Killington's tight trees and these are awesome. Due to the rocker they turn on a dime. I actually feel like I'm on a shorter ski in the woods (compared to my 106 under foot 178 K2 Obseths) but on the open trails, esp in pow, the offer the stability of a longer ski. I'm 5'10" 150 lbs. Basin ski shop tried to convince me to get the 184 for here but I'm glad I went longer. If you're familiar with Killington I primarily ski the Fiddle, OL, Anarchy, Julio and all the canyon woods. This ski put the fun into and took all the effort out of skiing. I skid them two full days in a row in last week's dump and never got tired. I also used them out west on a cat trip at Keystone and they took all the speed I could put to them...they shredded the backcountry powder bowls. My only concern is their durability as they feel so light on your feet and I haven't had luck in the past with Salomon's staying together but I will enjoy them while they last.
How do these compare to the Kastle BMX...
How do these compare to the Kastle BMX 108? I just demoed those and really liked them, but am really interested in these as well. Thanks!
Hey pickettz,



I've been on both skis and can add a bit of insight. While the Kastle BMX 108 I felt had a tiny bit more edge grip and wanted to point down the hill a bit more, the Salomon Rocker 2 115 definitely floats better and gives a bit more of a stable and confident ride while having a similar responsiveness to the BMX 108.
How do these compare to the Czars? They...
How do these compare to the Czars?



They seem like the successor.
The Czar was a great ski, these have really raised the bar though. Smoother tip rocker, low rise tail, and lighter swing weight makes it more maneuverable. These also have more sidecut so they are much better on groomed runs.
I found these great in mixed conditions. Crud, powder, bumps, groomers. I'm 6' / 190lbs and the 188cm was plenty enough ski . The tail seems flatter than similar skis like the S7 or JJ.
To sum up this ski, essentially they took the Rocker2 122 sidecut profile, rocker profile and construction and put it into a ski with a flatter and stiff tail with a little narrower waist width. This makes the ski much more versatile in crud, windblown, on groomers and in variable conditions. It's essentially as playful and easy as the 122, but with a tail that helps power you through any non-powdery condition you might encounter.
On hill shredder
Gender:

Male

Familiarity:

I've used it several times
At first I thought I wanted rocker tail but this baby rules with its stiffer tail. For hill riding where I go reckless and get thrown into the backseat occasionally; this ski lets me pull out of it and continue ripping.

I went with the 178 and so far am finding it versatile, quick and fast and sturdy when I want. The rocker tip is great, easy turning and just an all around on hill shredder.
The factory line on the 188's, at -6 from...
The factory line on the 188's, at -6 from center, still look pretty forward on the ski. I don't like having a huge amount of tail, especially in powder. Think this is still the ideal mount point for all mountain riding? Has anyone experimented with different mount points on this ski?
I've tried mounting 2 cm back of recommended and ended up going back to the recommended line. I didn't hate it mounted back but I felt the sweet spot was right on the recommended line. The tail is not rockered but it is "low rise" so it does ski a little shorter that a traditional flat tail.
Best Answer
Thanks Jamey, after leaving the ski on the floor of my kitchen for a few days and moving the binding back and forth on it, I wound up deciding on the recommended line as well, and got them mounted accordingly =) Just need some snow now to test them out, but I'll post my feedback.
With Little Cottonwood Canyon closed for control work, the time was right to hit Snowbasin. This was actually one of the biggest storms of the year and my first bottomless day on the 115s and it was all time!
As a Salomon athlete, I was fortunate enough to ski this ski all of last season. I had them mounted with a pair of Guardians. This, to me, is a dream set up. I can ski virtually any conditions on resort or in the bc. It has enough sidecut to make turning ridiculously easy and enough tip rocker and early rise tail to float, smear, and butter to your hearts content. Overall I found it nearly as playful as the rocker2 122, but better in more conditions.