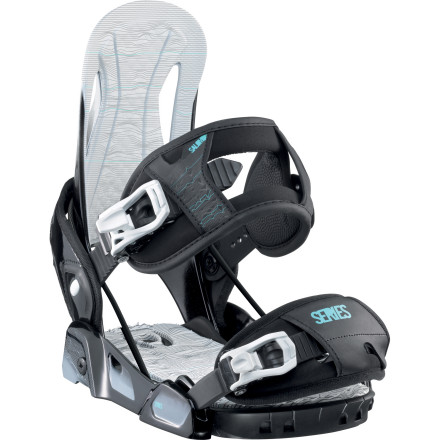 Bring the fun of your favorite summer pastimes to the slopes with Salomon Men's Relay Series Snowboard binding. Get a surf/skate feel and unbeatable board connection thanks to the Tensor cable system, which transfers power directly from the highback to the front of the baseplate for maximum leverage and control.
Mob Loop, a lightweight, mobile, super-supportive soft heel loop, enhances your direct connection with your board for hyper-sensitive rail stomping
Integra Highback offers ultimate control over forward lean, a special flex pattern, and an asymmetrical shape for comfort and tweakability
3D Prime Core Ankle Strap features light weight and comfortable fit, with Cordura reinforcement for durability
Lightweight, soft True Grip toe strap features Fast Fit to reduce the time you spend strapping in
Full EVA Smart Sole padding cushions landings and blocks out chatter for a smoother, less fatiguing ride
Lightning-fast Viper Ratchets let you lock down in one long, fast throw
these bindings have been my favorite pair. had the Rome 390s and those were my favorite until these. They have the soft heel loop which gives you a lot of lateral movement and gives you that skateboard/surf feel to your snowboard. it takes a few runs to get used to but once you get it down youll never want to come back. Got a gel insert under your heel and the toe strap never fully detaches which is nice and fast. they are mid flex. overall these bindings give you a great feel of your board.

sidenote: riding with this years Grip board.