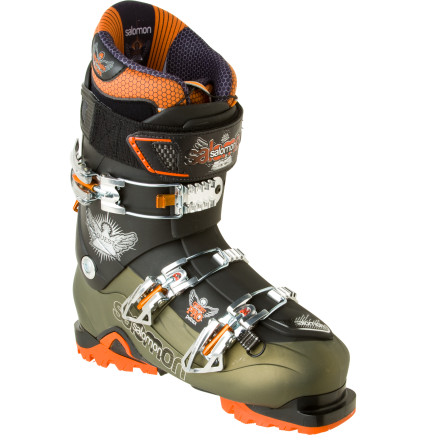 Detail Images

Community Images
The Salomon Men's Quest Pro Pebax boot reigns Salomon's Quest line of ski boots. It's a serious big-mountain hard-hitter that slays it in-bounds and ventures into the backcountry with DIN and AT compatibility.
Polylight cuff and Pebax lower shell offer burly stiff performance and ultra-light weight
Waterproof gusset seals snow and slush out, and an ultralight EVA thermo-moldable liner insulates your foot
Magnesium backbone release lets you transition easily between ski and hike mode, and it provides super-sturdy support in ski mode
Wide Powerstrap secures the cuffs in mach mode
Unanswered Question
Can i use it in kilimanjaro ????
Can i use it in kilimanjaro ????
Really nice boot. Light compared to most boots, but still a good, solid feel. They flex more than I want (I weigh 195) but they fit my wide feet well and were easily moldable. I would prefer a 4 buckle set up, but I think that's more of a preference issue than a performance one.



I haven't had any issue with durability. The soles are rubber, so i suppose if you walk around town with them a lot, they might wear faster.
are these boots compatible with marker...
are these boots compatible with marker griffons?
Are these boots compatible with marker...
Are these boots compatible with marker duke binding?
Yup, I think they're a really great match. fairly stiff boot with big, burly bindings.
I have put about 30 days on these this season (mostly inbounds and sidecountry with a couple 1-day tours) and I am very impressed so far. They are noticably softer and have a lower cuff than my old Salomon Crossmax 10.0 boots, but are WAY lighter and more comfortable on the skin track. I almost fell over the first time I lifted my foot to clean the snow off the sole because I was used to lifting so much more weight! They work great with my Fritchi Freeride bindings, but I am a little bummed they aren't compatible with Dynafit bindings. That's the only reason they don't get a 5-star review from me.
great boots for skiing and hiking
Had these boots custom fit by Stephen McDonald at Jackson Hole Sports, and I couldn't be happier. Extremely comfortable, they ski great, and I feel no compromise when I have to connect my back country with a few runs inbounds. Walk mode is a little stiff, but they are so light, have such a great walking sole, and fit so well, that I don't even care. Wearing these boots in all conditions, all mountain, all the time.
Anyone use the current 2011 model with an...
Anyone use the current 2011 model with an alpine binding? Will it fit, or do you have to use a touring setup?
The boot does not appear to have a DIN sole and Salomon indicates it is Compatible with all safety touring bindings. So, does not appear it will safely work in a alpine set up.
Just got off the phone with Salomon Custy Service, and they had to ask up the chain to get an answer. How about that for strange...? Apparently, the Pro and Pro Pebax are "out-of-the-box" ready for AT binding setups. You can order "DIN" or alpine heel and toe pads that will allow them to fit an alpine binding.

The Quest 10, 12, 14s, however, are "out-of-the-box" ready to click into your alpine setups.

Multiple sources on the interwebs say that you "can" use them on alpine bindings without different pads. And...the Salomon site does not make it clear that you can use them specifically for either set up. However, Salomon made it official over the phone just now that the Pro models are AT only, unless you get the pads...which you can't simply order off their website, Backcountry's website, or anywhere else. You have to go to a local dealer who sells Salomon products, and have them special order them for you....assuming they have the current product list to order off of.

Just having the Pro as their AT boot and the rest of the Quest line as their "hybrid" alpine boot is very confusing. As a brick-and-mortar retail staff member, this is frustrating. But, at least we know. Somebody play that "The more you know" NBC jingle...
Joe,
I have the Quest Pro which comes with AT vibram soles. You can get DIN soles from your Salomon dealer that will replace the AT soles, making the boot compatible with alpine bindings. My primary ski for this boot is set up with a Marker F12 AT binding.

BTW, I find that the touring soles will work with alpine bindings. The toe height seems to be about the same as alpine DIN soles, so I just cram 'em in and go. Most Salomon and Marker bindings have a sliding mechanism that functions as the AFD pad, so the increased friction of the vibram is not an issue. Probably not advisable, but I haven't had a problem.
Unanswered Question
Has anyone used these boots with an Intuition...
Has anyone used these boots with an Intuition liner?
Salomon Quest 12 Gear Review from Pyramid Peak, Landry Route summit
it was a windy day but here is a gear review of the Quest 12 boot getting ready to ski Pyramid Peak's famous Landry Route on June 1, 2011. The ski was a success and the boots performed great.
I took a gamble and bought these boots for use in my alpine skis. I know they say these are to be used for AT, but they work fine with all three of my alpine setups. If you like to hike to more challenging terrain at your local ski hill, I definitely recommend these boots. If the Vibram sole doesn't work with you alpine binding, you can always order the alpine sole to switch out. You still will end up with a great pair of lite weight hikers. One caution these boots are for wide feet.
Where can you get the alpine (not AT) soles...
Where can you get the alpine (not AT) soles for these boots? Thanks.
These soles do not appear to be available anywhere, so the claim of alpine compatibility is misleading. If I could find the alpine soles I would buy a pair
These ARE alpine compatible with their illusive alpine heel and toe pads installed.

Salomon customer service said that a local retailer with an account can order them. But you can't find them anywhere on the interwebs or otherwise right now for some silly reason. Good luck. I'm trying to do the same.
Talked right to the folks at Salomon, and they shipped the DIN pads to me for free. 5 screws per foot, and they snapped right into my alpine bindings. Sweeeeeeeet
Part numbers for the alpine soles -



Heel - L100790

Toe - L351759



Sounds like the Quest Pro's all share a universal sole. So, they might be in stock at a local shop.
How do I know they will fit? I have a wide...
How do I know they will fit? I have a wide 10.5 to 11 foot and what if they do not fit can we exchange them easily?
Get the boot that you think will fit best, if it doesn't work for you, Backcountry.com has the best return policy in the business - they will accept your return unconditionally; regardless of how long it was used, whether its damaged, or if you just don't like the fit. If time is critical and you have enough cash, you could even by both the 10.5 and 11 and return the one that doesn't fit.

To return an item, go onto your account, check out recent orders, find the item, select "return this item", print out the UPS label, pack it up and drop it off at UPS. You get the refund as soon as UPS scans it, but BC.com will deduct a few dollars from your purchase for return shipping
I'm in a 27.5 right now (I'm a 10.5/11 shoe) and they are great. Plenty of room, and the liners are moldable. Pretty comfy so far this season (2011/2012)