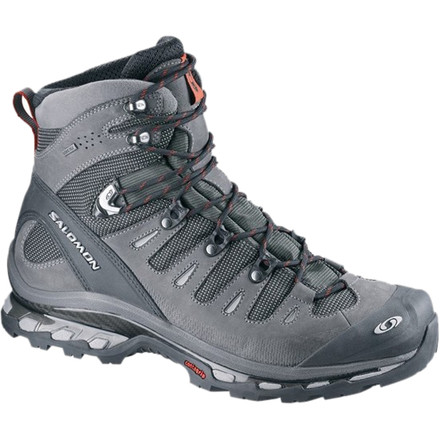 Detail Images

Videos

Community Images
Don't start your next backcountry trek without the Salomon Quest 4D GTX Men's Hiking Boot. Your feet will welcome the support of the 4D Advanced Chassis™ midsole, which helps control flex, reduce ankle strain, enhance stability, and protect your feet from the roughest of terrain. The durable leather and nylon upper is coupled with a seam-sealed Gore-Tex® membrane that is fully waterproof and breathable, no need to dread creek crossings anymore. The padded tongue relieves lace pressure and keeps your feet more comfortable on long hikes, and the removable Ortholite® footbeds add shock absorption while their antimicrobial treatment deters odors.
Good but fall apart too soon
Familiarity:

I've put it through the wringer

Fit:

True to size
I loved these boots for the 1.5 years they didn't leak. I expected a better, more durable product for the price. After 1.5 years, the rubber around the toe separated from the boot. I'll get it repaired, but I expected better quality and more durability for the price. I wore them a lot, but for hiking, as expected. I didn't wade across knee deep creeks or anything. If you're looking for a good "short term" boot, they are great. But for the price of these, I expect something that will last and be reliable over a longer period. I agree with the reviewers who found durability lacking. .
Soloman Quest GTX is great!
Familiarity:

I've put it through the wringer

Fit:

True to size
These are some of the most comfy, waterproof, tough and light boots I've ever had! My feet are always picky about what they get put in and they are very happy with these!
I am travelling to north norway and I am trying to find out how these boots are in the extreme cold weather please?
Being a norwegian I think they will do just fine. I live in the south but have spent a lot of time in the north and boots like these have worked just great. Choose a size that fits a pair of heavy or mid weight socks and You are good to go. Welcome to Norway!
Dry Feet
Familiarity:

I've used it several times

Fit:

True to size
I've only used these boots 3 times so far( 30 miles backpacking). One trip it was pouring rain and we had lots of river streams to cross. Trails were muddy. These boots kept my feet dry and warm ! They are so comfortable carrying 40-50 pounds. Easy to put on and lots of ankle support. Traction is amazing. So far I love these boots.
Weight
Familiarity:

I've used it once or twice and have initial impressions

Fit:

True to size
Men's size 12 US / 11.5 UK / 46.6 Eur

One boot(without insole) weighs 0.76kg / 27 oz / 1lb 11oz
Hikers Delight
Familiarity:

I've put it through the wringer

Fit:

True to size
Male, size 9.5. Runs true to size. Verified waterproof on several hikes. Break-in period was about 6 miles. Out of the box they were comfortable but a little stiff. To be expected from a new boot.



They do not feel like ankle boots. Light weight and easy to pound the miles away in these. Traction is very good overall. Only cautionary aspect is they are not perfect on wet leaves going down hill. They could use a slightly more aggressive tread.



With that said, I love the boot, would get them again in a heart beat. Two of my hiking buddies purchased them on my recommendation, and they like them a lot.



The lacing system is awesome. You can make the lower portion of the boot as loose or tight as you like. Then the laces lock in and allow for custom tension on the upper ankle portion. A very nice setup imo.








Worth their weight in Gold
Familiarity:

I've put it through the wringer

Fit:

True to size
This is a great boot for pretty much everything, I have used it on shorter hikes to long approaches all the way up to multiple week long treks. I put around 100 miles on a pair of these in Grand Teton National Park in Jackson, WY and loved them but unfortunatley after a foot injury I was forced to order a new pair one size larger to fit my special carbon fiber inserts for turf toe. I liked this boot enough to not only bight the bullet and buy a second pair in the same year but to also trust them enough to take them straight out of the box to Nepal where I recently did the Annapurna Circuit. Broken in immediately and not a single blister with over 2 weeks of hiking 6-8 hours every day with a 30lb pack these boots simply made my trip. Definitely worth giving these boots a try a lot of reviews say this is a wider boot but with a very narrow foot and the right inserts these boots were perfect.
great boot!
Familiarity:

I've put it through the wringer

Fit:

Runs small
very durable. Ive run them for 3ish going on 4 years now. Combined with a pair of the Superfeet Trim-To-Fit Orange Insole (heavy duty ones), theyve never skipped a beat. Ive run them from camping trips and hiking weekends to weeks at a time in the field at tracking courses. Theyre a great boot.



I normally wear at 11. I did have to get 11.5 in these. Only thing Ive noticed.
five star backpacking boots
Familiarity:

I've put it through the wringer

Fit:

True to size
I wore these up surprise canyon through panamint city ghost town up to panamint pass, it's one brutal walk in the woods...google panamint city...boots performed like I expected them too...no hotspots, leaks, or blisters...no break in needed
The bad with the good...
Familiarity:

I've put it through the wringer

Fit:

True to size
I hunt HARD in these boots. I absolutely love them but I can only get a couple seasons out of them. I sacrifice the durability for the comfort. I'm willing to get a new pair every couple years to stay light, dry, and blister free!
I plan on hiking to Everest base camp in March/April. I'm also trying to find a boot to use while snow shoeing . Would these boots be suitable?
Best Answer
Regarding EBC, I did it in low-top water proof trail runners with no issues, so these boots should be fine. For snowshoeing I think they would work also, but haven't had practical experience there.
I've used them snowshoeing in the Rocky's and they worked great. I stayed warm and dry.
whatta boot.
Familiarity:

I've used it several times
I'll preface this by saying I am by no means an expert in the subject of hiking/backpacking boots. This is the first pair of boots of this caliber (read: price) that I've ever owned, and it's the first pair I've bought in the last 12 years. That being said:

- Super comfortable right out of the box. After I adjusted the lacing a bit (had it a little too tight), they fit like a dream and that didn't change over the course of the hike.

- I ignored all the advice and reviews and didn't get an insole and now after my first hike in them, I think I'll be doing that soon. They were comfortable but the area of the boot around my forefoot and toes was a little too roomy. That being said, I also didn't lace them any tighter in that area which may help.

- I am NOT a small dude. Im 5"11 and pushing 285lbs (working on that) and these boots supported my lumbering frame over a trail riddled with soft-ball to baby-head sized rocks covered in leaves. A few misplaced steps and my ankles would've been toast but I felt supported in these boots.



TL/DR summary: they're expensive but you certainly get what you pay for: a high quality, long lasting, comfortable boot. I'll buy them again if this pair ever wears out. I ordered a size 13 and they fit just right with a little room for a thicker insole.



that is all.
Good to Go
Familiarity:

I've put it through the wringer

Fit:

True to size
My boyfriend has been wearing these Quest 4D GTX boots while running pack trips (with horses) for the past few wet weeks in the Tetons and is the only one in the group who has had dry feet. He is a size 11 and the boots fit true to size. He also beats up gear and these have remained durable and reliable in mountain environments from early in the morning to late at night. He - Teton Outfitters - gives them a five stars. Wants to live in them for as long as possible.
Need advice on size........i wear 8 running...
Need advice on size........i wear 8 running shoes and 8.5 combat boots. What size should I go with on these? Thanks!!
Best Answer
Hey,

I would suggest wearing an 8.5 in the Quest 4D.
I wear a Danner 9.5EE and the Salomon's in 10 fit me great
Backcountry champs
Familiarity:

I've put it through the wringer

Fit:

True to size
I have worn these boots for over a year. Straight out of the box they are extremely comfortable and fit well. They break-in quickly and I did not have any blisters or hotspots.



They took me on over 50 backcountry miles hunting deer and elk in Colorado this past year. I am not talking about groomed trails; I am talking about off trail hiking while climbing over deadfall and going up and down mountains. They kept my feet warm, dry and comfortable. Temperatures ranged from -10 before dawn to 50's in the afternoon.



I would not recommend these boots for sustained cold or non-aerobic winter activities. These will work in the winter if you are on the move but there are betters boots out there for extreme cold.



These are a great 3 season boot that can take you into the winter if you are on the go. On trail or off, these rock!
Best 3 season + boot on the market
Familiarity:

I've put it through the wringer

Fit:

Runs small
I have had these boots for about 6 months, I put a montrail insole in them and they are the most comfortable boots I have ever worn. right out of the box and certainly after a hundred miles or so they are so plush. I had to get a half size bigger than my usual size to give my toes more room and prevent the painfully annoying toe bump on down hill sections. This conveniently also allows for thick heavy wool socks in winter use. I have had these thigh deep in snow with gaiters on and they stayed very dry and warm in about 10-20 degree weather. If you're getting much colder than that you would probably want to consider a dedicated winter boot.



The army green color is bad ass, goes with most anything. They have held up super well and the sole still looks new with very minimal wear.



They have felt solid and supportive for up to 50 pound winter packing, and light a nibble enough for summer time day hiking.



Excellent boot all around.
Salomon Quest - Sooooo Light
Gender:

Male

Familiarity:

I've used it several times

Fit:

True to size
I got these boots about 3 months ago. Their fit straight out of the box is great. I did have a little hot spot at first but after about 2-3 (5-6 mile) hikes the hot spot disappeared as they got broken in. Shortly after the break in period I took them up El Cap (with about 35 lbs on my back) in Yosemite via Yosemite Falls. These boots were so light I set my best time yet to the top of the falls.

Pros:

- super light weight

- great grip in all conditions from sand to wet to smooth rock

- the ability to have different tension on the lower and upper boot. It really does make the fit better without cutting off circulation to your foot.

- waterproof. I was ankle deep in a stream and not a drop got in.

- great ankle support. running down the falls when my feet got squirley these things held my ankle right where is was supposed to be.

- Cool. I found these boots to vent much better than my full leather boots. Which was nice hiking in 80-90* temps.

Cons:

- Not great for heavy pack carrying. If you haul more than 45-50 pounds on your back for over/multi night camping you will want a beefier boot. But for lighter weight pack overnights and even just a day hike these things will do the job quite well.

- Winter/snow... I haven't had these things in snow yet but based on my experience with them so far I don't think they will fair to well as far as warmth and prolonged water exposure. For winter/snow a full leather boot would probably be needed.



***Any decent hiking boot (more than $150) is designed to have you replace the insole with a insole designed for your type of foot. This review is based on the stock insole but I will be replacing them soon for an even better fit.***


Time to retire these boots
Gender:

Male

Familiarity:

I've put it through the wringer

Fit:

True to size
Time to retire these boots after 3+ years of outstanding use. These have been on my feet with me to the top of a 12,666 Foot Summit, and many miles of good and crappy trail and this last weekend the GoreTex liners finally failed on a creek crossing. As in my previous review these fit my 10-1/2 EE wide foot perfectly and the locking lacing system beats any other hiking boot or trail shoe I have ever owned! Time for me to get another pair of these before Salomon decides to quit making them! (Pro Tip! Take out the manufacture insoles in these boots and get a pair of Super Feet insoles "green" and these boots will feel like a million bucks on your feet).