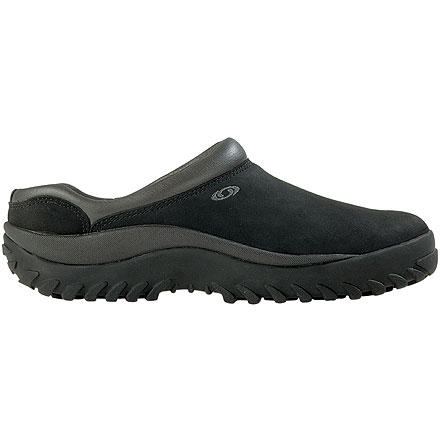 Great shoe ,a little warm here in Fla but overall a good shoe for around town as well as house or camp.
My boyfriend loves them. I may get a pair for women. You can get away with wearing them at work.
these things are the coolest! When i need to go out to the truck, and it's too cold to put on the flip-flops, these things rock! easy-on, plenty o' traction for "not slippin", and maxing out the way-cool look!
I had operations and live here in Chicago. I had disc replaced and they messed me up but I can hardly walk if I did not have these shoes I would have fallen.
I love these shoe they are great!
They saved my life because I did not fall many times. I love them great in snow too,
Thank you.
I just ordered a pair of shoes. Who would have know they would be the most enjoyable shoes I have ever worn.

Maybe it's the perfect fit, or just the cool style. I don't care exactly why I love 'em; I just love 'em!

Thank you!
These clogs are it ! ! ! I tried on about 4 pairs at 4 different stores and found that I only needed to go up half a size. They are NOT running 2 sizes too small. Excellent fit and super comfy! If you are unsure of what size to order, go with a half size up and a full size up & send back the ones that don't feel best. Simply put: THEY ROCK! (So does this site for saving me a little extra money!)
Now buying my 3rd pair. I normally need a 10 1/2 but an 11 works great for me in this clog & I have wide feet. They seem nearly indestructible, although mine get real ugly from abuse. I wear them all year except when there is snow on the ground.
Salomon Powderslide Clogs
Excellent clog. Personally, I would disregard the prior reviews that indicate a larger size is needed. Absolutely NOT TRUE. I ordered a size 11.5 which is what I normally wear, and they fit perfectly. I give these clogs an emphatic10!
I have been wearing these Powerslide Clogs for years and they are extremely comfortable. As other reviews indicate, it is important to order at least one full size larger than you would normally wear in street shoes. I actually needed to order 1.5 sizes larger because I have very wide feet. I strongly recommend these clogs - you won't regret buying them.
I bought my 1st pair of power-slide clogs in Whistler, Canada. They are the most comfortable shoes I have owned. I wear them at some point every day. I couldn't find another pair in any store in the U.K so had to search online. These shoes are very long lasting and tough, as my 1st pair was 4 years old when I decided to get another pair.
Powderslides are made in Vietnam and China. They run smaller than the stated size and have a narrow toe. I tried 4 sizes and sent them all back.
I bought the clogs as a gift for my husband who is an orthopedic surgery resident and on his feet all day. I read the reviews about the sizing, some saying buy a size larger, others saying buy your size, so I bought 1/2 size larger than his normal size and they were perfect.
Great shoes, excellent quality,
I was looking for a clog for my husband that looked rugged and felt rugged, unlike the suede LLBean/knockoffs you see everywhere. When I finally found these, I knew I succeeded. My husband loves them, he looks sporty and the quality is really good. He can wear orthotics with them, no problem. They are indeed weatherproof. Don't hesitate to buy these.
Very comfortable and great sole. A wee bit narrow, but uppers have ability to stretch.
Perfect Father's Day Gift
My siblings and I purchased the shoes as a Father's Day gift for our wonderful Dad. He was diagnosed with Cancer and is taking Chemotherapy treatments which make every day tasks difficult. So we thought why not get him shoes that he can just slide his feet in and out of. They are awesome! Very easy for him to use and comfortable as well - they look great also which makes them the greatest shoes in the world for what they can do for my father! We are very pleased - and so is Dad. Thank you for such a wonderful product!
Salomon Powerslides are the best!
This is my fifth pair of powder slides. They fit perfect and are the most comfortable shoes I've ever had. I buy exactly my size (9) and they are a bit snug for the first day and thereafter are perfect. Never needed to buy a size larger as some people think.
Clogs fit well when ordered 1 size bigger
When ordering my Clogs I read the other reviews that said order 1 size larger, I was very hesitant but did as suggested. Well, I just received my 1 size larger clogs and they are a perfect fit, so please take note. Also I love them. They feel good.
The powderslide clogs are great. Slip them on your feet and go walk your dog or wear them to the hill...makes changing into your boots easy. I covered mine in some nikwax.
The Powderslide Clogs have been fantastic. They are absolutely ideal for walking on snow and ice. The traction is superb, and the comfort is undeniable. I highly recommend these shoes.
The shoes fit true to form. I read another review stating that they ran small. However, I found the sizing to be right on the mark with my usual size. They are comfortable beyond belief and stick to the ground. The build quality also ranks very high. I am definitely a fan!