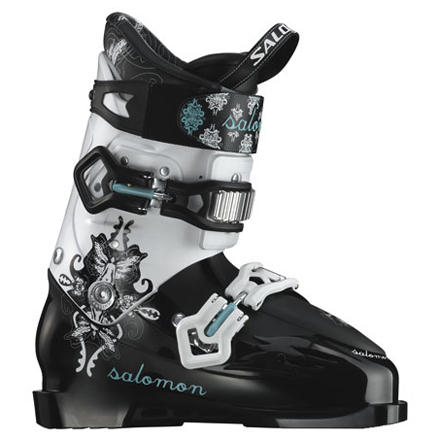 Unanswered Question
I need the best ski boot suggestion for...
I need the best ski boot suggestion for a very wide calf and med-wide feet. Thank you.
This boot is great for narrow feet without a doubt. I tried them on in a highly recommended ski shop and looking back, they had pulled out the liner and replaced it with a custom foam liner. So when I tried them on in the store they felt like heaven on my feet.

I ordered the boots online and was surprised when the boots arrived and the liner was painfully thin even without skiing in them. This only got worse during my first few days as they broke in and the liner got thinner. So now, I am going to pay more money for a custom liner. While I know this will give me more comfort, it is not to be expected for new boots with less than 10 days wear. This is why I gave the boot 4 stars instead of 5.
I'm just a little confuse by Salomon's...
I'm just a little confuse by Salomon's catagorization. Are their Big Mountain boots suppose to be like touring boots? Is that why there is only 2 buckles (less weight)?
And is it just me or is Salomon's website completely uninformative?
Hey RChap,

It's not you, Salomon's website can be very confusing.

Big Mountain does not neccessarily mean touring boots. The history of boot categories stems from the evolution of different diciplines within skiing. For example, race boots, freestyle boots, all mountain boots, beginner boots.

Each category shared many common denominators yet each also had unique characteristics that were advantageous to their specific discipline.

All Mountain for Salomon means exactly, all-mountain. This product can be used for all variable conditions and mountain offerings. All-mountain boots are the most popular for most skiers as they offer adequate stiffness and exceptional comfort.

For this boot, 2 buckles is used to decrease overall weight without decreasing performance. My mom and my girlfriend both use this boot and they are at two completely different level of skiers but both swear by them.

Hope this helps,
nick
<3 <3 <3 Poison me - be one with the ski
I love this boot. I have narrow feet. They measure borderline A/B width and B is medium but I have trouble finding boots that are narrow enough. Nice and stiff. Nice and snug. They are very light weight and keep my feet warm. The only thing I don't love about it is I wish they were taller in the shin area. I wear a size 8 sneaker (mondopoint 25 equivalent). I measure a 24.5. Any 24 I tried wasn't snug enough. I ordered these in a 23.5 (US womens 6/6.5), threw my aline footbeds in there (the ones that come with all high performance boots are a joke, plus, I pronate so I need more support anyway) and they fit my foot perfectly, but I guess it is because I ordered a smaller size than I normally wear and it is proportional to a 6.5, not an 8. The upper part is the the part used to make this boot from size 22-23.5, so that is most likely causing my problem.
But anyway, I LOVE these boots. The liner is thin but they feel like they are soft and comfy and warmth isn't sacrificed. The two buckles really do support like 4 buckles do. They are also pretty and I find the fairy graphics to look almost like naked ladies and I think it is funny. I can run in these boots ... well not really, just in the shop a little bit. My boss has the Shogun (Mens version) and he loves them. They also have rivets in the back that you can take out to make them softer.
I don't do big mountain skiing. I don't race, but I have a racing style and I love these boots. It is like my feet are one with the skis.