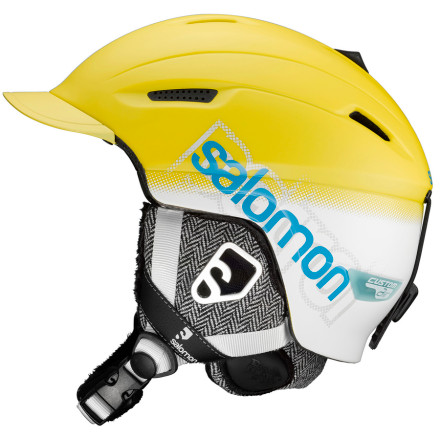 Community Images
OK, so Captain Glass-Eye John didn't hire you on to his ski-patrol squad this season. It's just as well--since he still makes his patrol wear helmets from WWII. As a regular Joe just out cruising, you can sport the smart Salomon Patrol Custom Air Helmet. You'll get a perfect fit with the Custom Air system while the patrol's helmets flop over their eyes and freeze to their hair.
Custom Air fit System gives you a super-comfortable custom fit
Removable ear pads for warm days on the mountain
In-mold shell with EPS liner for lightest weight possible
3-position active ventilation system adapts to any temperature
Removable, washable liner lets you get the stink out
Share your thoughts
What do you think of the
Salomon
Patrol Custom Air Helmet
? Share a...
Prime Head Cover
Gender:

Male

Familiarity:

I've put it through the wringer
This helmet is sweet! It's definitely worth the money spent. The vents are great for those days when you're hiking. And the custom air is awesome! It fits right to my head every time! Get this helmet!!
Sweet Helmet
Gender:

Female

Familiarity:

I've put it through the wringer
If you own a pair of Oakley Crowbars then your in luck because this helmet was made for Crowbar's. The visor settles right on top of your goggles making wind impenetrable. Its lightweight, the custom air fit keeps it snug and its pretty comfortable. I wear clip on headphones with this helmet and the ear flaps do a great job of keeping the buds from moving around. This helmet is interchangeable with audio ear-flaps I'm pretty sure. But to do that I'd just buy the helmet and bring it to a ski shop. Overall a good helmet you will definitely get noticed on the hill.
Unanswered Question
please let me know how to remove the ear...
please let me know how to remove the ear pad? It seems attact to the helmet permanently.
Great fit!! the helmet just sticks perfectly to your head!! The lower padding in the neck is super and it feels super light.
My only concern is if I will be able to buy the air-cushion as a spare part, as I know I will use this helmet 50-60 days per season.

TIP: Develop a spare part and custom fit kit for this great gear! (I bet you can persuade Supply Chain to accept the added complexity, with the argument that customers like me will brag about our super comfy Head-gear)
This was definitely a good helmet while I had it. It was warm, comfy, and it fit my head really well. My only problems with this helmet were 1) I wish the brim was a little bit wider and 2)after a bad fall, the brim broke off and the screws connecting it pulled out, which unfortunately also pulled out huge chunks of the protective hard foam stuff thats meant to protect your dome. After that the helmet was no longer safe to use. Shortly after I upgraded to the smith variant which still has issues with broken brims, but fortunately their brims aren't screwed into the foam so it doesn't ruin the integrity of the helmet.

All in all, Good helmet while it lasts, but could be better
I bought this helmet in black and absolutely love it.
air bladder sinches helmet up to the back of the head nicely without lifting it off.
Looks great, works well with most goggles.
Does not give you the bobble head look, pretty sleek profile.
visor is large enough to help with the sun/tree branches without disrupting vision/looking absurd.
ventilation system works great, i was comfortable in all conditions this season from -20 to 40F days.
*I knocked the ventilation system toggle off on a tree branch, a little dissapointed that it broke off.
I now use my keys to toggle the vents open/closed but like the helmet so much i dont really care
Does this helmet have ear flaps that have...
Does this helmet have ear flaps that have a pouch for drop in head phones?? What kind fit best??
No, there is no pouch in the ear flaps. You'd have to pick a seam on the flap and pull out some padding to be able to put headphones in. On the plus side, the flaps are super soft and comfortable (I'd say more comfortable than the Smith Variant, although the Variant makes it easy to pop headphones in, so I guess it's a wash between the two).
I tried on 8 helmets at the BackCountry HQ in SLC - Red, POC, Smith - and the Salomon Patrol Custom Air fit the best. I love the Air Fit System. You just squeeze the pump and it molds to your cranium. Push a button and it deflates. I really like how you can remove the visor. I'm not crazy about the visor look, plus it makes it hard to get your goggles on and off, but it does come in handy on sunny days. The air vent system is super easy to open or close while you're on the mountain. Just make sure you don't have any hair sticking out of a vent when you try to close it! Ouch. Happened to me. I always lift my helmet a little off my head before I close the vent now.
Skiing's Godfather Mike Douglas reviews his favorite helmet
What earbuds would fit this helmet like a...
What earbuds would fit this helmet like a glove... 'er custom air glove...
Any ear buds will fit under the ear flaps of this helmet, as long as the ear buds don't stick out too far. The ear flaps are removable though, so anything can work.