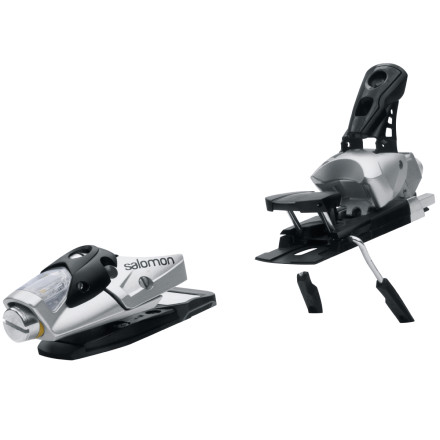 With its monster DIN and high-impact steel housing, the Salomon N STH 16 Steel Ski Binding was definitely built for going big. The Micro Simultaneous Wing adjustment helps eliminate boot slop which can cause a premature release, and its steel construction means that the N STH can stand up against giant booters and repeated abuse from park and pipe sessions.
DIN range of 9-16 provides the range of control that expert freeriders demand
Burly steel construction stands up to big drops, hard landings, and plenty of abuse
Micro independent wing adjustment lets you dial the front contact points to precisely match your boot shape
High lateral transmission provides excellent leverage for driving wide skis
Also anyone know if they would fit on a...
Also anyone know if they would fit on a Wailer 99?
Yes at 99mm underfoot the 100mm brakes on these bindings will work with the Wailers.
Do these have adjustable toe heights? I'm...
Do these have adjustable toe heights? I'm trying to figure out a binding for a CAST SI&I setup and want to use Lange Comps and BD Factors with the same ski without wrecking the interface on the race boot.
Best Answer
Yes, These do have an adjustable to height and would be your best choice for use with the CAST system, if you want to be able to use with both the alpine ISO 5355 sole of the Langes and the rockered AT soles on the BD factors.
Would you recommend this over the Marker Lord? Is the Lord supported by the CAST system yet? I know you emailed me about this, but the website does not list it as a compatible binding (I know you said the website is getting some work done - just want to be sure).



Thanks again for the tips - I basically was too terrified to continue backcountry skiing last spring after tumbling 800 vertical feet and having my girlfriend watch me cartwheel past two huge rocks.
I have K2 speed rocker skis that say they...
I have K2 speed rocker skis that say they have a 74 waist, what bindings do you have that will fit?
These would work as a binding but unfortunately the brakes will be too wide. 74mm is pretty narrow by today's standards so you may just end up having to buy whatever bindings you like and then just swapping the brakes out with an aftermarket brake that fits your waist width. Unfortunately we do not sell spare brakes but you can often find them from the manufacturer or in local shops.
My skis are 145-127-135, would I be able...
My skis are 145-127-135, would I be able to swap out the brake for a wider one?
Hey Bit,



Sure thing. A local shop or Salmon dealer should be able to provide you with a wider set of brakes which are fairly simple to swap out. I just checked and we don't have any replacement brakes in stock at this time, but call around and see if your local shops have one available for you.
The Best, Most Durable Binding Ever
Buy them now and you'll still be skiing them in 20 years. Enough said. The best binding of all time.
Burly bindings that keep you in the burliest & rowdiest of lines, when ejecting is NOT an option. These bingings are on par with Look P18/ Rossi KFS 180. I have currently have the STH 16, but if I were to get another set of skis I would pick these up in a heartbeat.
Been rocking these bindings since the 90's
Salomon brought the all metal binding back. This binding is not making them money, but it sure is keeping the love in the room. Hardcore skiers have been rocking the 916 binding, re-mounting them yearly on new skis since the mid 90's. I got two pairs from the mid-90's on this year's skis. Had lots of other bindings but those ones keep on rocking it. You can stomp anything with these bindings... Back Seat, front seat, and no pre-release ever, which is very important when falling means a trip to the hospital or the morgue.
salomon really rocks with the sth 16. superb elasticity when hitting speed and gnar tranny's.would love to see bright colors or graphic's ...easy to get in in deep pow also a plus
Have to agree w/ Seth here, this is one of those bindings you can literally have forever. Switch it from ski to ski based on needs.

Better in/out than FKS. Driver toe piece is time tested, and the best on the market.

View it as an investment.
Live the dream with these babies. The price hurts as well as the brake width. I find them to be the most perfect binding for me. All these years and the look stays the same just like the reliability. If you got the loot get some. Silver so sleek!!