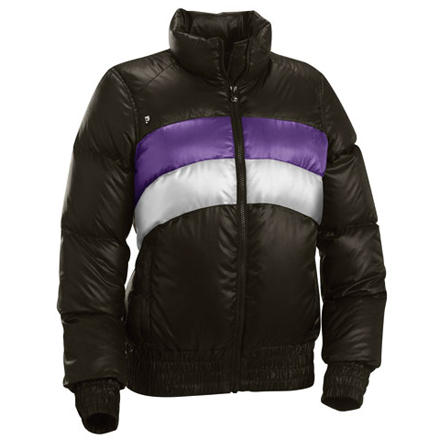 Community Images
This is a really nice jacket. It's super warm and very stylish. The main color is actually more of a brown which looks great with the purple and white stripes. The elastic at the waist and wrists makes the jacket feel secure in place of a powder skirt and insulating. The Medium fit me (5'3" 125) perfectly. It was a little too puffy for my liking but it was still nice and I'd highly recommend it.
It's hard to find puffy coats that look stylish and don't make you look huge and this coat is great at both of those. I liked the ones with color but they didn't have my size but black is always good. I wasn't sure about the shiny but turns out I really like it, so don't let that turn you away. It's really warm and I am counting down until it gets cold enough to wear it!
I got the xs and found it to be rather tight in the wrists and short in the arms (the sleeve comes down into an elastic-tight-thing around the wrist) and not especially warm.