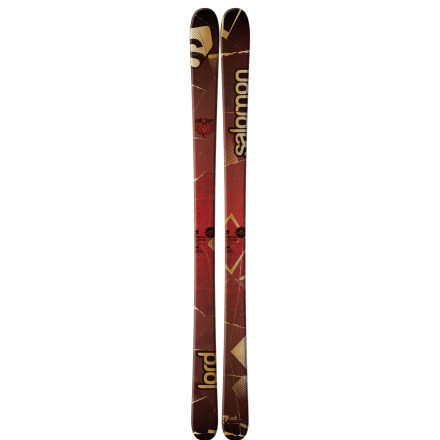 From the morning cords to the untouched trees, Salomon doth bequeathed its Lord Ski to rule over the entire mountain. The Lord's composite wood core delivereth gentle but firm justice, and the Edgy Monocoque construction increases torsional rigidity while it cuts overall weight.
Edgy Monocoque construction blends a capped top with more vertical sidewalls for precise edge grip and efficient energy transfer from skier to ski
All Terrain rocker at the tip aids flotation and prevents deflection in variable, choppy snow
Semi-twin-tip tail provides a playful feel and allows for switch riding
Wood core with composite layer combines the stability, pop, and dampening you crave with added weight savings
Edge Armor tech links the ski's left and right edges with a strong polyethylene cord for added durability
Total Edge Reinforcement adds a layer of fiberglass directly on the edges for added durability
Wide edges stand up to abuse and provide additional shock resistance
Damn fun ski
Gender:

Male

Familiarity:

I've put it through the wringer
I've been skiing my Lords for four season now and I keep coming back to them. I have a three-ski quiver with Rossi Super 7s for powder days and Rossi CX 80 Ti's for hard pack GS cruising. But the Lords are perfect for those days at Whistler when the fresh powder is tracked out but the snow is still soft on the edge of the runs. These ski are light, fun and I can charge hard through crude and bumps and anything all day on any run. Love them. Love em. Love em.
I love the Lord I took a pair out last weekend after we'd gotten about 20" of snow and loved them. They took everything in stride and were able to ski comfortably with my 3yr old on the teaching hill and 10yr old on greens and blue groomers. I skied the morning on the double blacks and in the trees with mid thigh powder and the skis were excellent. They held an edge great on the groomers and made great turns at every speed. I bought a set after I returned the demos and had them mounted with Z12 bindings one ski with the binding weighs only 5lbs. I'm 5'9", weigh 200lbs, and have been skiing for 20yrs and I never experienced the tails washing out as others said. The ski is light underfoot and took everything I threw at it and kept asking for more. I rode the 2012 model ski.
I suppose every company needs to make a ski that can kinda go anywhere but does nothing really well. Solomon is leading the charge when it comes to ski innovation but this thing is at the back of the pack as far as I'm concerned.
I found that it's too soft to hold a really nice edge and at speed the tails were washing out on me. In thicker snow they kind of bog down. You might have fun with a really short pair in the trees because they feel pretty light but I always felt like they were "just kind of there" and got very little feedback from them.
Trading these in for some bbr's at the rental house was the best decision I've ever made.
Happy ripping!
Overall, this is a good ski. On groomers turning was easy and carefree and I felt comfortable at speed. On moguls and through crud they handle well and can hold an edge nicely due to quite a bit of sidecut. A lot of camber means that you can pop smoothly and take the occasional park lap. However, skiing powder is another story. Unless you ski very aggressively in anything deeper than a few inches these may be a handful. At 88mm in the waist and only a minimal amount of rocker, I can't fully trust these skis in anything deep. But for days when fresh snow is scarce, this is my go to ski for just about everywhere on the mountain.
how do these compare to the sentinels? ...
how do these compare to the sentinels? any reason to pay the extra $$ if you're an upper-intermediate to mid-advanced skier?
Hey Gilliekc,

The biggest difference is that the Sentinel comes with titanium through the ski. This will play a major difference in ski performace, as it will be more stable, more stiff and burlier. Depending on how you skill develops, it could be a great ski of choice but if you're at all tentative, the Lord is a great replacement.

I use the Sentinel as my daily ski and love it.

Hope this helps,
nick
Hi. I have a pair of 2008 Lords and love...
Hi. I have a pair of 2008 Lords and love em but was thinking of upgrading this year to get the Edgy Monocoque (although this might be in the 2008 too) and Edge Armor construction. Anybody know if the difference would be that noticeable? Rob/CO
I think you will feel a slightly more responsive ski but it is almost the exact same ski.