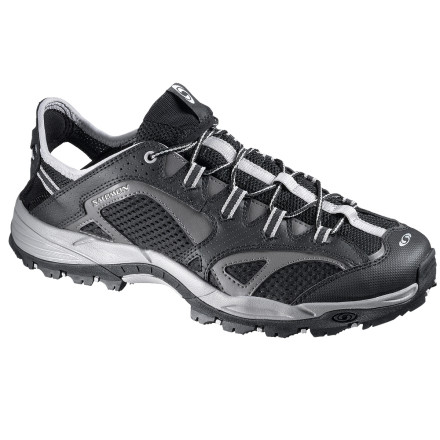 You've booked your Costa Rican vacation, now outfit yourself with the Salomon Men's Light Amphib 3 Shoe. This lightweight, collapsible shoe carries you through your canopy tour, rafting trip, hike to the waterfall, and other excursions in comfort. With a quick-drying upper, snug 360 Sensafit, and performance sole and midsole, this amphibious shoe was born for adventure.
Upper's mesh panels breathe well, drain water quickly, and prevent debris from getting under your foot
Comfortable EVA footbed features an Agion antimicrobial treatment to prevent smells from accumulating in the shoe
Non-marking ContraGrip rubber outsole provides traction over wet, sandy, and slick surfaces
Unanswered Question
For those who own both these shoes and the...
For those who own both these shoes and the Tec Amphib, does the Light Amphib ventilate as well?
Soloman light amphib shoe
I have not had these very long, but I am pleased with them so far. Easy to put on with sinch laces. Soles are firm enough with some arch support to absorb shocks on the trail. Stones, roots etc. They are good for in and out of the water and mesh area does not allow pebels to get inside like the Keen's. They are a nice addition to my outdoor sports selection. Also, very comfortable for travel. Light and cool.
tt
what's the difference between these and...
what's the difference between these and the Saloman TA 2 Mat Sandal?
The light amphib 3 is classified as a shoe, and as such will offer you more support and cushioning, but not really that much. and it weighs far less than the TA2 MAT.

the TA2 MAT is labelled as a sandal.

they will both drain well. they have roughly the same lacing system, they both have a similar non marking sole with EVA foam cushioning etc...

own neither, but have tried on both, so take my comments for what they are worth, but i felt like the TA2 MAT was more comfortable. i cannot reall put my finger on why, just was....
Thanks. I have the TA Mat 2 and love it-if it is a sandal, it is a sandal on steroids. I ordered the light amphib 3
Excellent Water Shoe and More!
I got these watershoes for my son and myself to wear for swimming, kayaking, and stream crossings while hilking. We have a lot of sharp rocks and ledge here in NH, so protecting the toes and feet is important. These shoes offer more protection than open-toed sandals, flip-flops, or those neoprene water shoes do against rocks, old fishing hooks, or broken glass.
But these watershoes are almost like trail running shoes. The soles give outstanding traction, and the mesh sides keep the air circulating in hot and humid weather. While lightweight, these shoes are durable and comfortable enough for all day wear. Finally, they come in a nice earth toned color that blends in with your clothes and your surroundings, unlike those other loud and obnoxious colors that some designer thinks that customers will buy! I love them!
THe shoes are really comfortable. Plus you can't deny the flyness factor. Thanks for the great products and keep it up.