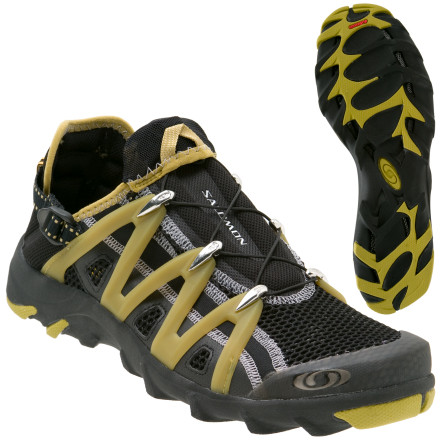 Detail Images
Share your thoughts
What do you think of the
Salomon
Karma Sandal - Men's
? Share a...
I think these things are great! I wear them to the beach and the water parks around here and they are perfect. I can wear them on water slides, on the hot sand...anywhere. Very light weight. they dry quickly and have plenty of flow for air and water. the adjustability with the heal straps and laces really helps make them fit just right, too.
They fit well, and are easy to adjust. I got them for river trips and they work perfect for that, draining well and just enough protection on your feet. I tried running in them and they hurt my feet running on concrete for a couple of miles but not enough to stop, more joint pain in my knees afterwards. Would be better for sporadic trail running but they definitely aren't running shoes. Great in the water.
Is this shoe being phased out? You only...
Is this shoe being phased out? You only have one size. I am looking for a size 10.5 (my regular shoe size), and I would love to have the "Marjoram/Light Grey/Orange Piment-X" color.
The best thing is to jump on "live chat" and ask those folks. They'll be able to look up if they have any on order and if they do an approximate ship date.
I love these! They were the only shoes I brought to the boundry waters and they worked awesome!
Awesome big-time boat shoes
I sail. I sail alot. On big boats and small, in all weather, inshore and offshore. These have been my boat shoe for more than a year now, and they are absolutely perfect. Light, comfortable, easy to get off and on, but they don't fall off. They drain and very quickly, don't hold funky odors, offer excellent support while walking around on shore or on the boat, offer excellent traction on both teak and 'glass decks, wet or dry. The only concern is the discoloration of the silver-colored grommets that hold the laces (mine spend most of their lives in or around salt water, so that may be the issue). My response to that threat? Get a "backup" pair, which I have done.
Oh, I also used these in the Dead Sea. Quite a test for anything, really. No problem for these shoes.
any of these in a size 10 please??Salomon...
any of these in a size 10 please??Salomon Karma Sandal - Men'sBen
Best Answer
Watch steepandcheap, that's where I usually see them. Looks like they are closing them out on backcountry.com
Good job on the water removal system in the soles. Nice grip on rocks and soil. However, they could be a bit more comfortable on the bottom of my heel. I can somewhat feel the metal screen beneath the thin insert pad. Nonetheless, I wore them all day while hiking through rivers and canyons in Moab without any blisters.
Very comfortable, well made and secure on foot.
We just went on a 10 mile hike/camp trip with full packs. I wore my salomons just to spite a friend who got cheaper water shoes. They worked great even hiking. They are awesome Kayaking. I can't get Salomon locally in upstate New York's Adirondacks (or Adirednecks).
Thank You.
These things drain fast! and are great for kayaking/water sports. Didn't feel like they were sturdy enough for adventure racing (go with Techamphibian), but great water shoe. I run mizunos and the size/fit is the same.
Get these shoes!
Great shoe for around water
I originally purchased the Karmas for paddling in Canada and Minnesota, yesterday I wore them for the first time while power boating. The Karmas provided great traction I was able to cruise across the wet fiberglass deck like I was walking on dry pavement. When I took a swim to cool off they drained quickly and dried in a snap.
Great looking, great fitting shoe, true to size. The sole insert buckles out of the shoe when you remove your foot, but that's my only comlpaint. I do wish it came in more muted colors, but I love mine.
They work in Greenland too...
These sandals fit like a glove. I bought my pair earlier this year, and they have been glued to my feet almost ever since. I live in Greenland, and they are perfect to slip on all the time. They only leave my feet when the weather brings rain around. So conclusively - I love my Karma Sandals!
I love these things! I got these for a couple of reasons: 1) They are much lighter and more comfortable than my Chacos; 2) They protect my toes in and out of the water. Once back on dry ground the copious amount of screened drainage ports and quick-drying mesh/padding do a great job of making sure you don't carry a bunch of water around with you. The grippy sole has not let me down on the slippery stuff either.